Start 2018 the WRITE way!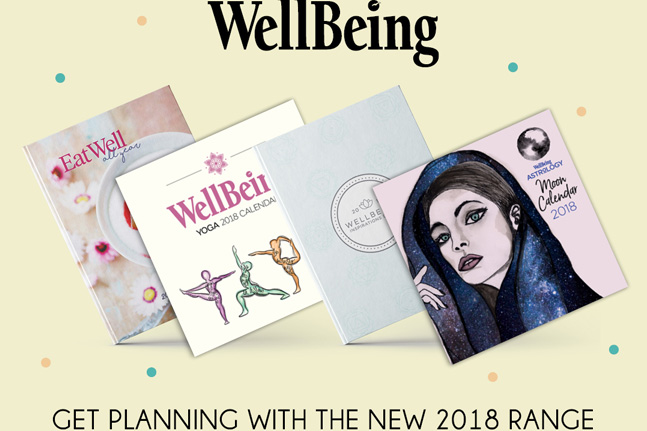 The start of the year is an exciting time, with many celebrations, gatherings with loved ones and new adventures ahead. Are you organised?
Start off your 2018 the WRITE way! Our Wellbeing Diary & Calendar collection is the perfect tool to ensure you are on top of all that is thrown at you in 2018.
We have a collection of themes and styles to choose from, making sure your diary is the perfect fit for you.
Take a look below and let us know which is your favourite!
2018 Wellbeing Inspirations Diary
Focus your thoughts and give purpose to your day by practicing affirmations. The WellBeing 2018 Inspirations Diary offers the simple examples and encourages you to formulate your own. Be inspired by the diary's beautiful, soulful images as you plan your day and your week. Discover how positive self-talk can change your life and make 2018 a year of self-empowerment and fulfilment. You are the architect of your life.
Price: $19.95     BUY NOW
2018 Wellbeing Yoga Planner
Find peace, tranquillity and mindfulness in this inspiring WellBeing Yoga Calendar throughout 2018. Insightful messages about acceptance, love, happiness and being at one with the universe will help you navigate your way calmly and thoughtfully through each day of the year.
Price: $19.95     BUY NOW
2018 Eatwell All Year Diary
This new 2018 diary is a complete Eatwell magazine. Inside you will find 52 seasonal recipes from some of the most well-known health food chefs. Be inspired to shop and eat healthy all year round with this diary. With a week to a page view + space for shopping lists making it a practical accessory all year round.
Price: $19.95     BUY NOW
2018 Billie Life Guide Diaries
Billie presents the Essential Life Guide Series of 2018 diaries for each of the astrological star signs. Each diary encompasses the necessary day to day moods, feelings and expert predictions to take each girl on her journey for 2017 through daily horoscopes. Each girl has her own characteristics, story and identity based on their star sign that girls can relate to each and every day. Relationship and compatibility focused Billie and her squad, T.K Swift and Jinx will be your daily source of inspiration and does of reality for the year ahead.
Price: $19.95     BUY NOW
2018 Wellbeing Astrology Calendar
As we enter a new year, life bursts with possibilities and renewal. Navigate your 2018 with this insightful Moon calendar. Follow the paths of the Full and New Moon as you look inwards and reconnect with your passions and inspirations for the year ahead.
Price: $19.95     BUY NOW