5 healthy festive foods
Credit: Teresa Cutter
To me, the holiday season is about getting together with family and sharing good food that will nourish our bodies and be lovingly prepared. Growing up in a European household, Christmas dinner was an eclectic mix of traditional recipes mixed in with fresh Aussie fare.
My dad would often catch fish before the event, which would be lovingly prepared by my mum and great aunt. We would wrap fillets of fish in foil with a squeeze of lemon and drizzle over olive oil, then bake them in the oven until cooked through. Polish people love their salads … and our table was full of wonderful beetroot salads drizzled with apple cider vinegar and cold-pressed olive oil. We enjoyed cucumber salads drizzled with buttermilk dressing and heirloom sun-ripened tomatoes served with homemade ricotta and fresh herbs.
For dessert, Mum would often make a pudding cake infused with orange, vanilla bean and plump sun-dried fruit. It could be served cold or warm with a creamy custard or thick Greek-style yoghurt. Aunty used to pick fresh strawberries from her Garden and serve bowls of them sprinkled with a little raw sugar and served with vanilla-scented Chantilly cream. No matter what food was served, the day was all about family, being together and celebrations.
These days, I try to let that "keep it simple and keep it fresh" philosophy flow through when I'm preparing for summer celebrations.
The delicate sweetness of golden and red beetroot is accentuated when they are roasted in the oven then allowed to cool gently, slowly developing their flavours.
I focus on seasonal fresh salads and vegetables that are effortless to prepare, look and taste amazing and are good for you. Platters of blanched garden peas, snap peas and asparagus served with micro-herbs and lemon-scented Persian fetta; a beetroot salad with fig and smashed raspberry dressing or a simple insalata caprese (an Italian salad) made with buffalo mozzarella, heirloom tomatoes, lemon and olive oil. I do fish fillets baked in baking paper served with roasted sweet potato chips. I love ratatouille and my roasted baby carrots on beds of freshly made hummus and dukkah.
Growing up, not a single Christmas would go by without a traditional Christmas pudding being served for dessert. Staying with tradition, we now celebrate with my "healthy Christmas pudding", a delectably dense and moist fruitcake with naturally dried fruit, which provides a subtle sweetness so you don't need to add any extra refined sugar to the recipe. I like to serve it in small portions after lunch or dinner, or warm it up and serve as a pudding with vanilla-bean custard or thick natural yoghurt and orange-blossom honey.
No matter what is on your summer menus, keep it fresh, keep it simple, keep it healthy and the rest will fall into place. The essence of good food, friends and family is what truly makes a healthy celebration.
Beetroot Salad With Pomegranate & Pistachio
The delicate sweetness of golden and red beetroot is accentuated when they are roasted in the oven then allowed to cool gently, slowly developing their flavours.
Serves: 6
Pomegranate Dressing
3 tbsp pomegranate molasses
Juice ½ lemon
60mL cold-pressed olive oil


Salad
1kg baby beetroots (I use golden & red beetroots)
150g wild baby rocket
80g labna, or your choice of Persian feta or grilled haloumi
Handful pistachio nuts, chopped
Pinch ground black pepper
Fresh pomegranate seeds or rehydrated goji berries (see note)
For the dressing, combine all the ingredients until creamy. I like to whisk them together. Taste and adjust if needed.
Store in a screw-top jar in the refrigerator for up to 5 days.
To make salad, preheat your oven to 180°C.
Cut off the leaves from the beetroot and wash well with the skin still on. Wrap each whole beetroot in foil and place on a baking tray. Roast for about 30–35 mins.
Remove beetroot from the oven and allow to rest in the foil for about 1 hour — this process allows the skin to be removed easily. Remove the foil and peel the skin off with your fingers. Cut beetroot in half and leave a few whole if they are smaller.
Arrange beetroot on a serving platter or large bowl along with wild rocket leaves. Arrange the labna then pistachios over the top. Drizzle the dressing over the top just before serving. (My smashed raspberry dressing is also fantastic on this salad.)
Enjoy this delight.
Note: As it's hard to find non-imported pomegranates until autumn you can use rehydrated goji berries in place of pomegranate seeds.
Insalata Caprese
This is one of the easiest salads of all time to create. Its flavour hit depends solely on the quality of the ingredients you use. I especially enjoy making this salad in summer as juicy, ripe tomatoes are bountiful. For me, healthy cooking is all about simplicity and keeping things as fresh and pure as possible. The ingredients in a classic caprese salad are minimal: tomatoes, mozzarella, basil, olive oil, salt, pepper. This is the way it should be eaten and my favourite way to eat it, as the clean selection of flavours is brought out and every mouthful is pure heaven.
Buffalo mozzarella is traditionally used for a caprese salad as opposed to cow's milk fior di latte. The buffalo milk base provides the benefits of high levels of calcium and protein. Scatter fragrant basil leaves — whole or torn — delicately over the top of your salad and drizzle with the best cold-pressed olive oil you can find. Add a gentle touch of flaked sea salt and a small grind of freshly cracked pepper for your perfect summer salad. Enjoy!
Serves: 4
800g sun-ripened tomatoes (decent sized), juicy & at room temperature
2 balls of buffalo mozarella
2 tbsp cold-pressed olive oil
2 tsp lemon juice
8 fresh basil leaves, torn
Generous pinch flaked sea salt
Freshly ground black pepper
Slice the tomatoes or cut into generous wedges and place in a bowl or on a serving platter.
Break up the creamy white mozzarella with your fingertips and mingle it among the tomatoes. Alternatively, you can also slice the mozzarella and arrange delicately.
Drizzle olive oil and lemon juice and scatter torn fresh basil over the top. Finish with flaked sea salt and freshly ground black pepper.
Steamed White Fish with Ginger & Turmeric
The omega-3s DHA and EPA are absolutely essential in your diet and must be obtained from the foods you eat. Fish is high in the omega-3s that help support the health of every cell in the body. Omega-3s play a role in immune function by regulating inflammation and encouraging the body to fight infection. Other health benefits of omega-3 are helping to lower cholesterol levels, reducing high blood pressure and helping to improve symptoms of arthritis.
Serves: 4
1 tbsp fresh ginger or galangal, grated
1 tbsp turmeric, grated
2 garlic cloves, smashed
1 tbsp tamari soy sauce
Juice 1 lime
2 tbsp olive oil
Bunch coriander, leaves & stalk finally chopped
2 × 200g white fish fillets (wild snapper or any fish of your choice)
¼ cup coconut water
1 tbsp butter
Combine ginger, turmeric, garlic, tamari, lime juice and olive oil in a mortar and smash ingredients well. Add the coriander and fold it through.
Place the fish in a bowl and coat with the turmeric mix. Leave the fish fillets to marinate in the fridge for 15 mins.
Heat a pan over medium heat. Lay the fish fillets in the pan and pour in the coconut water. Reduce the heat and pan-steam for 8 mins, occasionally coating the fish with the marinade. Stir through the butter at the end, to lightly emulsify and make the loveliest sauce.
Serve and enjoy.
Note: Try serving the dish with a little kimchi or a warm broccoli salad with kale, lime and roasted tamari almonds.
Cinnamon Roasted Sweet Potato
Sweet potatoes are divine, especially oven-roasted with generous amounts of cinnamon and a little sea salt. You don't need to do too much to prepare them — they practically make themselves and the final result is truly pure deliciousness!
Serves: 6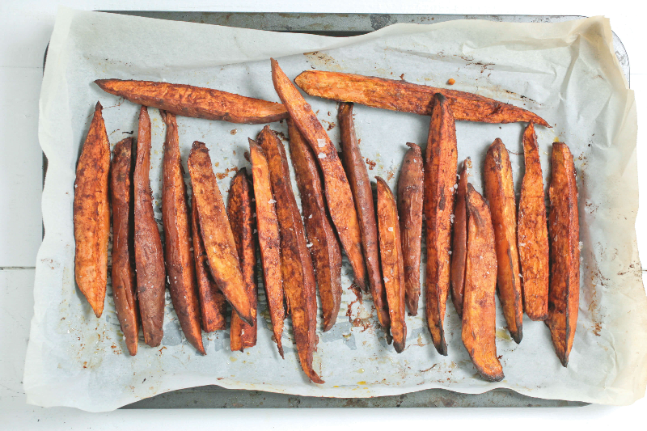 500g sweet potato, cut into wedges
1 tbsp olive oil
Pinch sea salt
1 generous tsp ground cinnamon
Preheat oven to 200°C.
Combine the sweet potato with olive oil, salt and cinnamon. Add a little more olive oil if needed. Arrange on a baking tray lined with baking paper. Make sure to spread the wedges out in a single layer so they roast properly.
Bake for 40 mins or until tender and golden.
Serve immediately and enjoy.
Raw Christmas cake truffles
Bursting with antioxidants, mineral-rich cocoa and pure vanilla bean, this potent blend provides long-lasting energy. These balls enhance both mental and physical performance. A daily protein ball is a healthy way to get more out of every day.
Makes: 20 balls
225g pitted fresh dates (approximately 10–15, depending on their size)
Zest 1 orange
250g organic dried apricots, chopped
150g almond meal or ground almonds
1 tsp vanilla bean paste or extract
1 tsp ground cinnamon
¼ tsp ground nutmeg
¼ tsp ground ginger
1–2 tbsp orange juice


Garnish for rolling
Coconut, goji berries, cacao, almonds, pistachio
Combine the dates, orange zest, apricots, ground almonds, vanilla, cinnamon, nutmeg and ginger in a food processor. Process until the mixture is combined and looks like fine crumbs.
Spoon the mixture into a large bowl and add orange juice, then mix again. Your pudding mix should come together in your hands when lightly squeezed.
Form the mix into 20 balls. Roll in coconut or any other of my suggested coatings and store in the refrigerator until needed.
Note: You can store these in the fridge for about 2 weeks.