Easy Green Salad with Avocado and Hummus Recipe
Credit: Adam Guthrie
If you do a little food preparation on a Sunday, your work lunches will be a breeze to put together and give you the energy to do your best. Enjoy this Easy Green Salad with Avocado and Hummus recipe.
Serves: 2
1 sweet potato, chopped into bite-sized cubes & roasted
1 cup hummus (recipe below)
4 handfuls green salad leaves
1 Lebanese cucumber, chopped
½ ripe avocado, sliced
½ cup sliced red cabbage, sliced
Handful fresh parsley, chopped into sprigs
2 tsp sambal oelek (optional)
Salt & pepper, to taste


Hummus
2 garlic cloves, peeled
¼ cup tahini
½ cup lemon juice
½ tbsp salt
2 cups water
3 cups cooked chickpeas
Preheat oven to 200°C.
Place sweet potato cubes on greaseproof paper-lined baking tray. Bake for 20–30 mins until cooked through and edges have evenly started to brown. Remove from tray when cooled and place in airtight container in fridge until required.
To make hummus, add all ingredients except water to food processor/blender. Puree and slowly add 2 cups of water. Process until smooth. Add more salt if required.
Place greens in container, add cabbage, add some sweet potato cubes, add spoonfuls of hummus around salad leaves. Add sprigs of parsley. Add some sambal oelek or favourite chutney to salad. Add salt and pepper if desired.

Discover organic at our Wellbeing Directory

Like what you read? Sign up for a weekly dose of wellness






MORE INSPIRATION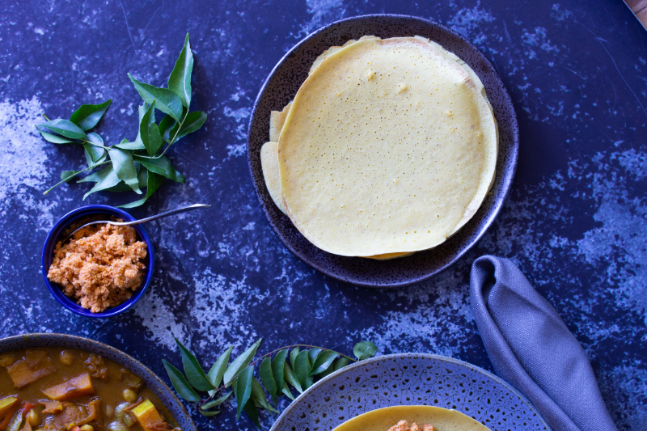 Pancakes Hoppers Recipe
This recipe draws inspiration from Sri Lankan hoppers, which are fermented pancakes made from rice flour, served for breakfast with...
Pumpkin and Cashew Curry Recipe
You can add other vegies or nuts and seeds to this lovely, versatile curry. The warming spices are anti-inflammatory and...
Beetroot, Maple and Pecans Salad Recipe
The beetroot plant is bursting with so much nourishment and it's super delicious when combined with this tasty dressing and...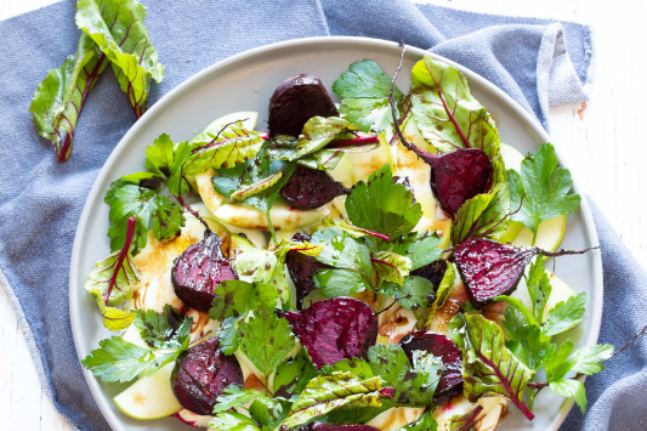 Roasted Beetroot Salad Recipe
Beetroot greens are not to be underestimated. They are rich in antioxidants, potassium, vitamin B6, manganese, copper, vitamin A, calcium...