Herring Cake Recipe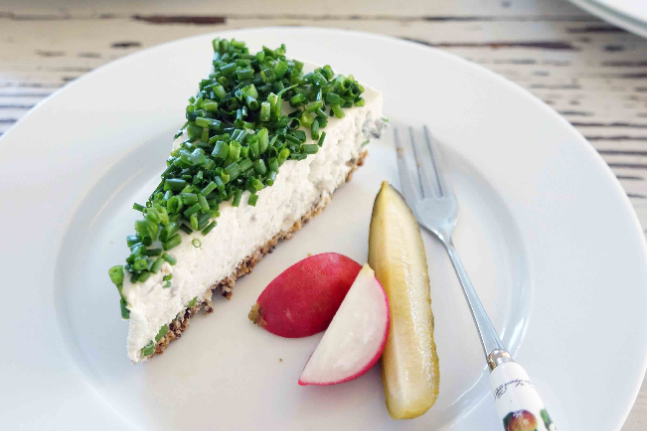 Credit: Christie Connelly
My Swedish friend Henrik gets excited about his mum making this dish when he goes Home for dinner. It's traditionally served as part of a buffet meal or as an individually plated entrée. I have to admit it's an acquired taste. I would like to try making it with smoked salmon instead of herring, as that's a flavour I'm more used to. Having said that, it's fun to try new dishes so I hope you give it a go with either variety of fish, as both are rich in omega-3s.
Serves: 4
Base
3 slices rye bread
2 tbsp butter, melted


Filling
500g jar pickled herring (250g drained weight of fish, reserve liquid)
1½ tbsp grass-fed powdered gelatin
1 red onion, peeled & grated
300g sour cream
200g cream cheese
1 tsp horseradish cream
½ tsp ground white pepper
1 cup finely chopped chives
Sliced radishes & dill pickles, to serve
First, make the base. Line 20cm loose-bottomed cake tin with baking paper. Add bread to food processor and blitz to crumbs. Add melted butter and blitz to combine. Press mixture very firmly into base of cake tin. Place in fridge to firm up while you make filling.
Drain herring from liquid into measuring jug. It should be about 250mL; if less, top up with cold water then pour into small saucepan. Sprinkle over gelatin and leave for 5 mins. Stir well then heat over medium heat for 2–3 mins until gelatin melts and mixture is smooth — but don't let it boil. Rub a bit between your fingers to check: it should feel smooth, not grainy. Allow to cool slightly.
Add herring to food processor and pulse to finely chop. Don't go too far and make it a paste. Add grated onion, sour cream, cream cheese, horseradish and pepper and blitz to combine. Add gelatin mixture and blitz again until smooth. Pour into cake mould and chill in fridge for 3 hours until firm.
When ready to serve, sprinkle top with thick layer of chives. To serve, slice into thin wedges and accompany with sliced radishes and dill cucumbers, if you like.