Indian Spiced Cauliflower Recipe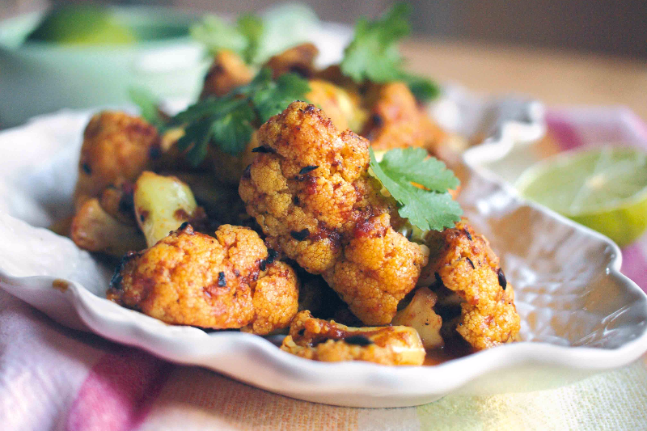 Credit: Christie Connelly
Heavily spiced for flavour without being spicy hot, this is the perfect dinner for a Meatless Monday meal for those supporting the planet by eating vegetarian at least one night a week. It's especially lovely served with basmati rice cooked in coconut milk. Plus, ginger and turmeric are anti-bacterial and anti-inflammatory spices that are great for digestive health and immunity. Enjoy!
Serves: 4
2 tbsp ghee
1 tsp cumin seeds
1 onion, thinly sliced
½ tsp chilli flakes
2 garlic cloves, sliced
3cm piece fresh ginger root, peeled & grated
1 tsp ground coriander
½ tsp ground turmeric
1 small cauliflower, cut into florets
3 tomatoes, roughly chopped
1 tsp salt
1 cup loosely packed coriander leaves
Steamed rice & natural yoghurt, to serve
Heat wok or large, deep frypan over high heat until smoking. Add ghee and cumin seeds and stir for 30 secs, until fragrant.
Add onion, chilli flakes, garlic, ginger, ground coriander and turmeric and stirfry for 2 mins, until onion has softened.
Add cauliflower and stir to thoroughly coat in spice mixture. Stirfry for 5 mins until golden brown, stirring constantly to stop it sticking.
Add chopped tomato, salt and 125mL of cold tap water and turn heat down to medium. Simmer for 5 mins until cauliflower is fork tender.
Stir through fresh coriander leaves and serve with rice and yoghurt (or turmeric yoghurt from the garam masala chicken recipe).