Lemon and Berry Pancakes Recipe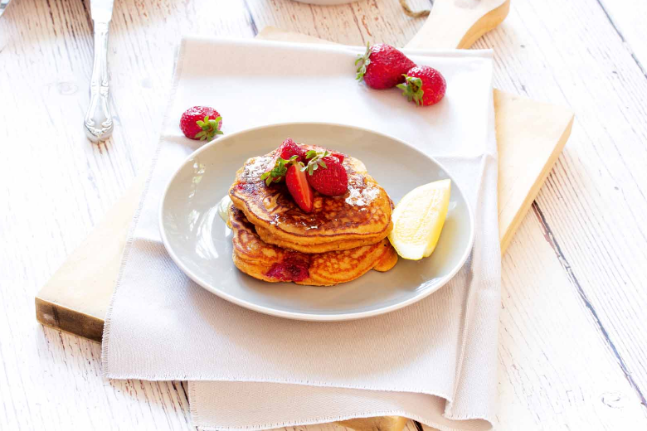 Credit: Danielle Minnebo
These Lemon and Berry Pancakes remind me of a lemon and berry cheesecake. They taste so good!
Makes: 6 pancakes
150g fresh strawberries, chopped, plus extra to serve
Zest & juice 1 lemon
2 eggs
25g coconut palm sugar
15g tapioca flour
15g coconut flour
70g blanched almond meal
1 tsp baking powder
2 tbsp butter
2 tbsp honey
Add strawberries, lemon zest and juice and eggs to bowl and mix together until combined. Add coconut palm sugar, tapioca flour, coconut flour, almond meal and baking powder and mix further to thick batter.
Melt some butter in large frypan over medium heat. Add 2 spoonfuls batter to pan; you should be able to fit about 3 pancakes in frypan. Cook for 3 mins on this side, then flip and cook for a further 2 mins on other side. Continue process until you've used up batter.
Serve topped with chopped fresh strawberries and drizzle of honey.