Onion Cake Recipe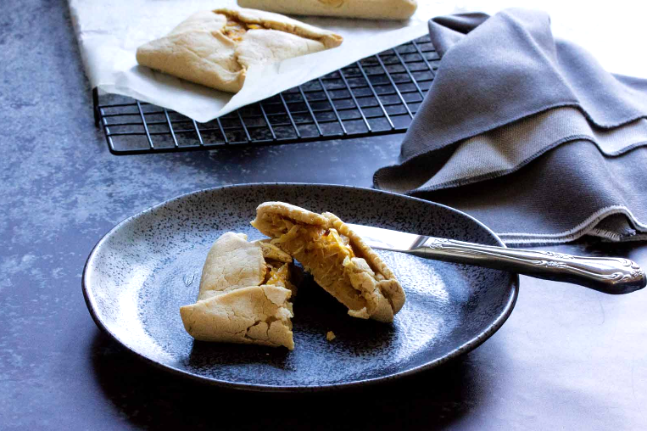 Credit: Danielle Minnebo
A traditional German onion cake is more like a pie with a yeasty crust, rather than a cake. Traditionally, they are prepared with white wheat flour and a cream and onion filling. I've adjusted this recipe by using gluten-free flours and changing the filling so it's also dairy-free. You can make this recipe into one large cake in a brownie tin, but I quite like the individual cakes.
Makes: 4 onion cakes
¾ cup buckwheat flour
½ cup cassava flour
1 tsp dry yeast
Water as needed
2 onions, thinly sliced
1 tbsp olive oil
½ tsp sea salt
1 egg
¼ tsp ground nutmeg
1 tbsp plain coconut yoghurt
Preheat oven to 200°C. Grease and line baking tray.
Add buckwheat flour, cassava flour and dry yeast to bowl and mix until combined. Add enough water to bind it into dough. There's no need to knead this dough as it doesn't contain gluten. Cover bowl in plastic wrap and set aside for yeast to activate for 1 hour.
Add sliced onion, olive oil and sea salt to frypan and cook over medium heat for 20 mins, until soft and caramelised. Set aside and allow to cool. Add egg, nutmeg and coconut yogurt and mix together until combined.
Divide dough into 4 pieces and roll each piece between 2 sheets of baking paper. Roll out to approx. 4mm thick. Divide onion mixture into 4 and fill centre of each pastry circle. Fold each side of pastry into centre, making sure you allow some onion mixture to stay exposed. The idea is you end up with very rustic squares.
Bake for 20 mins until golden brown.