Oven-Baked Pumpkin and Corn Brown Rice Risotto Recipe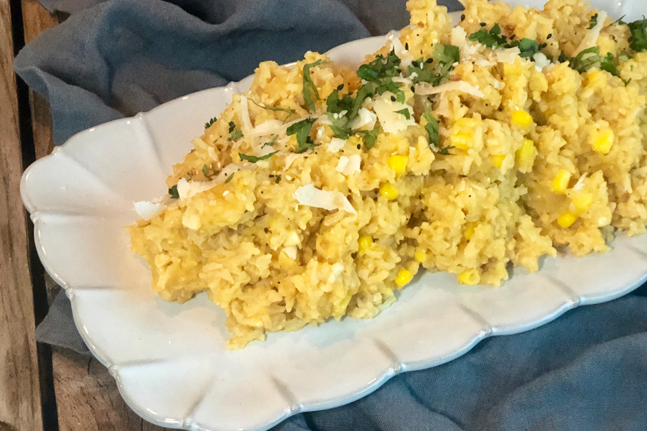 Credit: Lisa Guy
This hearty risotto is a great source of dietary fibre. Brown rice contains around seven times more fibre than white rice per serving and has a lower GI (glycaemic index), which means it takes longer to digest and won't cause sharp spikes in blood sugar levels. Fibre is important, not only for keeping blood sugar levels stable but also for cardiovascular health, as it helps to lower cholesterol levels.
Serves: 4
2 tbsp olive oil
1 small onion, finely chopped
2 cloves garlic, minced
1½ cups short-grain brown rice
¼ cup corn kernels
Pinch sea salt & pepper
5 cups vegetable stock or bone broth
1 cup pumpkin puree
¼ cup grated hard cheese of choice
¼ cup shredded Parmesan cheese + extra for topping
Handful fresh herbs, roughly chopped (parsley, basil, rosemary, oregano)
Preheat oven to 190ºC.
Heat some olive oil in cast-iron casserole dish or Dutch oven over medium heat and add onion and garlic. Cook for 2–3 mins until soft.
Add rice and stir for 1 min. Add corn, salt and pepper and stir.
Add 4 cups of heated stock, cover well then bake for 50 mins (make sure you have a firm sealed lid or cover well with foil).
After 50 mins, check risotto and add remaining cup of stock and stir through mashed pumpkin. Return to oven for 15 mins until rice has cooked through. If risotto needs extra time, add ½ cup warm water and return to oven for 5–10 mins.
Stir through cheeses and herbs and serve topped with Parmesan and a few more herbs.