Pesto Pumpkin Pizza Recipe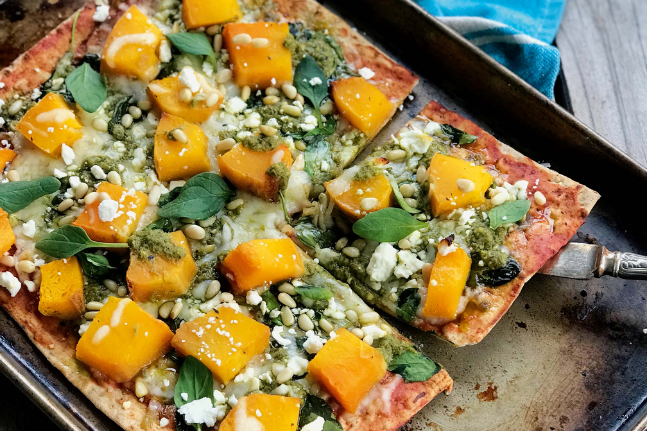 Credit: Lisa Guy
Butternut pumpkin delivers plenty of dietary fibre, which is important for good heart and digestive health. Its bright-orange colour indicates high levels of beta-carotene, a powerful antioxidant that enhances immune function and helps protect against cardiovascular disease.
Green leafies like baby spinach and basil are also great sources of beta-carotene, along with vitamin K, which is needed for regulating blood clotting and reducing the risk of osteoporosis and atherosclerosis.
Serves: 2-4
V
1 small butternut pumpkin, diced
3 garlic cloves, minced
1 tbsp olive oil
2 flat breads (wholegrain or gluten-free)
1/3 cup tomato pizza sauce
2 handfuls shredded mozzarella
2 handfuls baby spinach
½ cup pesto
Handful crumbled feta
¼ cup toasted pine nuts
Preheat oven to 200°C.
In a medium bowl toss pumpkin pieces, garlic and a little olive oil until pumpkin is well coated. Place pumpkin on a baking tray lined with baking paper and place in the oven for 30-40 mins until the pumpkin is cooked through.
Spread flat breads with tomato sauce, top with mozzarella, baby spinach, pumpkin pieces, dollops of pesto, crumbled feta and pine nuts.
Place pizzas in the oven for around 18-20 mins until the base is crispy and golden.
To serve, top with some fresh herbs or baby spinach.