Rainbow Slaw Salad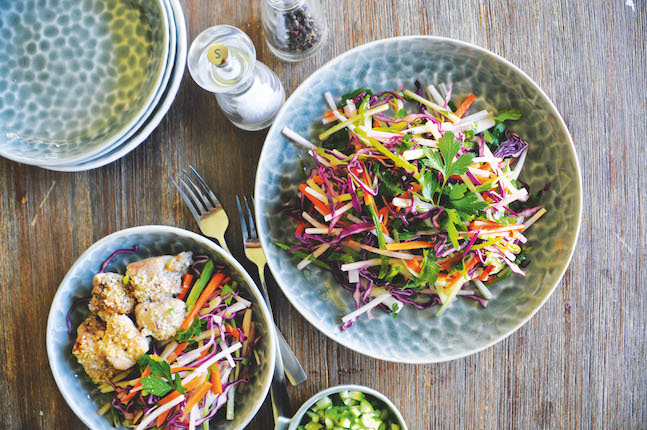 Jicama Rainbow Slaw Salad
This colourful salad is light, fresh and zingy. The trick, I believe, is to try to cut all of the ingredients into similar-sized juliennes or matchsticks. You can get some great julienne peelers these days that will make light work of the job. I love serving this with chicken.
Serves: 4–5, as a side
GF, VG
8cm piece jicama, julienned
⅛ red cabbage, julienned
1 stick celery, julienned
12 snow peas, strings removed & julienned
1 medium carrot, julienned
Small handful parsley, roughly chopped, a few leaves reserved to garnish
Freshly ground pepper & salt, to taste
⅓ cup olive oil
Juice 1 lemon
Combine all veggies in bowl.
Season with salt and pepper.
Pour over olive oil and lemon juice and toss to combine.
Tip: This salad works great with a mayonnaise or yogurt dressing too. Swap out the olive oil for your favourite mayo or yogurt and add the juice of a lemon.