Raspberry and Star Anise Friands Recipe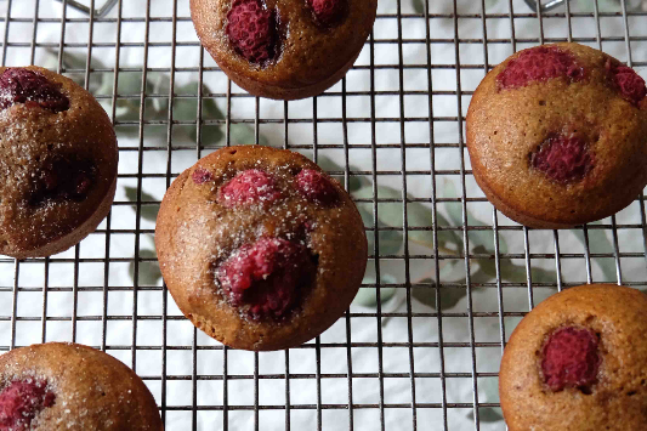 Credit: Meg Thompson
Friands are a cross between a cupcake and a muffin in texture and are usually made with almond flour. I was inspired to use ground star anise as in one of Yotam Ottolenghi's wonderful recipes but have changed it a bit to make it gluten-free and less sweet. The ghee in this recipe makes these friands lactose-free and also makes them incredible nourishing. You can, of course, use butter instead, but the ghee lends a beautiful caramel quality.
Makes: 10–12
120g almond meal
60g buckwheat flour
1½ tsp ground star anise
Small pinch salt
150g coconut sugar
150g egg whites (from approx. 4 eggs)
100g ghee, melted
Zest 1 lemon
½ cup raspberries, fresh or frozen, halved
Preheat oven to 190°C.
Sift first four ingredients together into bowl.
Add coconut sugar to blender and blitz to make fine powder. Add coconut sugar to dry mix and stir to combine.
In separate bowl, whisk egg whites for a few secs to froth them up a little and add to mix.
Add ghee (as long as it's cool or you will cook the eggs) and lemon zest and mix to combine.
Divide mixture into greased muffin tray, or into patty pans, filling each to around two-thirds the way up the side. Place 3 or 4 halved raspberries into each friand.
Bake for 18–20 mins or until golden and skewer comes out clean. Leave to cool for 10 mins in tin before transferring to rack to cool completely. These are best eaten the day of baking but will keep for 3–4 days.