Raw Mango Spring Rolls Recipe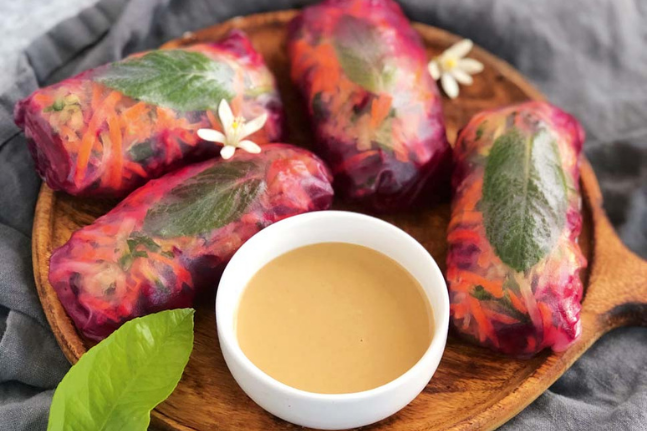 Credit: Lisa Guy
These fresh and tasty raw mango spring rolls make a anti-inflammatory compounds starter or lunch. This dish delivers plenty of antioxidant and anti-inflammatory compounds that help reduce oxidative damage in the body and lower the risk of chronic disease.
Makes: 6
GF, V, VG
6 sheets ricepaper
Handful fresh mint, chopped, 6 large mint leaves set aside
1 medium carrot, shredded
1 medium beetroot, shredded
1 cucumber, seeds removed, thinly sliced
1 ripe avocado, sliced
1 medium ripe mango, sliced
Dipping sauce of choice
Pour some warm water in a medium frying pan.
Place ricepaper sheets in the water until they start to soften — don't leave them in for too long.
Place the sheet on a chopping board, place a mint leaf in the middle then top with some carrot, beetroot, chopped mint, cucumber and a slice of avocado and mango.
Fold one end over, then fold in the sides, and roll it up tightly. Place on a serving plate.
Serve with a dipping sauce.