Roasted Beetroot Salad Recipe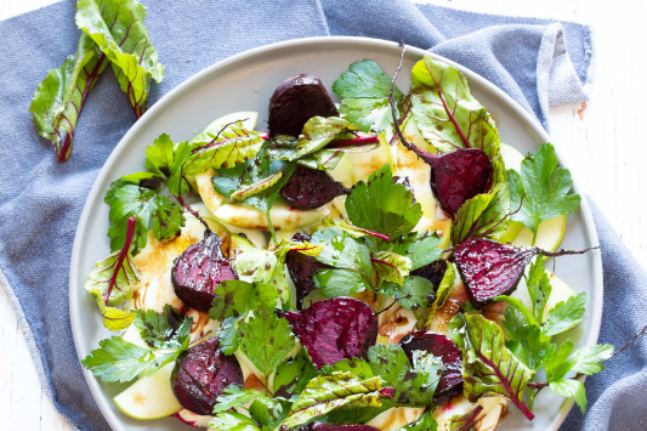 Credit: Danielle Minnebo
Beetroot greens are not to be underestimated. They are rich in antioxidants, potassium, vitamin B6, manganese, copper, vitamin A, calcium and iron. I find some beetroot greens are tough to eat in a salad, so I've used baby beets and selected the smaller green leaves for the salad.
Serves: 2
Bunch baby beets, including green tops
3 tbsp balsamic reduction
3 tbsp olive oil
Pinch sea salt
1 cup Greek yoghurt
1 apple, thinly sliced
¼ cup flat-leaf parsley leaves
Preheat oven to 200°C. Line baking tray with baking paper and set aside.
Give baby beets a good clean, leave skin on but remove greens. Make sure you keep greens because you'll need them later for salad topping. Cut baby beets in halves or quarters and scatter over baking tray. Drizzle with 1 tbsp of balsamic reduction and 1 tbsp of olive oil and sprinkle over pinch of sea salt. Cover baking tray with foil and bake for 60 mins.
While beetroot is baking, prepare other ingredients. Sort through beetroot tops and remove smaller and more delicate leaves. Give them a good clean and set aside.
Once beetroot is baked, assemble salad. Use flat serving platter. Cover bottom of platter with thick layer of Greek yoghurt. Top with sliced apple and roasted beetroot. Then scatter over beetroot green tops and flat-leaf parsley leaves. Drizzle with remaining 2 tbsp of balsamic reduction and olive oil.
Serve immediately while beetroot is still warm.