Roasted Vegie and Spinach Frittata Recipe
Credit: Lisa Guy
Pumpkins are full of beta-carotene goodness, which is not only important for strengthening the immune system but also supports the health of your eyes, mucous membranes and skin. Including eggs in your diet is an excellent way to increase your zinc and iron intake. These important nutrients help improve the body's ability to fight off infections. Onions and garlic contain organic sulfur compounds that are necessary for making glutathione, one of the body's major antioxidants. Sulfur also helps remove heavy metals from the body.
Serves: 4
½ butternut pumpkin, diced
1 large zucchini, sliced
Olive oil, for frying
1 small onion, diced
2 cups English spinach, chopped
80g feta, crumbled
6 eggs
⅓ cup milk
Handful baby spinach or fresh basil
1–2 tbsp hemp seeds
Preheat oven to 200°C.
Place pumpkin on baking tray covered with baking paper and bake for 45 mins, until golden and cooked through. After 20 mins add zucchini.
Heat olive oil in medium frypan on medium heat. Add onion and cook until tender.
Add spinach and cook until soft.
Arrange pumpkin and zucchini over top of spinach.
Whisk together eggs and milk, then pour over vegetables in frying pan. Reduce heat so you don't burn bottom of frittata.
Sprinkle feta over top. Leave pan on hotplate until frittata is cooked through, then place under griller for a few minutes to slightly brown top.
Place some baby spinach or fresh basil in centre, sprinkle with hemp seeds and serve.
Delicious cold the next day for lunch, too.

Discover organic at our Wellbeing Directory

Like what you read? Sign up for a weekly dose of wellness






MORE INSPIRATION
Sweet Potato and Haloumi Muffins Recipe
Full of fibre, protein and sustaining energy, these muffins are a portable powerhouse of nutrition. They are also quite versatile:...
Pear and Cinnamon Pancakes Recipe
These thin Pear and Cinnamon Pancakes are worth the little bit of extra time they take to make. Plus, the...
Shakshuka Recipe
A beautiful brekkie served straight from the pan, this is a wonderful way to enjoy a communal breakfast with loved...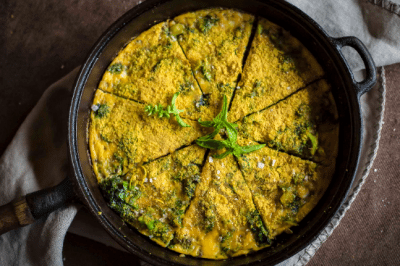 Green-Eyed Frittata Recipe
This delicious recipe is loaded with spinach, kale and broccoli, which are all rich in micronutrients that are great for...