Sponsor Recipes: Pearl River Bridge share four healthy winter dishes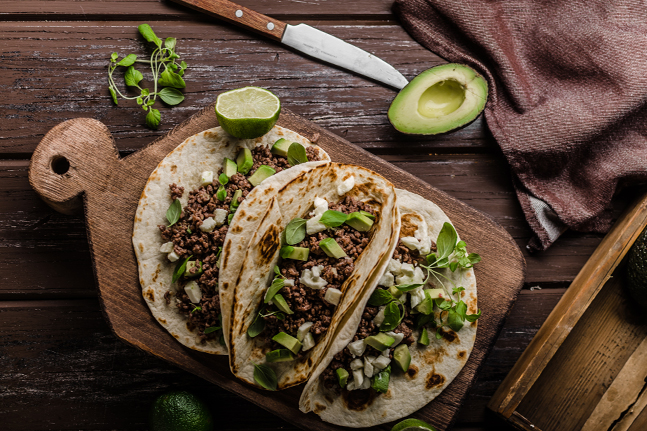 Credit: Pearl River Bridge
Discover some of the delicious creations you can make with Pearl River Bridge.
Homemade Minced Beef Tortilla
Serves: 3–4
Sauce
3 tbsp brown sugar
4 tbsp Pearl River Bridge Superior Light Soy Sauce
2 tsp sesame oil


1 tbsp vegetable oil
3 cloves garlic, minced
450g minced beef
3–4 tortillas
1 fresh avocado, diced (optional)
Mozzarella cheese (optional)
In small bowl, whisk together sauce ingredients.
Heat oil in large skillet, add garlic and cook for 1 min or until fragrant. Add minced beef and cook until browned. Stir in sauce until well combined and simmer for 2 mins.
Place minced beef on tortilla, garnish with fresh avocado and mozzarella cheese. Serve hot.
Braised Pork Knuckle with Chestnut
Serves: 2–3
500g pork knuckle, cut into chunks
Olive oil
8 cloves garlic, peeled
1 small piece ginger, sliced
1 star anise
½ tsp Sichuan pepper
1 cinnamon stick


Sauce
½ tbsp cooking wine
½ tbsp Pearl River Bridge Superior Light Soy Sauce
½ tbsp Pearl River Bridge Mushroom Flavoured Superior Dark Soy Sauce


10 chestnuts, peeled
Salt, to taste
Handful white sesame seeds
Clean pork knuckle chunks, put into cold water and bring to boil. Remove and drain well.
Add some oil in frypan, put in pork knuckles and stir-fry until colour changes. Add garlic, ginger, star anise, Sichuan pepper and cinnamon, stir-fry until fragrant, then pour in all sauce ingredients.
Pour in water to cover pork knuckles then bring to boil. Braise till tender over low heat. Add chestnuts and braise for another 20 mins then add salt to taste.
Simmer until sauce thickens, garnish with white sesame seeds and serve.
Chicken Teriyaki
Serves: 3–4
450g chicken thighs, boneless & skin on
Pinch salt


Teriyaki Sauce
2 tbsp Pearl River Bridge Superior Light Soy Sauce
4 tbsp mirin (Japanese sweet rice wine)
1 tbsp sugar


White sesame seeds, to garnish
Steamed rice, to serve
Lightly season both sides of chicken thighs with salt.
Heat non-stick skillet on high heat, pan-fry chicken thighs (skin side down) until lightly brown and skin becomes crispy. Turn and cook other side until cooked through. Turn off heat, remove chicken from skillet and set aside.
Combine all ingredients of teriyaki sauce in skillet and simmer on medium heat until sauce thickens. Reduce heat to medium low, add cooked chicken thighs to skillet and coat evenly with sauce. Cook for 1–2 mins. Remove from heat and let rest for 3–5 mins.
Slice chicken thighs into pieces, pour remaining sauce over chicken thighs and garnish with sesame seeds. Serve immediately with steamed rice.
Stir-Fried Broccoli with Fresh Scallops
Serves: 5
2 stalks broccoli, cut into smaller stems
500g fresh scallops


Sauce
125mL water
4 tbsp Pearl River Bridge Premium Oyster Flavoured Sauce
2 tsp Pearl River Bridge Superior Light Soy Sauce
1 tbsp shaoxing wine/cooking wine
1 tsp sugar
1 tsp cornstarch


Olive oil
1 tsp minced garlic
½ carrot, cut into pieces
Salt, to taste
Bring water to boil and blanch broccoli for 4–5 mins, then remove and cool in ice water. Drain well.
Blanch fresh scallop for 2–4 mins (depending on size), then drain.
Combine all sauce ingredients in bowl and set aside.
Add some oil to non-stick skillet, sauté garlic until fragrant, add broccoli and carrot, quickly stir for a while. Toss in fresh scallops, lightly stir and combine. Pour in sauce and cook until thickened. Sprinkle salt to taste and serve hot.