Strawberry, banana and vanilla iceblocks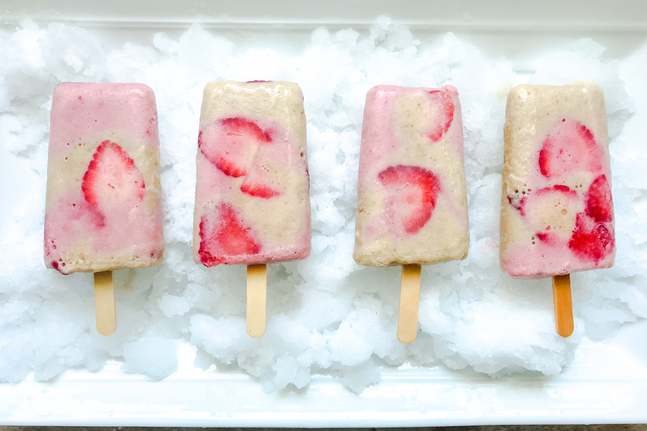 Strawberry, banana and vanilla iceblocks
Sugar-free, plant-based and vegan, these strawberry, banana and vanilla iceblocks will be your best healthy indulgence go-to ever. Simply make a batch each week and they will be there to fulfil your sweet cravings and will leave you feeling great.
Makes: 6 iceblocks
4 bananas, peeled
2 cups plant milk
1 tsp vanilla bean paste
1 × 250g punnet fresh strawberries, leaves removed
Place bananas, milk and vanilla bean paste into high-speed blender and blend until smooth.
Pour half of mix into separate jug, leaving remainder in blender.
Reserve 6 smaller strawberries and add remaining strawberries to blender. Blend until smooth.
Quarter fill each iceblock mould with strawberry mixture, then pour in milk mixture to half full. Pour in remaining strawberry mix to fill each iceblock to three-quarters full. Finally pour in remaining milk mixture to fill moulds.
Thinly slice remaining strawberries. Insert slices of 1 strawberry evenly throughout each popsicle so that they sit against sides of mould.
Push wooden iceblock stick into each iceblock and place on level surface in freezer for at least 4 hrs.