Sponsor Recipes: That's Amore Cheese share three delicious recipes
See the recipes below for some of the delicious creations you can make with That's Amore Cheese.
Fiore di Burrata, Poached Eggs & Braised Fennel
Serves: 2
1 tbsp extra-virgin olive oil
1 small onion, thinly sliced
1 small garlic clove, chopped
1 large fennel bulb
Zest 1 lemon
Salt & pepper
¾ cup water
Half bunch parsley, leaves finely chopped
4 large eggs
175g That's Amore Fiore di Burrata
Place saucepan over medium heat and warm oil. Add onion, sauté for a few minutes, then add garlic. When onion starts to turn translucent, add fennel. Cook for 5 mins, then add lemon zest. Season with salt and pepper, add water, cover and reduce to simmer.
Cook for 20–25 mins, until fennel is tender. Remove from heat, garnish with parsley and set aside.
Bring pan of water to boil until bubbles cover bottom and sides of pan. Crack each egg into separate small bowl. Turn down heat and gently pour each egg into pan and poach for 3–4 mins. Using slotted spoon, remove eggs from water.
In bowl place warm fennel and poached eggs. Lift balls of Fiore di Burrata from tub and drain on paper towel, tear balls in half and place on top of fennel.
Enjoy immediately.
Gado Gado Salad with Smoked Bocconcini & Peanut Sauce
Serves: 2
Peanut Sauce
150g creamy or smooth peanut butter
200g peanuts, roughly chopped
2 tbsp tamari
1 tbsp lime juice
1 tbsp honey
1 tbsp Worcestershire sauce
1 tbsp ground ginger
1 tbsp garlic powder
250mL water


Gado Gado Sala
½ Chinese cabbage, thinly sliced
2 ripe tomatoes, sliced
Handful radishes, quartered
½ cucumber, sliced
2 handfuls bean sprouts
½ bunch fresh coriander leaves, chopped
1 fresh birdseye chilli, sliced
To make peanut sauce, add all ingredients except water to blender or food processor. While blending, slowly pour water through chute until mixture turns creamy and reaches desired consistency. The more water, the less dense the peanut butter sauce. Place sauce in small bowl and add peanuts.
Mix together salad ingredients in bowl.
To serve
200g That's Amore Smoked Bocconcini (20 balls)
1 lime, cut into wedges, to serve
Thread 4 skewers with 5 smoked bocconcini each. Bring grill to high heat, then grill skewers, turning often, until golden and slightly melted (4–5 mins each). Remove from grill and place on plate with salad.
Serve with peanut sauce and lime wedges.
Vegetarian Lasagne
Serves: 4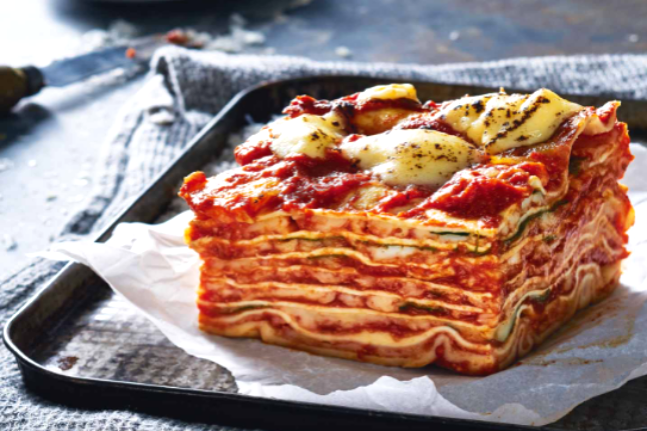 1 tbsp olive oil
1 garlic clove, crushed
400g tin peeled tomatoes
50mL water
Pinch salt
5 basil leaves
60g Parmesan cheese, grated
6 fresh lasagne sheets
1kg That's Amore Scamorza Bianca, diced
Fresh green salad, to serve
Prepare tomato sauce by heating olive oil gently with garlic. Let garlic soften. At slightest hint of colouring, add tomato along with about 50ml water, pinch of salt and half the basil leaves. Bring to simmer and cook, uncovered, for 20 mins. Set aside until needed.
Preheat oven to 200°C.
To build lasagne, spoon a little sauce into bottom of ovenproof dish (25cm × 30cm), follow with layer of lasagne sheets and a quarter of diced Scamorza Bianca. Add another layer of sauce and repeat process 3 times, finishing with layer of sauce and cheese.
Cover loosely with foil and place in oven for 15 mins. Remove foil and cook for further 10 mins or until golden-brown.
Remove lasagne from oven and leave to sit for 5–10 mins before serving.
Serve with fresh green salad.