Tomato and Basil Pasta Recipe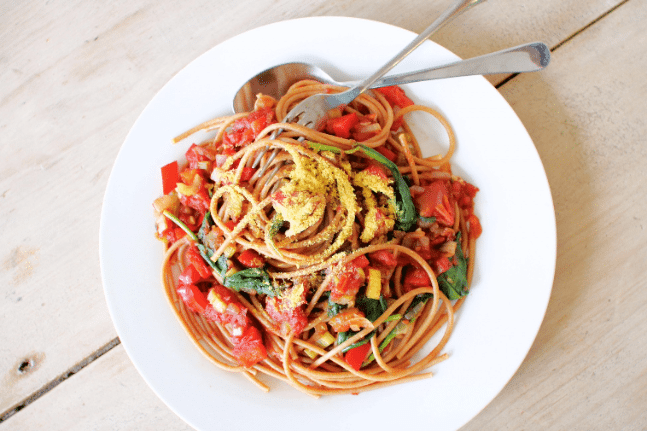 Credit: Adam Guthrie
A favourite fast-dinner option in our house is always pasta. What can be quicker and easier than adding pasta to a pot of water, sautéing some onion and garlic with tomato, then tossing it through the cooked pasta. If you are really short on time you can pour over a jar of shop-purchased tomato sauce (please add some grated vegetables, though, as your body needs fresh vegies).
Serves: 4
1 packet wholemeal spaghetti
1 onion, finely diced
2 garlic cloves, finely chopped
4 tomatoes, roughly chopped
¼ cup vegetable stock
1 bunch basil, leaves roughly chopped
Salt & pepper, to taste
¼ cup nutritional yeast
Bring pot of water to boil and add pasta. Cook according to instructions on packet.
While pasta is cooking, heat large frying pan, add onion and garlic and sauté until soft and caramelised.
Add tomato, stir and cook for a few mins until soft, then add vegetable stock, stir and reduce until liquid is almost evaporated.
Add basil and cooked and drained spaghetti. Stir, add salt and pepper to taste.
Serve in bowls topped with some nutritional yeast.