Vegan Beetroot Borscht with Chickpeas and Vegetables Recipe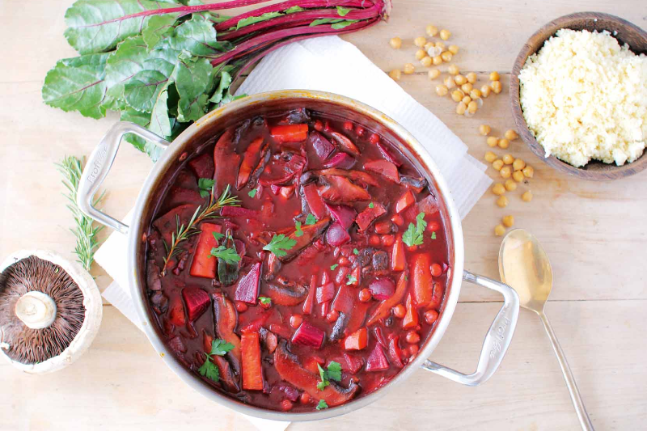 Credit: Adam Guthrie
This traditional beetroot soup incorporates a variety of other vegetables for extra nutrition. It can be eaten cold in the summertime or hot in the winter.
Serves: 4–6
1 red onion, cut into chunks
2 cloves garlic, roughly chopped
2 carrots, cut into small batons
6 large mushrooms, sliced
6 baby beetroots, cut into 2cm cubes
1 bay leaf
1 sprig rosemary
1½ cups cooked chickpeas
4 tomatoes, diced
1L vegetable stock
Salt & pepper, to taste
2 tbsp arrowroot
1 cup uncooked couscous
Heat frying pan. Add onion and garlic and sauté over medium heat for 2 mins with dash of water.
Add carrot, sliced mushroom and baby beets. Add bay leaf, rosemary sprig, chickpeas and diced tomato. Add vegetable stock and stir through.
Season with salt and pepper, covered, and simmer for 20 minutes.
Mix arrowroot with ½ cup of water, add to soup, stir well and allow to thicken.
Meanwhile, add couscous to bowl, cover with boiling water. Cover with cloth and let stand for 5 mins, then fluff with fork and serve with borscht.