Vegan Mushroom Croquettes with Cashew Aioli Recipe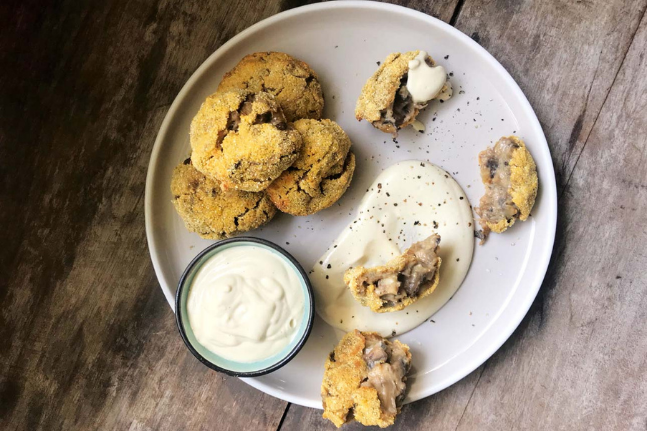 Credit: Adam Guthrie
These vegan mushroom croquettes are baked for optimum health. They are crispy and firm on the outside and when cracked open, ooze a creamy mushroom mix that will leave you wanting more.
Makes: 8 croquettes
VG
1 cup plant-based milk
1 cup vegetable stock
½ cup flour
½ onion, diced
2 cloves garlic, minced
4 cups finely chopped mushrooms
1 tsp Dijon mustard
¼ tsp dried oregano
Crumb
½ cup wholemeal flour
1 cup plant-based milk
1½ cups dried polenta
Cashew aioli
1 cups raw cashews
½ cup lemon juice
¼ tsp salt
1 cup water
1 tbsp Dijon mustard
2 garlic cloves, finely chopped
¼ tsp apple cider vinegar
Mix the milk and stock together in a saucepan. Take half a cup of the milk and stock mixture and add it to the flour, mix well to a slurry.
Add the slurry to the remaining milk and stock mixture and whisk over a high heat constantly until it boils and thickens. Reduce the heat to very low and simmer for 10 mins, stirring occasionally to make a thick paste.
Meanwhile, sauté the onions and garlic. Then add to the sauce. Sauté the mushrooms and add to the sauce. Add the mustard and oregano and stir well.
Place the mushroom sauce mixture into a wide shallow bowl then place in the fridge or freezer to cool. Remove from the fridge when completely cooled.
Get 3 bowls or shallow dishes. Fill the first with wholemeal flour, the second with milk, and the third with polenta.
Take 2 tbsp of the mixture and, using your hands, roll into a small ball. Repeat with the remaining mixture (will make 8 croquettes).
Dip each ball briefly into flour, followed by the milk, and then the polenta. Then place on a tray lined with greaseproof baking paper.
Bake for 20 mins until golden-brown. Then remove from the oven and let cool slightly for 15 mins.
For the cashew aioli, place all ingredients in a high-powered blender and puree to a very smooth creamy consistency.
Serve the croquettes with the aioli.