Vegetarian Samosas Recipe
Credit: Lisa Guy
Adding curry powder to dishes is a wonderful way to promote better health. Made with the super spice turmeric along with coriander, cumin, red pepper and cardamom, this delicious combination not only tastes amazing but is loaded with curcumin, a natural compound in turmeric that has been found to help reduce the risk of cancer, heart disease and Alzheimer's. Curry powder is also anti-inflammatory, making it beneficial for arthritis sufferers.
Makes: 12 samosas
1 onion, finely chopped
2 cloves garlic, finely chopped
Olive oil
1 medium sweet potato, peeled & diced
1 carrot, finely chopped
1 cup peas (fresh or frozen)
1 tbsp curry powder
Pinch sea salt & pepper
Small handful coriander
1 tbsp mango chutney
Juice ½ small lemon
6 sheets filo pastry
1 tbsp sesame seeds


Raita
200g natural yoghurt
Small handful mint, finely chopped
Juice ½ small lemon
Preheat oven to 200°C. Line baking tray with baking paper.
Cook onion and garlic in frying pan over medium heat with a little olive oil for 3 mins.
Add sweet potato, carrot, peas, curry powder and salt and pepper and cook for around 5 mins. Stir through coriander, mango chutney and lemon juice and cook for a further 2 mins, until sweet potato is cooked through. Gently mash mixture so it still has plenty of lumpy bits.
Lay 1 sheet filo pastry out on dry chopping board, brush with olive oil then lay another layer of filo on top. Cut into quarters then fill centre of each with 2 tbsp mixture. Fold filo over to make triangle and press down edges. Brush tops with a little olive oil and sprinkle with sesame seeds.
Place triangles on baking tray and bake for 30 mins, or until golden-brown.
To make raita simply mix ingredients in small bowl until well combined.
Samosas are delicious served warm with small bowls of raita and mango chutney.

Discover organic at our Wellbeing Directory

Like what you read? Sign up for a weekly dose of wellness






MORE INSPIRATION
Chocolate Pots Recipe
This is a fantastic recipe to put together quickly so you have a tasty chocolate dessert. Enjoy our delicious Chocolate...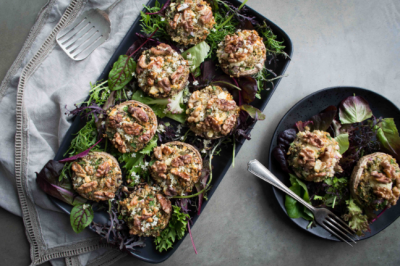 Quinoa-Stuffed Mushrooms Recipe
The combination of protein from the quinoa, carbohydrate via the vegetables and essential fats from the walnuts makes this one...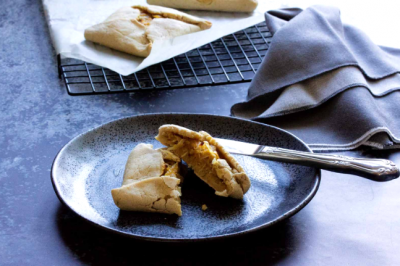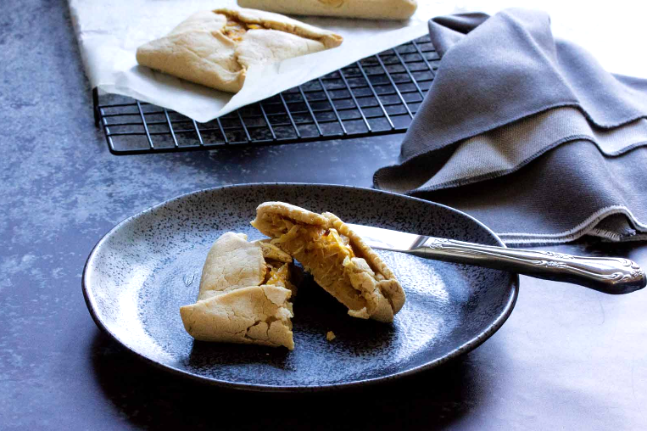 Onion Cake Recipe
Have you ever tried a German onion cake? Traditionally, they are prepared with white wheat flour and a cream and...
Pho Chay Recipe
A Vietnamese delight, pho is a popular dish that's versatile and delicious. Pho chay is the vegetarian version and, despite...