Vegie Nori Wraps Recipe
Credit: Lee Holmes
These wraps are satisfyingly simple. Feel free to make them your own — add any additional vegies you like to the mix. Packing these nori rolls for lunch will keep you nourished and grounded when you're on the go and they're just as easy to pull together for dinner for one.
Serves: 1
1 tbsp tamari
2 tsp rice-malt syrup
2 nori sheets
1 tbsp cashew nut butter
A few handfuls baby spinach leaves
½ cup shredded red cabbage
½ large carrot, grated
½ large avocado, sliced
Small handful coriander, chopped
Combine tamari and rice-malt syrup in small bowl.
Lay one nori sheet on clean work surface with long side facing you and shiny side down, then evenly spread half of nut butter over it, leaving 3cm border on top side. Spread about one-third of tamari mixture over nut butter.
Spread tiny bit of tamari on top side to help wrap stay rolled up. Put desired amount of spinach on top of nut butter and tamari layers, followed by half of each of remaining ingredients.
Be sure not to pile on too much or wrap could break when you roll it up. Roll nori up away from you until sealed.
Cut into three. Repeat with remaining ingredients.
Wrap in plastic wrap, seal in airtight lunchbox and refrigerate until ready to eat.
Note: Feel free to add or substitute any additional fresh vegies you like.

Discover organic at our Welbeing Directory

Like what you read? Sign up for a weekly dose of wellness






MORE INSPIRATION
Raw Berry Cheesecake Recipe
This dessert is delicious, healthy, vegan and beautiful… What more could you want in a dessert?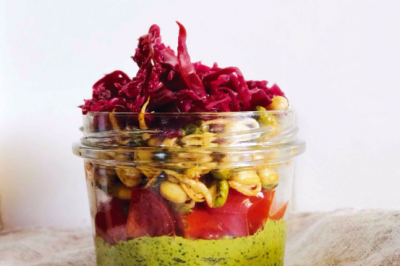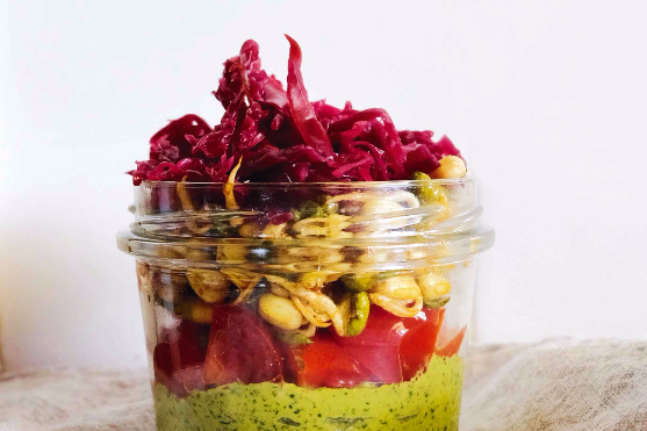 Raw Mexican with Walnut and Jalapeño Pesto, Cumin Sprouts and Salsa Recipe
This leftover pesto is wonderful as a spread, as a salad dressing or, if you're not eating raw, then on...
Beetroot Dip with Crudité Recipe
Here's a choose-your-own-adventure kind of meal, full of healthy fats and grounding protein. Enjoy, foodie friends!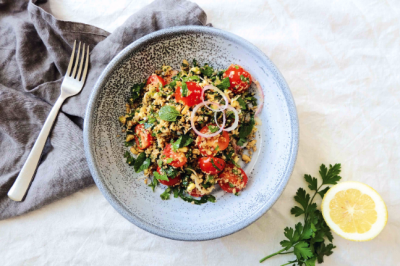 Raw Tabouleh Recipe
A delicious, raw take on a traditional favourite, this dish is jam-packed with goodness and is a little more "hearty"...