Could there be a more fitting antidote to 2020's isolation than communal bathing? As we return to public spaces, Australia is finally catching on to the ancient tradition of the bathhouse.
The Turkish have their legendary hammams, the Japanese bathe in the mineral-rich onsen and in Iceland, public pools, or sundlaugs, are community hubs whose ubiquity are seen as a kind of civil right.
Communal bathing is among our oldest self-care rituals; its therapeutic allure dates back centuries. In ancient Asia, the practice was a religious ritual believed to cleanse both body and soul. The ancient Greeks regularly soaked in public bathhouses after workouts at the gymnasium and for the Romans, the baths served as community centres, places to read and debate politics.
But bathing as a collective act is rare in the modern world. In Australia, as in most Western countries, we wash alone, at home. To bathe is purely functional and often done in the most efficient way possible. We might live in one of the warmest climates on earth, but public nudity is still viewed as somewhat transgressive.
The bathhouse, a sanctum of intimacy and inertia, is the antithesis to our frantic, often-isolated lives, where the only time we come into contact with the body of a stranger is on a crowded rush-hour bus. To attend a bathhouse is to be in direct contact with the naked bodies of strangers, to breathe the same thick air — a seemingly bizarre concept as we sit amid a global pandemic. But as we emerge from 2020's bodily vigilance, hungry again for care and touch, the bathhouse provides the perfect setting to release and reconnect.
"They are very hopeful spaces," says Mary Minas, one half of the duo behind Collingwood's newly opened bathhouse and day spa Sense of Self. Mary and her co-founder Freya Berwick dreamt up their wellness destination while travelling through Greece, Morocco, Japan and Scandinavia, destinations where public bathing is a commonplace ritual. "We both experienced the mental, emotional and physical benefits that communal bathing can deliver and wanted to offer Australians a taste of the experience," says Mary. "In the last 10 years or so, we could see that people had become increasingly overwhelmed. Our digital engagement is allowing work to encroach upon our rest and downtime, and our bodies and minds are feeling the grind."
A place to reset
It is difficult to imagine a more restorative ritual for body and soul than a good sweat in a bath, followed by exfoliation and the exhilaration of a cold plunge pool. The brute physicality of the baths, with their steamy mists and icy pools, is the perfect salve for modern disconnection, a way to reset your emotional thermometer.
But communal bathing is not just about washing or unwinding; it's a highly social activity that brings people together from all walks of life. In the baths you are stripped of material signifiers and that collective exposure is a great leveller, as it was in ancient Rome, where people of different social classes would wash side by side.
The baths invite you to inhabit your body fully, to be present in pleasure and share a moment of unguarded enjoyment with the bodies around you.
"Even before the pandemic, we knew that technology and the demands of a constantly 'on' social culture meant that many of us felt disconnected from ourselves and from others," says Mary. "When you bathe, whether it's done while chatting with a friend or in silence in the company of a few strangers, there is no option other than to be present in the moment."
The egalitarian nature of the bathhouse encourages self-acceptance, something Sense of Self is committed to nurturing. "Our goal was always to take the B-S out of self-care and offer a safe space that was truly restorative, inclusive and even playful," says Mary. The baths are spaces of exposure, where all kinds of bodies – not just those portrayed in the media — are on view. Mary notes that in cultures where bathing is more embedded, "people's relationships with their bodies [are] more accepting and neutral".
At the bathhouse, the body is something to be taken care of. It is not to be ridiculed or compared to others, but allowed to take part in an unselfconscious brand of pleasure. "Leisure and relaxation shouldn't feel like performative activities," says Mary, "and yet so often in our experiences, engaging with the world of wellness, we felt this pressure to compete, even in our downtime."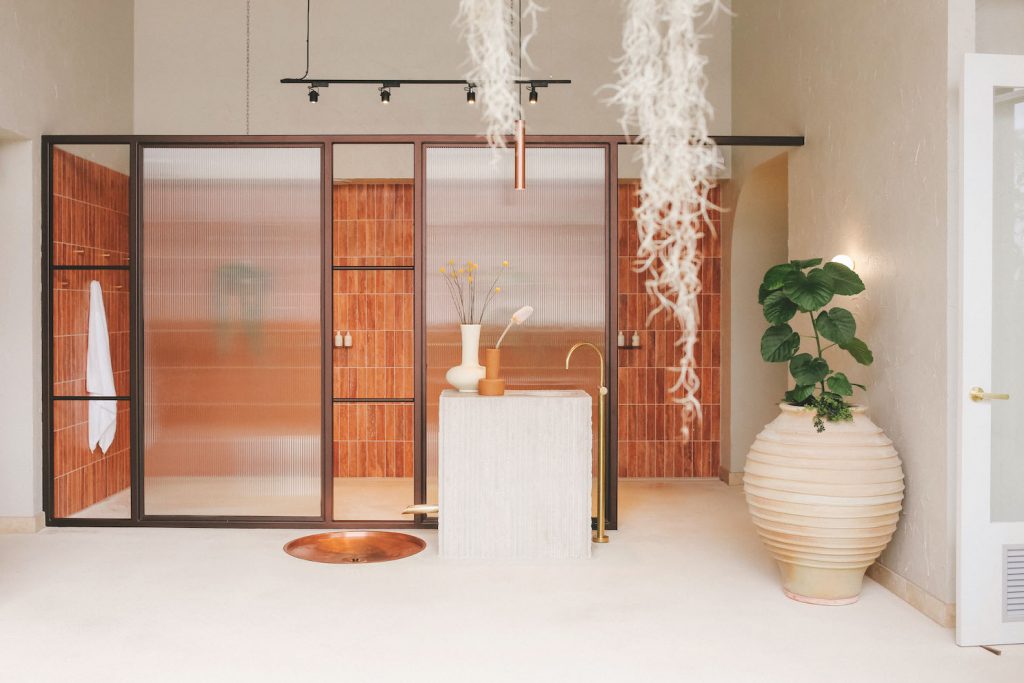 Despite being a social hub, the bathhouse also cultivates inwardness. For centuries, communal baths have offered a liminal space for people to sweat out the anxieties of life. Among anonymous company, you become more aware of yourself, as if the proximity of strangers demands a certain self-awareness. Against the backdrop of sociability, the baths allow you to withdraw and simply be — be part of something together.
Mary and Freya designed Sense of Self to be what they call a "choose-your-own-adventure experience"; "we feel strongly that self-care should be an autonomous, empowering act," shares Mary. The Collingwood bathhouse rotates around four traditional elements: a large mineral bath, a Finnish-style sauna, a cold plunge pool and a Turkish-style Hammam. Guests can spend time alternating between the light-filled bath, sauna and plunge pool. When one's skin is sufficiently pruned, there is always a visit to the massage studio upstairs or to simply hang out in the curtained-off mindfulness zone. "We want all our guests to leave feeling more connected to themselves and their bodies," says Mary.
Unlike the underground Turkish-style baths of New York City or London's dark and moody Russian banyas, Sense of Self is housed in a soaring, light-filled warehouse. Designed by an all-female team led by SetSquare Studio, the space is an exercise in what Mary refers to as "Mediterranean Brutalism".
Layers of terracotta, travertine and sandstone are brought to life through monolithic forms and soft edges. The design cultivates a unique synergy between old and new, public and private, with plenty of open space and room for retreat.
"We lucked out with a space imbued with lots of natural light, which filters in softly through large-format window," reveals Mary. "Mornings are glorious!" Bathhouses have deep roots in holy traditions and Sense of Self, with its wavering shafts of sunlight, feels akin to a place of worship. It's a space that gets to the crux of old bathing traditions, an intimate yet shared setting in which to relax publicly.
Where to find communal baths
Comma
10-12 Hill Street, Cremorne Vic 3121
commaspaces.com
Hepburn Bathhouse & Spa
Mineral Springs Reserve Road, Hepburn Springs Vic 3461
hepburnbathhouse.com
Japanese Bathhouse, Blue Mountains
259 Sir Thomas Mitchell Drive, South Bowenfels NSW 2790
Japanesebathhouse.com.au
Mataranka Thermal Pool and Rainbow Springs
642 Homestead Road, Mataranka NT 0852
Elsey National Park, NT
northernterritory.com/katherine-and-surrounds/destinations/mataranka-thermal-pool
Nature's Energy
Balmain: 312 Darling Street, Balmain NSW 2041
Glebe: 105 Glebe Point Road, Glebe NSW 2037
Newtown: 173 King Street, Newtown NSW 2042
naturesenergy.com.au
Onsen Retreat + Spa
Big Muster Drive, Dinner Plain Vic 3898
hepburnataltitude.com.au/onsen-spa
Ottoman Turkish Bath & Day Spa
Level 2, 46 Wellington Road, South Granville NSW 2142
ottomanturkshibath.com.au
Sense of Self
30-32 Easey Street, Collingwood Vic 3066
sos-senseofself.com
Charlie Hale is an English-born journalist based in Sydney, where she writes about a plethora of things women care about — from pasta to politics and everything between. Charlie is also the acting editor of WILD and WellBeing magazines.