Designing children's rooms for their emotional wellbeing
When designing a child's room, there are many factors to consider in creating the perfect space. Certain elements can impact your children's cognitive development and emotional health, so with the help of Amart, we're breaking down some of these key considerations.
Your usual interior design elements such as colour, light, texture and the functionality of the floorplan will all come into play when planning your child's bedroom. The furniture you select will also assist in cultivating comfort, reducing clutter and encourage a world of possibilities through imaginative play.
Interior design components
Function
Deciphering the function of the room is the most important foundation, as this will dictate the rest of your design and furniture choices. Some people like to create distinct zones within a room that separates sleep, play, enjoyment and learning. The positioning of furniture is integral to the function of a space and the way in which it will be used on a daily basis.
Colour
The impact of colour psychology has long been documented as a way to influence moods and evoke particular feelings. Neutral and pastel tones are said to work best in a child's room as a means of soothing and setting them up for a restful night's sleep. Avoiding high contrasting hues and busy patterns is also important as to not over-stimulate the child.
Light
Lighting is particularly important in a child's room as it triggers time for sleep, versus time to play and be awake. Natural lighting is encouraged for kid's bedrooms throughout the day, as poor lighting or artificial lighting that is too warm or too cold may cause anxiousness and depression. Consider adding dimmer switches to the lights to assist the transition from day to night.
Texture
Who doesn't love a cosy room? Fill your child's space with items they can use to self-soothe such as a weighted blanket, comfortable pillows, stuffed animal toys and luscious rugs.
 Fabulous furniture with purpose
Amart has a vast array of furniture available both in-store and online for sleep and play, and can be found in their collection of beds, dressers, chairs and storage solutions. Here are some of our top picks to nurture your children's emotional health!
To encourage imaginative play:
Cultivating a sense of imagination and creative play in early childhood helps to excite children's curiosity and passions. It expands their horizons, gives them a sense of freedom and is instrumental in the development of a child's cognitive ability.
Amart Freddy Fire Engine Bed – Perfect for the little firefighter in your life, this bed will have your child zooming around the streets, saving lives and making siren sounds as they fully immerse themselves in the experience of owning their own fire truck.
Amart Cubby House Bed – Children will love playing and sleeping in their very own cubby house – no matter the weather! Pair this with a starry night light so your kid's can watch the night's sky in wonder through the cubby's windows and door.
For socialising:
For children who are old enough to start hosting sleepovers with friends and family members, choosing furniture that can build on their social skills is a great idea. By developing a sense of connection and sharing their space with those closest to them, children can nurture their sense of belonging. It's also a fun way to spend a weekend with friends – either by watching movies, reading books and playing games together.
Captain Jack Bunk Bed – This bunk bed is a child's slumber party dream come true! It is available in white and has a fun and functional design that sleeps three. The combination of wood and MDF construction makes it strong and durable and meets Australian Standards.
Addison Bed and Trundle – Consisting of a jumbo single bed and matching single trundle bed, the Addison will help get the most out of a bedroom's space and will come in handy during sleepovers or unexpected visits from guests. It's also ideal for maintaining a neat bedroom space.
For comfort:
For healthy development, your child's bed should have a mattress which firm enough to keep their bones aligned and prevent them from sinking. The right mattress can also help to regulate blood circulation. If you're child feels physically at their best after a comfortable night's sleep, their emotional health will also thrive.
Orthokinetic Octavia Support – This mattress features a micro Tencel top panel for a luxurious feel and gel infused latex for the ultimate in comfort layers. It is also endorsed by Chiropractic Australia.
Posturepedic Elevate Supreme Medium – Featuring Sealy Alignsupport, gel infused Comfort core and Supersoft quilt layer – this mattress will have your child snoozing in utmost comfort.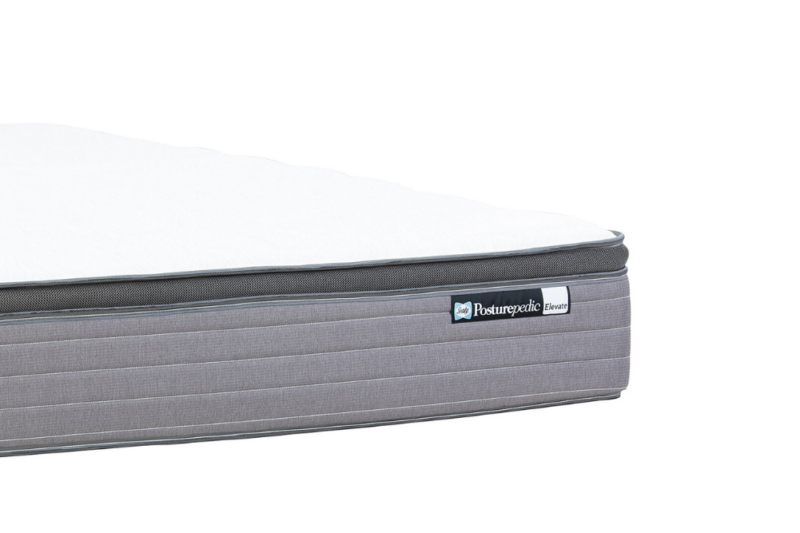 To cut the clutter:
Clutter can cause a sense of anxiety among children (and adults), so it important to teach children to put things away after using them. Having appropriate storage solutions to assist in the clean up will make it super easy to restore a space into a congestion-free zone.
Amart KODI Robe Bunk – This innovative product is not only a bed but also a study desk, and two-door robe! It offers ample storage and comes in modern neutral colours to suit any bedroom.
Emile Chest – Popping toys away is a breeze with this is functional chest. It is the perfect addition to any child's bedroom or playroom for ultimate organisation.
If you're in the process of designing a room for your child, be sure to check out Amart's extensive range of kid-friendly furniture, to help support their emotional and cognitive wellbeing.
Words Catherine Falalis