3 deliciously sweet recipes from Table of Plenty
Healthy Kefir Scones
Table of Plenty's Balance+ Muesli is a delicious blend of toasted almonds, coconut and seeds with a hint of vanilla and cinnamon. Low-FODMAP and fruit-free, it's ideal for helping to manage irritable bowel syndrome (IBS) and balance digestion. Combine with their Probiotic Kefir that's packed with 90 billion+ friendly bacteria and 10 live culture strains for the ultimate gut-friendly breakfast. Available exclusively at Coles.
Healthy Kefir Scones
Recipe / @thatlofolife for Table of Plenty
Makes: 16 mini scones
GF, V
2 cups gluten-free self-raising flour
Pinch salt
30g butter or vegan butter, chilled
1 cup Table of Plenty Lactose Free Kefir
Jam, to serve
Lactose-free thickened or whipped cream, to serve
Preheat oven to 240C and line baking tray.
In large bowl, combine flour and salt.
Using fingertips rub cold butter into flour until free of lumps.
Pour Table of Plenty Lactose Free Kefir into mixture and mix quickly with metal spoon until dough forms.
On floured surface, knead dough a few times until uniform.
Roll dough out to around 2cm thick.
Using a glass with diameter of approx. 5cm, cut out rounds of dough and immediately lay on lined baking tray, about 2cm apart.
Bake for about 10 mins, or until risen and golden brown.
To serve, top with lactose-free thickened or whipped cream and jam of choice.
Delicious Muesli & Berry Crumble
Recipe / @thatlofolife for Table of Plenty
Serves: 8
V
2 large punnets strawberries
75g frozen blueberries
75g frozen raspberries
2 tbsp cornflour
1 tbsp caster sugar
Crumble Layer:
1¼ cups low-FODMAP plain flour
3 tbsp caster sugar
2 tsp baking powder
100g salted butter, chilled
½ cup lactose-free thickened cream
½ cup Table of Plenty Balance+ or Probiotic+ Muesli
Preheat oven to 180C.
Hull and halve strawberries and place with frozen berries into baking pan, tossing with the cornflour and caster sugar.
In large mixing bowl, combine flour, sugar and baking powder.
Cut cold butter into small cubes and add to mixing bowl. Using fingers rub butter into flour mixture until it resembles wet sand.
Pour in cream and Table of Plenty Muesli, stirring through mixture until dough forms.
Place handfuls of dough on top of berries and flatten slightly with hands, leaving space for dough to spread while cooking
Bake for around 40 mins or until golden brown.
Kefir Yoghurt & Muesli Cups
Recipe / @healthybodsdietition for Table of Plenty
Makes: 8
V, VG
1½ cups Table of Plenty Probiotic Kefir
1 cup Table of Plenty Balance+ Muesli
Honey, to serve (optional)
Fill muffin tin with Table of Plenty Probiotic Kefir.
Top with Table of Plenty Balance+ Muesli.
Place in freezer for 2 hrs.
Drizzle with honey for extra touch of sweetness.
Tip: Substitute Balance+ Muesli with Table of Plenty's New Probiotic+ Muesli for an extra boost of inner gut goodness!
For more information visit tableofplenty.com.au
MORE INSPIRATION
Overnight Kefir Oats & Chia Brekkie Bowl
On a Sunday eve I will often soak oats and chia seeds ready to see me through the start of...
Corn and Haloumi Fritters
These are delightful little fritters that are more about showcasing the ingredients than the fritter itself. They make a wonderful,...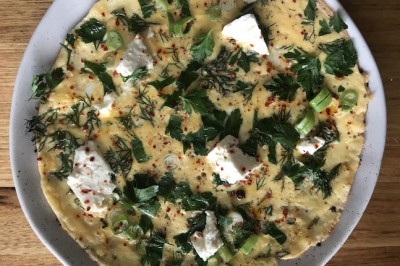 Flat Omelette
An extremely simple but filling breakfast that is endlessly adaptable to what you have on hand.