4 delicious autumn recipes made in the falcon oven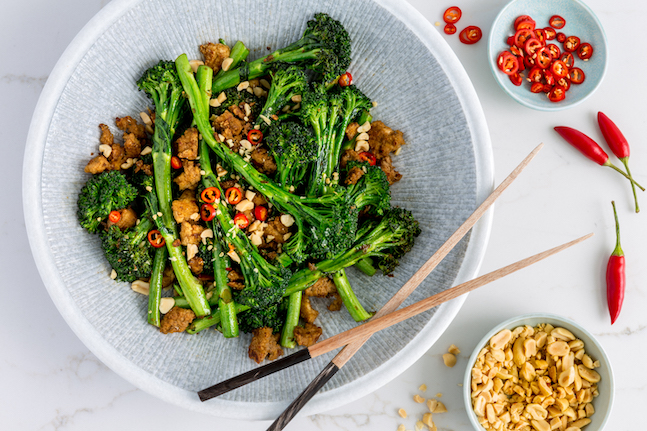 Broccolini With Tofu, Chilli & Peanuts
Falcon range cookers have been manufactured in Royal Leamington Spa, UK, since 1830. From contemporary to traditional to industrial range cookers and over 80 different product combinations to choose from, there's a Falcon for every style. With a Falcon at the heart of the kitchen, the kitchen is always the heart of a home.
Broccolini with Tofu, Chilli & Peanuts
Recipe / Falcon
Serves: 4
GF, V, VG
150g firm tofu, drained
2 tbsp sesame oil
1 clove garlic, minced
1 tsp minced fresh ginger
1 bird's-eye chilli, thinly sliced, plus extra to serve
3 bunches broccolini, trimmed
2 tbsp gluten-free light soy sauce or tamari
30g roasted unsalted peanuts, chopped, to serve
Place tofu on plate lined with paper towel. Cover with more paper towel and press firmly to extract as much liquid as possible. Discard paper towel and crumble tofu onto plate.
Heat 1 tbsp oil in wok or large frying pan over medium–high heat. Add tofu and cook, stirring, for 5–10 mins until golden and crisp. Transfer to plate.
Add remaining oil to wok along with garlic, ginger and chilli. Cook for 30 secs until fragrant, then add broccolini and stir-fry for 3–4 mins until crisp-tender. Add soy sauce and tofu and toss to coat.
Transfer to serving platter and sprinkle with peanuts and extra chilli. Serve.
Roast Beef Fillet with Panzanella
Recipe / Falcon
Serves: 6
1.2kg beef fillet
6 thick slices sourdough bread
⅓ cup extra-virgin olive oil, plus extra for brushing
Sea salt & black pepper
2 tbsp white balsamic vinegar
1 clove garlic, minced
500g mixed tomatoes, halved
1 Lebanese cucumber, peeled and diced
½ small red onion, thinly sliced
1 tbsp baby capers
1 cup fresh basil leaves, torn, plus extra to serve
Preheat oven to 180°C fan-forced.
Heat non-stick grill, teppanyaki plate or large frying pan over medium–high heat. Brush beef with oil and season with salt and pepper. Brown beef for 2–3 mins, turning, until browned all over. Transfer to roasting pan and roast for 20 mins for medium, or until cooked to your liking. Cover loosely with foil and rest for 15 mins.
Meanwhile, brush bread with oil and season with salt and pepper. Cook on grill for 5 mins, turning, until toasted and charred. Break up into chunks.
Place oil, vinegar, garlic, tomatoes, cucumber, onion, capers, basil leaves and bread into large bowl. Season with salt and pepper and toss to combine.
Slice beef and transfer to platter. Arrange salad on side and top with extra basil leaves.
Prawns with Chilli Coconut Sauce
Recipe / Falcon
Serves: 4
GF
2 tbsp coconut oil
1 clove garlic, minced
1 tsp finely grated fresh ginger
2 stalks lemongrass (white part only), finely chopped
4 long red chillies, deseeded & finely chopped
1 tbsp brown sugar
1 cup coconut milk
16 large unpeeled green prawns, heads removed, split down the middle & deveined
1 tbsp lime juice, plus extra wedges to serve
Fresh coriander leaves & sliced red chillies, to serve
Heat oil in wok or large frying pan over medium heat. Add garlic, ginger, lemongrass and chilli and cook for 1 min until fragrant. Add sugar and coconut milk and simmer for 2 mins until thickened. Keep warm.
Heat teppanyaki or large frying pan over medium–high heat. In batches, cook prawns, shell-side down, for 4-5 mins, until cooked through. Add prawns and lime juice to coconut sauce and toss to combine.
Pile up prawns and sauce onto serving platter. Sprinkle with coriander, sliced chillies and extra lime.
Lemon Curd & Coconut Cookies
Recipe / Falcon
Makes: 16
V
250g unsalted butter, softened
¾ cup caster sugar
1 tsp vanilla extract
3 cups plain flour
3 cups plain flour
1 egg
120g coconut flakes
⅓ cup store-bought lemon curd
Preheat oven to 160°C fan-forced.
Place butter and sugar in bowl of electric mixer fitted with paddle attachment and beat until pale. Add vanilla and flour and beat until just combined. Roll into 5cm diameter log shape and wrap in plastic. Refrigerate for 30 mins until firm.
Whisk egg with 1 tbsp of water in bowl. Place coconut in separate bowl. Cut dough into 1.5cm thick slices and dip in egg wash, then into coconut and toss to coat. Transfer to baking tray lined with baking paper. Repeat with remaining dough.
Make indentation in top of each cookie and place ½ tsp lemon curd into each hole. Bake for 15 mins until golden. Cool on tray.
For more information visit andico.com.au/falcon