Cabbage & Potato Gratin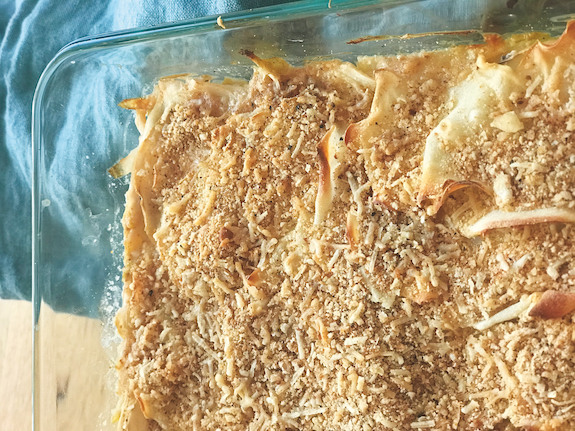 Cabbage & Potato Gratin
Cabbage and potato combine here for a delicious bake that can work well as a side or as the main event. My secret is pre-cooking the potatoes as I always find they take too long cooked from raw in this way — and I never have the patience to wait!
Serves: 4–6
V
½ white or green cabbage
2 large potatoes, sliced
4 cloves garlic, peeled & chopped
1 cup milk
¼ cup plain yoghurt
½ cup Gruyère, grated
¼ cup parmesan, grated
¼ cup breadcrumbs (gluten-free if required)
Preheat oven to 180°C.
Slice cabbage into ribbons and place onto baking tray, drizzling with a little olive oil and sprinkle of salt.
Roast for 10–15 mins, until cabbage is beginning to soften and caramelise.
Meanwhile, place potato slices into saucepan of boiling water and simmer for 5 minutes. Drain and set aside.
Place cabbage in baking dish and add garlic, tossing to combine.
Sprinkle half Gruyère onto cabbage mixture. Layer sliced potatoes over top.
Whisk together milk, yoghurt and remaining Gruyère in bowl and pour over potatoes, pressing down to allow mixture to seep through layer of potatoes. Bake in oven for 1 hr.
10 mins before end of cooking time, remove dish from oven and sprinkle over parmesan and breadcrumbs before returning to oven to brown.