In conversation with Analiese Gregory
New Zealand-born chef Analiese Gregory is no stranger to fine dining, having worked at notable restaurants including Quay in Sydney and Michel Bras' eponymous Michelin-starred restaurant in countryside France. But in 2017, Analiese packed her bags for an unchartered life in the Tasmanian wilderness where she hunts, forages and fishes to source the freshest local ingredients in the most sustainable of ways. Now, she is one of Australia's most-talked-about young chefs and has recently released her new cookbook memoir How Wild Things Are and has a TV series in the works. Here, we chat to Analiese about her farm-to-table lifestyle, affinity for seaweed and what she's currently cooking up in her kitchen "lab".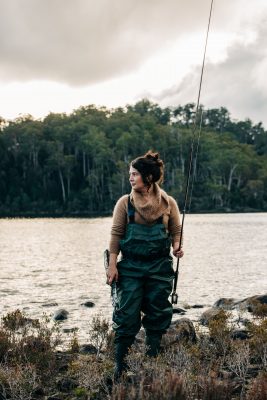 Analiese, tell us about your journey into the food world. Where did it begin and how?
Oooh, that's going back a long time now! I started going to tech and cooking professionally when I was 16 in Auckland, New Zealand. I was a very determined little thing — I remember signing myself out of school and going straight into a two-year culinary arts diploma. I just remembered the other day that I didn't get the first restaurant job I applied for as a commis chef — it was crushing! Although I suppose things turned out OK.
Tell us about your relationship with sustainable foraging, sourcing and eating.
It wasn't really 'til I moved to countryside France to work at Bras that I started to really think about who farms our food, wild vs farmed and where it all comes from. Prior to that, it was just about getting your hands on the best ingredients you possibly could. I guess it's a bit of a Pandora's box — once you start thinking about sourcing and sustainability, fast-forward a few years and you've suddenly got chickens, pigs, beehives and are trying to do it all! Generally, I try to forage and grow what I can and buy the rest from producers whose farming methods I feel comfortable with and believe in.
You've left the city lights behind for a rugged Tasmanian lifestyle. What are your favourite local ingredients and how do you like to enjoy them?
I really do love the Tasmanian seafood, especially abalone, sea urchin and crayfish. One of my favourite ways to enjoy abalone is steamed whole with a bit of sake and soy and then roasted in brown butter with herbs and diced lemon segments. Sea urchin is delicious with a bit of crème fraiche on any carb-based vehicle or even potatoes.
Your debut book How Wild Things Are is the perfect memoir-cookbook hybrid. What inspired you to opt for this style?
I suppose I was buying a lot of restaurant cookbooks but then just keeping them on the shelf at my house or the restaurant and not really opening them, whereas I would devour books like Blood, Bones and Butter, and I remember that the stories in The French Laundry Cookbook had a profound effect on me as a young chef. So I wanted to bring a bit of that to a cookbook, no studio shots, just the reality of life, food I actually cook and the story of how I came to be in Tasmania.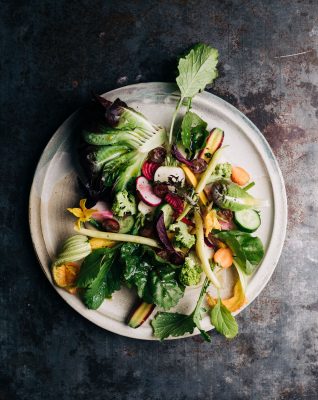 What is your perfect dining experience?
Last week, I drove up the east coast of Tasmania and stopped for (locally caught) whiting and chips in Bicheno at The Gulch, sat by the sea eating them and drinking a sour beer, as a pod of dolphins swam past. It was pretty perfect.
What is one thing in your kitchen or cooking process that you can't live without?
Seaweed. I love it. I use it in stocks, in braising, I even make condiments out of it.
What is something that has inspired you lately?
Young farmers. I'm pretty focused on using Tasmanian produce, which can mean that, for a long time, I don't eat certain products like duck or chicken because they're not available unless I have roosters to knock off. Recently, though, I've discovered a rabbit farm close to me in the south and a Muscovy duck farm run by great people. When I see new products like these, I'm inspired to cook with them — my mind goes into overdrive about all the things I want to do.
Are there any food trends you're bringing to your cooking?
I think I try to stay away from trends these days as they come and go. I feel like everything has already come full circle and now we're focusing on sustainability, native foods, supporting small farms and Nana skills again, and I love it. I do a lot of preserving in terms of making vinegars, XO sauce, seaweed condiments, shrubs, teas, powders — my kitchen is like a strange little lab.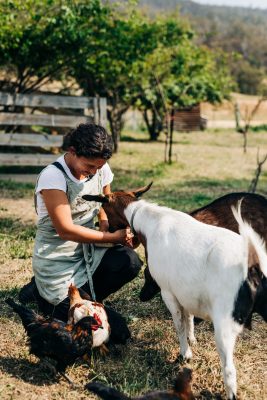 What are you enjoying eating at the moment?
Well, it is winter in Tasmania right now, which means the mighty Sugarloaf cabbage is in season, delicata squash, striped trumpeter and the seafood always seems sweeter and in better condition over winter.
You've recently released your debut book and have a new TV series, A Girl's Guide to Hunting, Fishing and Wild Cooking. What's next for you?
I'm really not sure, there's a bunch of ideas floating around at the moment. First, I'm building a commercial kitchen in an abandoned veterinary clinic at my house so I can tinker and potter in there and separate work from life a little. I've started thinking about another book idea and I don't think I'm ready to give up professional restaurant cooking entirely yet!
Do you think food can play a role in shaping a better future for the world?
I do feel that food can be used as a tool for positive change and communication. I've lived in quite a few countries around the world and food has always been a universal language that everyone speaks. However, our systems of production and supply do need a lot of looking at, which is something that the last year has really brought home to a lot of people.