Discover how to "do" Uluru
It's 5.30am and I can't feel my toes, despite wearing boots, thermals, a down jacket and a beanie. It might be spring-warm in other parts of Australia, but here in the middle of our desert continent it's a chilly five degrees — and feels colder to me, having just left the warmth of a four-wheel-drive to stand on a low sand dune called Tali Wiru. It's a vantage point with horizon views in every direction, interrupted only by the silhouettes of a few spindly desert oak trees.
"Where's Uluru?" someone asks. Our guide, Sonia, points to where it should be, but the famous shape is hard to make out in the half-light.
Not that it matters. Unlike other sunrise tours where the objective is capturing Uluru in the day's first rays, this Indigenous-run Desert Awakenings tour is all about experiencing the serenity of an outback sunrise with only 14 other people, and connecting with the land and the culture of Uluru's traditional owners, the Anangu people.
Even from the main sunrise-viewing area, a series of platforms and bush tracks that can comfortably accommodate 500 people, and their selfie-sticks, Uluru inspires a quiet reverence.
As we cradle mugs of plunger coffee and billy tea, breakfasting on damper smothered in golden syrup and bacon-and-egg rolls cooked on the campfire, Sonia tells us a little about Anangu culture. First we learn the word palya: an all-purpose greeting said when arriving on someone else's land, a sort of "hello-I'm-here-thankyou".
We learn that making eye contact can be seen as antagonistic and Anangu shake hands only in times of death and great sorrow. That they often sing, first thing in the morning. That Tali Wiru ("beautiful dune" in Pitjantjatjara) is a special place usually off-limits to tourists, a spiritual site known for its healing energy. Sonia invites us to put our hands in the soft red sand. Then everyone goes quiet and our little group watches as a silent sunrise lights up the world.
Uluru then & now
Tourism has come a long way since the first tourists started arriving in the 1930s to see "Ayers Rock" and "the Olgas" (as Uluru and Kata Tjuta were named in the 1870s, thanks to explorers Ernest Giles and William Gosse).
Back then, people had to bring their own supplies and sleep in tents at the base of Uluru, which was part of an Aboriginal reserve created in the 1920s by the Commonwealth, South Australian and Western Australian governments. In 1950, it became the centrepiece of Ayers Rock National Park (Kata Tjuta was added in 1958), which became Uluru-Kata Tjuta National Park in 1977.
Then came the "handback" on October 26, 1985: Uluru was returned to the Anangu traditional owners, a high point for land rights in Australia. Because of its national significance, the Anangu leased the national park back to the Commonwealth government for 99 years and it's now jointly managed by Parks Australia and a predominantly Anangu Board of Management that uses both traditional and science-based skills and knowledge to look after the country.
As a result, every aspect of tourism in the national park — every access road, every tour, every experience — is guided by Anangu culture, which means it is guided by Tjukurpa. What was once called "Dreaming" or "Dreamtime" is a very real part of daily life for the Anangu, informing everything from their laws and moral codes to their relationships with plants, animals, the land and each other. It's creation time and ancestors, it's the here and now, it's the future.
Uluru 101
When I first visited Uluru a few years ago, it blew me away. It's so much more than a red rock in the desert. It has a presence, a power, that's difficult to explain. And, for a place so recognisable, it's surprisingly surprising.
For one thing, it's much bigger than it looks in photos: 3.6km long and 348m high (43m higher than Sydney Tower); like a terrestrial iceberg, it extends 6km underground. And, although it looks brick-smooth from afar, up close its rounded haunches are complicated by caves and canyons, pools and pockmarks, dimples and honeycombing.
It's not really red, either: Uluru is made of steel-grey arkose sandstone; it's iron in its surface layers that oxidises on contact with air to give the rock its trademark rust-red colour.
Nor is it touristy, despite receiving about 300,000 visitors from all over the world every year. Even from the main sunrise-viewing area, a series of platforms and bush tracks that can comfortably accommodate 500 people, and their selfie-sticks, Uluru inspires a quiet reverence. And, in a landscape this big, it's never hard to find a bit of solitude.
How to "do" Uluru
I returned to Uluru recently and it surprised me again — for two different reasons. First, there are now so many ways to experience it and Kata Tjuta, it can be hard to know where to start. My advice: stick to the classics. Sunrise is still THE must-do experience, whether you opt for the self-drive option or take a sunrise tour that visits selected spots around the base of Uluru afterwards, such as Mutitjulu Waterhole.
At the dinner end of the day, Uluru takes "eating out" to a whole new level.
You can also combine sunrise-viewing and the 10.6km Uluru Base Walk, another classic. One advantage of doing this desert-flat walk around Uluru is that you get close enough to put your bare hands on its sun-warmed skin; another is that it gives you time to be there, to feel where you are. There are shorter walks, too, such as the 2km Mala Walk, and free ranger-led walks every day. You can even ride around Uluru on a rented bike (from Outback Cycling), no guide required, so you can go at your own pace, looking up along the way.
At the dinner end of the day, Uluru takes "eating out" to a whole new level. The highlight of my stay this time was the Tali Wiru experience. It starts with champagne and sunset views of Uluru and Kata Tjuta from the same "beautiful dune" from which I'd seen the sunrise that morning; then comes a sublime four-course dinner for only 20 guests, with lanterns hung in the desert oak trees, followed by Anangu stories by the campfire. There's also the Sounds of Silence dinner in a different location: there are more people and dinner is a bush-food buffet (crocodile Caesar salad, anyone?), but it's also beautiful.
Both experiences include after-dinner stargazing — the Red Centre is one of the best places in the world for it, with no light pollution and low humidity — and Anangu perspectives on the constellations. Who knew the Pleiades are part of a songline that crosses the entire continent from east to west?
Listen, learn & look
"Clear listening, which starts with the ears, then moves to the mind, and ultimately settles in the heart as knowledge." ~ Tony Tjamiwa, Traditional Owner
The second surprise this time was how much there is to listen to out there. Not just silence and birdsong at waterholes, but tour guides. All guides working in Uluru-Kata Tjuta National Park undertake rigorous training in terms of what they can and can't tell visitors, and all those I met seemed to have a deep respect for Anangu culture. It can't be easy sharing Anangu stories, explaining their significance, their built-in lessons — about respect, about how to survive, about not climbing Uluru — and the subtleties of this ancient culture in words never designed to describe such things.
At Yulara … there are free bush yarns, garden walks to learn about bush food and local flora, and traditional dances where youths in black boardshorts, their bare chests painted, stamp bare feet on red earth to the rhythm of clapsticks.
Of course there's art all over the place, from ancient rock art in caves at the base of Uluru to Field of Light, called Tili Wiru Tjuta Nyakutjaku in Pitjantjatjara ("looking at lots of beautiful lights"). This interactive art installation by acclaimed British artist Bruce Munro features more than 50,000 dandelion-like glass stalks that magically light up the desert every night until March 2018.
In Yulara, the resort-village outside the national park, there's contemporary Indigenous art at a new gallery, Windtjiri Arts & Museum. Next door, Mani-Mani Indigenous Cultural Theatre uses technology such as holograms in its free performances to tell stories about ancestral beings.
Beyond Uluru
It's worth spending time at Yulara, particularly in the heat of the day; everything is within shady walking distance (a shuttle bus also loops around the village). There are free bush yarns, Garden walks to learn about bush food and local flora, and traditional dances where youths in black boardshorts, their bare chests painted, stamp bare feet on red earth to the rhythm of clapsticks. You might even see a few Anangu kids doing handstands on the grass under the river redgums.
And you can't come all this way without visiting Kata Tjuta, the lost world of 36 domes (its name means "many heads"), some even higher than Uluru, about an hour's drive from Yulara. There are sunrise and sunset tours there, too, but the best way to immerse yourself in this stony maze, which is a traditional men's site, is to do the 7.4km Valley of the Winds loop or the shorter (2.6km) Walpa Gorge walk. Even in spring the heat is dazzling and an eerie silence fills the space between domes.
There's nowhere like the Red Centre. From the immensity of Uluru and the neverendingness of the landscape to the generosity of the Anangu in sharing their culture with outsiders, it's a place you can't help being affected by, no matter what you do there or how many times you've been. A place that offers something special: a glimpse of an Australia that's unimaginably ancient and vividly current and shining on us all, one sunrise at a time.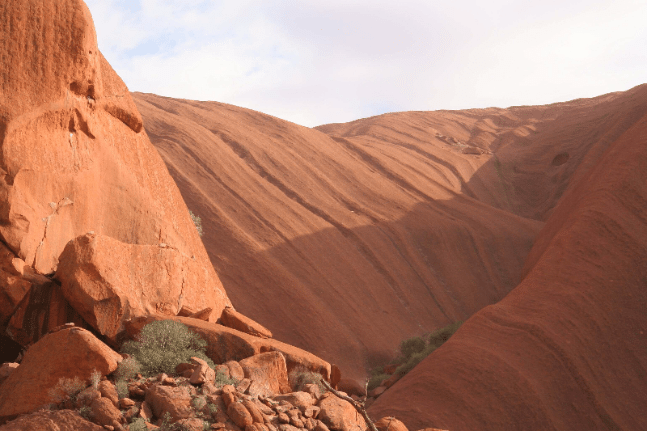 Why is climbing Uluru still allowed?
"That's a really important sacred thing that you are climbing … You shouldn't climb. It's not the real thing about this place. The real thing is listening to everything." ~ Kunmanara, Traditional Owner
The backstory: Tourists have been climbing Uluru since they first started visiting the Red Centre, and a chain was installed in the 1960s to keep them safe. Attitudes to climbing Uluru started changing after "handback" in 1985 (see main story), but climbing remained a drawcard (74 per cent of visitors climbed Uluru in 1990) and has never been banned.
Why shouldn't we climb Uluru? The short answer: for cultural, safety and environmental reasons. In more words: because of Uluru's spiritual significance to the Anangu (the now-worn path on Uluru's north-western side traces the route taken by the ancestral Mala men on their arrival at Uluru), because it's dangerous (more than 35 people have died climbing Uluru and many more have been injured, which deeply affects the Anangu, who feel responsible) and because it's environmentally damaging (there are no toilets up there, for instance, so tourist waste pollutes waterholes at the base of the rock after rain).
But really there's only one reason that matters: Uluru's traditional owners don't want us to. We don't need to know why. We need only respect their wishes and their culture, just as we respect other cultures when we Travel.
Parks Australia's most recent research has found that 98 per cent of visitors would still visit Uluru even if they couldn't climb it.
So why isn't climbing Uluru banned? This is more complicated and requires understanding the situation from an Anangu perspective. At the risk of over-simplifying things, it's just not their way to say, "Don't climb." Instead, they ask that visitors respect Anangu law and culture by not climbing.
The good news is that some other activities have been banned on Uluru, such as rock climbing, abseiling, hang-gliding and BASE jumping, and it's illegal to climb any of Kata Tjuta's domes. And the Uluru climb is closed sometimes: every day during summer (between December 1 and late February) and at other times when the temperature is predicted to exceed 36 degrees, the summit is too windy or cloudy, there's a chance of a thunderstorm, after rain, during rescue operations and for cultural reasons such as when a community leader has died.
Will the climb ever be permanently closed? Yes, says Parks Australia. According to the current management plan, to be revised in 2020, the climb will be permanently closed when at least one of these three conditions is met: fewer than 20 per cent of visitors climb Uluru, there are enough other "visitor experiences" in the national park or the climb is not the main reason people visit Uluru. So far, so good: the number of people climbing Uluru in recent years has been "fluctuating around 20 per cent" (down from 38 per cent in 2008), there are dozens of tours and experiences in and around the national park, and Parks Australia's most recent research has found that 98 per cent of visitors would still visit Uluru even if they couldn't climb it.
Ultimately, however, respecting the wishes of the Anangu also means respecting their wish not to close the climb. It's their call. When the time comes, Uluru's Board of Management — made up of eight Anangu traditional owners and four non-Anangu members — will decide. Not a minister, not even the Prime Minister. And it will be done gradually, to give the tourism industry at least 18 months notice. Watch this space.
Escape Routes
Virgin Australia and Jetstar both fly direct from Sydney to Uluru (Ayers Rock Airport) daily; Jetstar also flies from Melbourne. Qantas flies via Alice Springs from all mainland capitals. See virginaustralia.com, jetstar.com, qantas.com
Voyages Indigenous Tourism Australia manages all visitor accommodation in Yulara, the closest settlement to Uluru-Kata Tjuta National Park, under the "Ayers Rock Resort" banner. There's something for every budget: from cabins, campsites and self-contained apartments to the five-star Sails in the Desert hotel and Longitude 131° luxury tented camp. See ayersrockresort.com
A free shuttle bus loops around Yulara but doesn't go into the national park. For that, you need to rent a car, take the Uluru Express bus (uluruexpress.com.au) or book a tour through Ayers Rock Resort or a tour operator such as AAT Kings (aatkings.com) or SEIT Outback Australia (seitoutbackaustralia.com.au). See parksaustralia.gov.au/uluru
The best time to visit is between May and September when it's not too hot during the day. It can get cold then, however, so pack plenty of warm clothes for the sunrises and starry nights.
Voyages adds an AU$3 donation to every guest's account, which goes to the Mutitjulu Foundation (mutitjulufoundation.org.au), set up by Voyages in 2003 to improve the wellbeing of Anangu people in Mutitjulu community in the national park, and matches all guest donations up to AU$200,000 each year. You're also giving back by visiting the national park: 25 per cent of park revenue from visitor passes plus AU$150,000 a year goes to the traditional owners.
Tour prices don't include the 3-day national park pass, which costs AU$25 for adults, AU$12.50 for children and AU$65 for families (parksaustralia.com.au/uluru). When walking in the outback, always wear a hat and carry water — at least one litre per person per hour.
Tourism Northern Territory: travelnt.com