WellBeing Festive Gift Guide
An edit of mindful gifts from us to you.
The Wellness Edit.
Good-for-you goodies to delight health enthusiasts and spiritual souls.
Vita-sol Purity Wholefood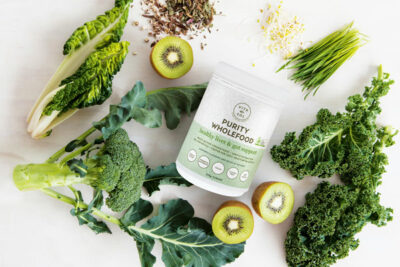 Vita-sol premium certified organic greens is an inner beauty powerhouse designed to support a healthy liver, gut and skin. Containing natural nutrient rich ingredients to give nutritional support over the festive season.
W: vita-sol.com
Purematcha
Tea in Japan is offered as a gift for good health and longevity. Cultivated in Uji Japan, this ceremonial grade matcha is high in mood-enhancing L-theanine and supremely fresh in colour and taste. Treat yourself or someone you love with the health enriching taste of pure matcha green tea.
W: purematcha.com.au
Moontime Diary
The Moontime Diary keeps you informed about planetary movements. By tuning into seasons and cycles, you can live a healthier, more organised and sustainable lifestyle. The Birthday Calendar helps you choose suitable gifts aligned to the zodiac signs.
W: moontimediary.com.au
Earthing Oz
Ocushield blue light filters help to relieve digital eye-strain, fatigue and help improve sleep by filtering out harmful blue light from your iPhone, iPad, laptop or monitor. Visit Earthing Oz for Ocushield and more safe tech solutions.
W: earthingoz.com.au
Indie Rose
Revitalising and nourishing your skin has never felt so good. Indie Rose Rituals luxury body oils are jam packed with antioxidants to intensely hydrate and invigorate your skin while enhancing a whole new level of self-love. Plus, they are 100 per
cent natural and illuminated with 24k gold.
W: indieroserituals.com
Weleda Stretch Mark Massage Oil
Help your skin keep its natural tone and resilience during and after pregnancy with this all natural massage oil. With sweet almond oil and vitamin E-rich wheatgerm oil, this oil helps prevent stretch marks, leaving skin smooth and elastic.
W: weleda.com.au
Byron Bay Tea Co.
Beauty begins on the inside, which is why Byron Bay Tea Company's GLOW tea is the perfect primer. The zesty blend of lemongrass and ginger is complemented by a purifying punch of peppermint. For a naturally healthy complexion, and to sustain your internal vigor, sip Byron Bay Tea Company's GLOW.
Organic Merchant Tea
Add some spark to your morning routine. Organic Merchant's Spark Dust is made from Peruvian cacao and mixed with the sweet, earthy and nutty flavours of reishi and shiitake mushrooms to provide a vitamin and antioxidant dense boost to your morning granola, nourish bowl, smoothie or coffee.
Christina Richter
Christina Richter is a full-time practising holistic astrological consultant, specialising in medical astrology. Her 35-year background as a registered nurse (mainly in intensive care), ayurveda, colour therapy, healing touch and stress management has given her insight into people's perceptions of health and disease. Her personal journey with potentially major health dilemmas guided her to seek out alternatives that avoided surgery. This book can be used independently or in conjunction with Learn to Self Heal, and you do not need to be an astrologer to understand this book.
The Style & Beauty Edit.
For beauty lovers and skincare addicts who enjoy a more natural approach.
Byron Bay Bronze
A limited edition Christmas bundle that contains everything you need for a summer glow without the harmful chemicals. Spoil a loved one with the brand's four bestsellers: Luxury Face Tan Water, Self-Tanning Foam, Pro Strenghth Tan Remover and a Luxe Tanning Mitt, or gift it to yourself for a
no-nasties, safe tan this holiday season.
W: byronbaybronze.com.au
Shampoo With A Purpose Facial Cleanser Bar
Do you want to go plastic free but keep your beautiful glow? Look no further, our facial cleanser bar is a pH-balanced, Australian made, all-natural cleanser
and it doesn't need a plastic bottle. It's long-lasting and soothing for the skin.
W: shampoowithapurpose.com
Happy Breast Balm Breast Care Kit
An all-natural, self-care kit containing the original Happy Breast Balm, plus a dry skin brush, massage mantra and instructions on brushing the body and massaging the breasts to improve blood flow. Get to know and love your breasts or inspire a loved one to take care of theirs.
W: breastbalm.com
Dermatonics®
Give a gift every skin type will love! The top-selling Dermatonics® Nourishing Face Oil calms and hydrates all skin types and has been dubbed "liquid gold" and a "game changer" for complexions.
W: dermatonics.com.au
GUINOT Advent Calendar
GUINOT's glamorous second edition advent calendar is filled with 24 surprises to pamper you head to toe. Create 24 moments of magic, designed to make your skin youthful, smooth and radiant. Ending the year in celebrating beautiful you.
W: guinot.com.au
Pod Organics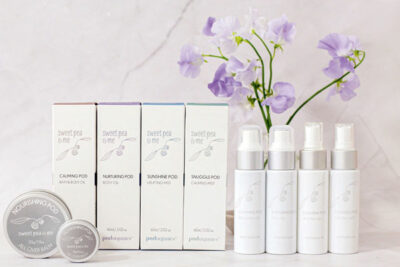 Pod Organics captures the wondrous gifts of nature to bring you skincare products that naturally nourish and nurture. Their award-winning products are multi-purpose, all natural, organic, cruelty-free and ethically sourced. Their Sweet Pea & Me range is lavender-free, vegan, breastfeeding, and pregnancy safe, safe for the whole family and kind to even the most sensitive and delicate skin.
W: podorganics.com.au
Cozmetic Lab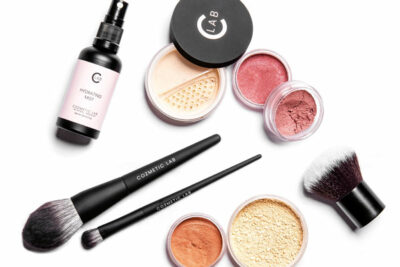 Designed to help you feel beautiful and confident in the skin you're in, Cozmetic Lab fills the gap between makeup and skincare. Each product is loaded with skin loving ingredients to help support natural, healthy and glowing skin.
W: cozmeticlab.com.au
BABOR Advent Calendar
Escape the ordinary and join the BABOR fairy tale this Christmas. Let us take you through seven beautiful chapters of our BABOR Advent Calendar journey, with each chapter opening up to a surprise product to make you glow each day for 24 days till Christmas.
W: au.babor.com
The Natives Co.
The Natives Co. scour the globe for the finest international and home-grown natural and organic skincare, makeup and wellness products. Their ethical, safe and luxurious products are the best indie beauty has to offer, grown in nature and proven in science. For festive giving made easy, browse their gift guide, which is bursting with ethical and luxury products perfect for the conscious consumer.
W: thenativesco.com.au
RAWKANVAS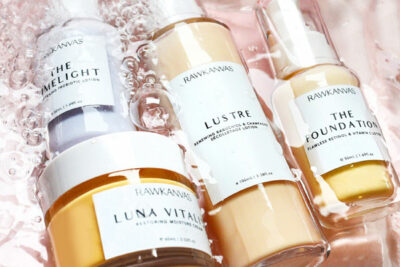 See, smell and feel the difference with RAWKANVAS, an award-winning natural and vegan skincare brand backed by science and driven by confidence. Handcrafted using stunning natural colours and scents, an eco-friendly design, recyclable packaging and cruelty-free practices, it's beauty with a conscience for all skin types.
W: rawkanvas.com
Shampoo With A Purpose Shampoo Bar
Our shampoo bars are worth up to six bottles of regular haircare. They are all-natural, Australian made, pH-balanced and are incredibly easy to use. There are five types: OG (Natural), Volume, Dry or Damaged, Colour Treated
and Unscented. Try yours today, it's never too late to make the S.W.A.P.
W: shampoowithapurpose.com
PUMP Haircare Liquid Gold Growth Oil Treatment
A luxurious pre-wash hair oil packed with Jamaican black castor oil, organic argan oil and nourishing, active botanical extracts to stimulate hair growth and add shine. Your hair will thank you for these scalp loving ingredients.
W: pumphaircare.com
Weleda Skin Food Indulge & Restore Gift Set
Indulge your skin from head to toe with this intensively moisturising set, packed with powerful botanical extracts and natural plant oils, for soft and smooth skin. Contains Skin Food 30mL and Skin Food Body Butter 150mL.
W: weleda.com.au
Herbalife Moisturizing Vitamin Mask
Featuring blend of triple hyaluronic acid, hydrolysed avocado protein and Centella Asiatica Extract, this mask provides 8-hour continuous hydration, leaving skin more moisturised, dewy and softer.
W: herbalife.com.au
Salt Water Sandals
Salt Water sandals have never gone out of style. Made from beautiful leather and hand-finished with classic brass buckles, Salt Water Sandals are available in 16 styles to fit babes in arms right up to adults. They can be worn anywhere, anyhow. Super comfy and casually stylish, Salt Waters
will take you wherever you want to go.
Clemence Organics
Give the gift of an instant facial this Christmas. This multi-purpose scrub and mask will make skin instantly smoother, clearer and hydrated. Save time and money while achieving beautiful, radiant skin.
UNIEK
UNIEK is a Melbourne-born brand offering a curated range designed to empower women to take on the shifting demands of modern life in the post-2020 world. Our five-piece capsule includes track pants, crew jumper, hoodie, tee and long sleeve tee, made locally from 100 per cent organic, sustainably sourced cotton.
Ottway
Each Ottway piece has borrowed from a style inspiration of the past bringing with it a story. Uniquely designed prints and details that guide the nostalgia. Ageless garments crafted to journey through generations. Cross-seasonal, trendless, unisex designs. Timeless and with no boundaries, like a true explorer.
Cheeki
Kick your hydration goals with Cheeki's insulated water bottles. Vacuum insulated to keep water cold for 24 hours which makes it the ideal water bottle to keep you cool and hydrated this summer.
W: cheeki.com
The Home Edit.
For homebodies, hosts and hospital friends.
Young Living
The Young Living Lucia™ Artisan Diffuser is handcrafted by a master glassblower, making each one a unique work of art. The elegant design creates soft, ethereal light as the ultrasonic diffusion fills your home with the uplifting aroma of Citrus Fresh and Peppermint essential oils.
W: youngliving.com.au
Gro Urban Oasis
Give the gift to grow this Christmas with a lush plant from Gro Urban Oasis. Lasting long after the petals have fallen, a living plant gift will grow, just like your love for years to come.
W: gro-urbanoasis.com.au
Atkins Farm 'Petite' wines
Illustrated by Olivia Rogers, these wines look and taste great and, at 8.5 per cent, are low in alcohol for your all-round enjoyment. Petite Sofia is a fruit driven Sauvignon Blanc with notes of citrus blossom and a refreshing palate.
W: atkinswine.com.au
Seed & Sprout
Ditching plastic bottles has never looked, smelt or felt better with Seed & Sprout's Citrus & Mint Shampoo Bar. This Mane Mojito is the perfect balance for clean, hydrated hair and will save three and a half 300mL plastic bottles of liquid shampoo.
W: seedandsprout.com
Happy Human
Refillable cleaning care that's better for you and our planet. The Happy Human bundle includes antibacterial hand wash and surface cleaning tabs that work like a Berocca — just add water to the reusable glass bottles in this no-nasties kit, pop in the fizzy tabs and ta-da, you have a handwash or multi-purpose cleaner. Plus they smell amazing with our native Australian essential oil scents. The perfect practical gift that is effective and works wonders to end single-use plastic waste at home.
W: heyhappyhuman.com
Bondi Wash
A selection of natural products designed for beautiful travel, the Bondi Wash Getaway Bags bring the beauty and scents of the Australian bush with you while you travel. Available for the Home, Body and Dog.
W: bondiwash.com.au
Hemp Collective
Discover Hemp Collective's Natural Pet Care Range, perfect to gift your furry friend. Pet Shampoo Bars moisturise, clean and replenish the natural balance of your pet's coat, Pet Balance Oil delivers a unique combination of good saturated fats and Pet Balms heal rough and cracked paws. Use the code HempC21 for 15 per cent off.
W: hempcollective.com.au
The New Hustle: Don't work harder, just work better by Emma Isaacs
Written with humour, insight and a good dose of tough love, The New Hustle is your go-to for more productive, creative and meaningful work. Author Emma Isaacs is an unconventional Australian entrepreneur, bestselling author, mother and a woman determined to start an anti-hustle revolution.
The Seed by Katie Gasson and Irina Kuzminsky
Beginnings, inspirations, wonder. This journal began when two friends shared their work and passion. The drawings came to Irina as an inner vision of the world of elemental spirits. And as Katie poured over each drawing, she felt them speak. May this journal encourage your own creative flow.
Available at online outlets or through pinksky.com.au