Apple Pie Bites Recipe
Credit: Christie Connelly
The beauty of this recipe is that it's super quick and the portion is very modest, so you can have all the taste of a slice of apple pie without over-eating. Try them as an after-school snack with a dollop of coconut yoghurt or as a mini dessert with a tablespoon of ice cream or whipped cream.
Makes: 16
2 sheets all-butter spelt frozen puff pastry (24cm × 24cm)
¼ cup coconut sugar
2 tbsp ground cinnamon
2 Pink Lady apples
1 egg, lightly beaten
Allow puff pastry to defrost at room temperature while you preheat oven to 180°C.
Place coconut sugar and cinnamon in small bowl and mix to combine.
Core both apples and slice each into 8 wedges so you have 16 wedges in total.
Slice each pastry sheet into 4 even strips, then each strip diagonally in half to form 16 triangles. Place 1 triangle on work bench and sprinkle all over with cinnamon sugar. Place 1 wedge of apple at widest end and roll up. Some apple will be sticking out both sides. Repeat to make 16 bites.
Place on baking tray and brush with beaten egg. Bake for 15 mins until puffed and golden. Serve hot or at room temperature.

Discover organic at our Wellbeing Directory

Like what you read? Sign up for a weekly dose of wellness






MORE INSPIRATION
Beetroot, Maple and Pecans Salad Recipe
The beetroot plant is bursting with so much nourishment and it's super delicious when combined with this tasty dressing and...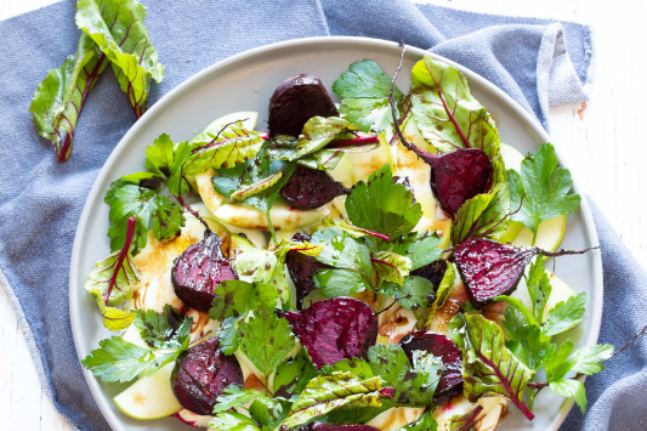 Roasted Beetroot Salad Recipe
Beetroot greens are not to be underestimated. They are rich in antioxidants, potassium, vitamin B6, manganese, copper, vitamin A, calcium...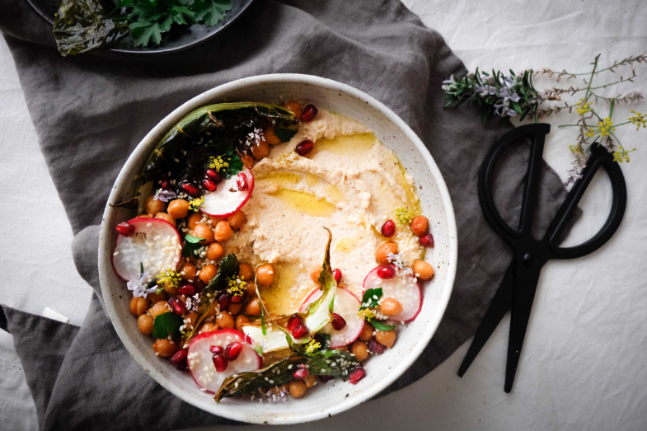 Cauliflower Hummus Recipe
The cauliflower lends a gorgeous nutty flavour and, garnished with some extra roasted chickpeas and veg, the texture is equally...
Vegetable Marrakesh Casserole Recipe
Root vegetables are stars of the spiced casserole! Sweet potato, pumpkin and carrot are simmered in Moroccan-inspired flavours for a...