Charred Broccoli Rabe Salad
Charred Broccoli Rabe Salad
I love to chargrill broccoli rabe on the barbecue as I think it really brings out the flavour. Combined with the saltiness of the haloumi and the citrus salad dressing, it makes a delicious and very nourishing meal or side.
Serves: 2–4
GF, V
Small bunch broccoli rabe
100g haloumi
2 tbsp extra-virgin olive oil
¼ cup pine nuts, toasted
2 handfuls watercress
1 preserved lemon
Dressing
1 tsp honey
1 tsp Dijon mustard
¼ tsp turmeric
Juice & zest ½ lemon
¼ cup olive oil
Heat barbecue grill or griddle.
Toss broccoli rabe and haloumi in olive oil and grill until broccoli rabe begins to just char and haloumi is golden brown.
Toast pine nuts until just brown.
Remove flesh from preserved lemon and slice skin finely.
Combine all dressing ingredients.
Place watercress in salad bowl. Add remaining ingredients, toss through dressing and serve immediately.
MORE INSPIRATION
Shiro Wat
"Wat" is the Ethiopian name for stew and "Shiro Wat" is a purée-style stew made from chickpea flour. It's a...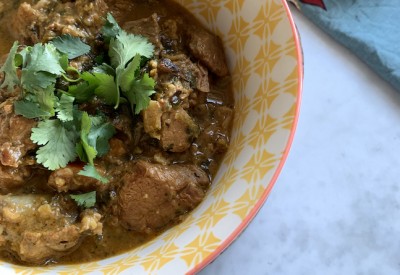 Ethiopian Lamb & Spinach Curry
You can serve this healthy and delicious curry with cashew nuts, leftover cold vegies, pickled carrot, yoghurt or fresh coriander.