Jicama & Sweet Potato Salad
Jicama & Sweet Potato Salad
Jicama has a sweet and nutty flavour which goes perfectly with sweet potato in this potato salad. It's worth taking the time to make your own mayonnaise for this recipe, as this way you'll know it's made from quality ingredients without any refined vegetable oils.
Serves: 3
GF, V
Mayonnaise:
2 egg yolks, at room temperature
1 tbsp Dijon mustard
2 tbsp apple-cider vinegar
Pinch sea salt
160mL light olive oil


1 jicama
1 sweet potato
½ tsp sea salt
To make mayonnaise, place egg yolks, mustard, vinegar and salt in blender.
Blend for a couple of mins until combined and light in colour. Add a splash of olive oil and continue blending.
Once oil has been combined add another small amount of oil and continue to blend. Continue until all olive oil is added.
Store mayonnaise in fridge while preparing remainder.
Peel jicama and sweet potato and cut into small cubes.
Place in large saucepan of water and bring to boil. Cook for 30 mins until vegetables are soft and cooked through.
Strain and transfer to large mixing bowl.
Add lime zest and juice, sea salt and ½ cup mayonnaise.
Mix together gently until combined and serve immediately.
Tip: The key to making mayonnaise is to make sure you add the olive oil very slowly and gradually — I cannot emphasise this enough.
MORE INSPIRATION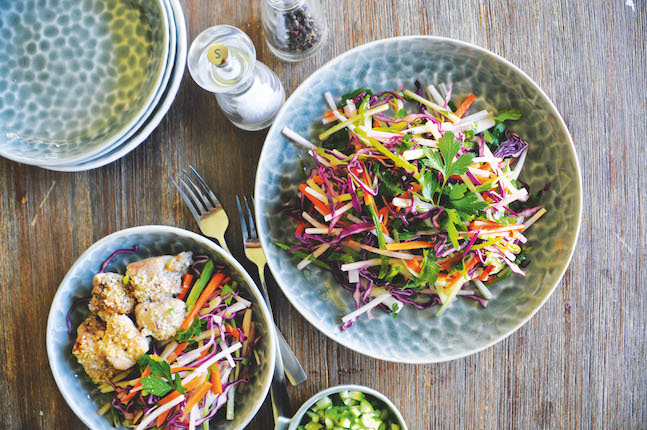 Rainbow Slaw Salad
This colourful salad is light, fresh and zingy. The trick, I believe, is to try to cut all of the...
Snow Pea & Prawn Salad
This beautiful salad is light yet satisfying and is perfect to whip together when cooking for just one.
Breakfast Fattoush
Based on a lovely salad of Annabel Crabb's, this salad is ready to go for a breakfast, lunch or dinner!