Mango Whip with Salted Macadamia Caramel
Mango Whip With Salted Macadamia Caramel
This is such a delicious chilled dessert. If you love mango and you love caramel, then this is heaven in a glass.
Serves: 4
GF, V, VG
Mango Whip:
2 ripe mangos, stone and peel removed
250mL full-fat coconut cream
¼ tsp ground turmeric (optional)
Caramel:
115g rice-malt syrup, honey or maple syrup
120mL full-fat coconut milk
Good pinch sea salt
½ tsp ground ginger
½ cup toasted macadamia nuts
Edible flowers (optional)
In high-speed blender, blend all mango whip ingredients together until light and fluffy. Divide into 4 serving glasses, cover and chill until ready to serve.
To make caramel, combine sweetener of choice, coconut milk, sea salt and ginger in saucepan and heat until simmering rapidly and foaming. Simmer for 10 mins until caramel starts to thicken.
Stir in toasted macadamia nuts and pour into small glass container. Refrigerate for 1 hr or until ready to serve. It will thicken as it chills.
To serve, top mango whip with dollop of caramel and optionally edible flowers. Serve chilled.
MORE INSPIRATION
Shiro Wat
"Wat" is the Ethiopian name for stew and "Shiro Wat" is a purée-style stew made from chickpea flour. It's a...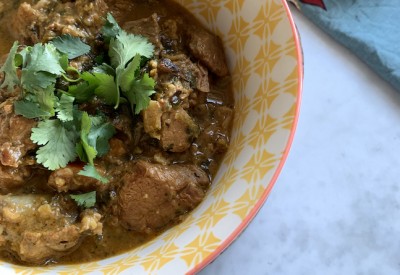 Ethiopian Lamb & Spinach Curry
You can serve this healthy and delicious curry with cashew nuts, leftover cold vegies, pickled carrot, yoghurt or fresh coriander.