Greens Bowl with Pesto Yoghurt Recipe
Credit: Jacqueline Alwill
Ready for a nutritious greens hit? Look no further than this fibre-packed bowl. Not only are you hitting your daily veg requirements but you'll also gain valuable sources of magnesium for energy and sleep, sulforaphane for blood glucose control, plant proteins for repair and plenty of flavour too.
Serves: 2
GF, V
1 cup Brussels sprouts, trimmed & halved
2 cups broccoli florets
3 tbsp extra-virgin olive oil
½ × 400g tin chickpeas, rinsed & drained
2 cups mixed rocket & baby spinach
½ avocado
1 spring onion, white part only, finely sliced
1 tbsp almonds, roughly chopped & lightly toasted
1 cup frozen peas, blanched
½ cup sauerkraut
1 tbsp hemp seeds
Lemon wedges, to serve
Pesto Yoghurt
3 tbsp pesto
3 tbsp yoghurt
1 tbsp lemon juice
Preheat oven to 180°C and line 2 baking trays with greaseproof paper.
Place brussels sprouts and broccoli florets on one tray and drizzle with 2 tbsp olive oil, toss to coat and season with sea salt.
Place chickpeas on other tray, drizzle with 1 tbsp olive oil, toss to coat then place both trays in oven to cook for 30 mins.
Whisk together ingredients for pesto yoghurt and set aside.
Once cooked layer rocket and spinach on the base of each bowl, top with even portions of the broccoli and Brussels sprouts, followed by chickpeas, avocado, spring onion, almonds, peas and sauerkraut.
Sprinkle with hemp seeds, and serve with lemon wedges and pesto yoghurt for dressing.
MORE INSPIRATION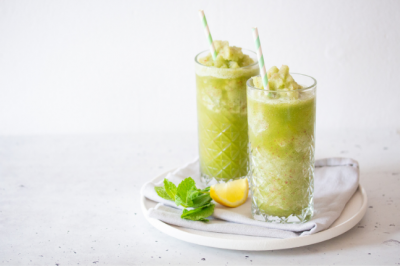 Apple & Mint Frappe Recipe
This frappe recipe offers an incredibly refreshing drink, and you can easily swap the apples for pineapple or watermelon or...