Contributed by: Jacqueline Alwill
Sweet Quinoa and Cacao Risotto Recipe
Risotto isn't just a lunch or dinner meal, it can absolutely be a dessert or breakfast! I've combined my go-to...
Pumpkin, Basil and Buckwheat Risotto Recipe
The traditional rice-based risotto has been given a wholesome twist in this recipe. The buckwheat gives a divine nuttiness to...
Tahini Choc Chip Cookies Recipes
As a mum and nutritionist, I'm always trying to find more nourishing ways to create the family favourites — especially...
Tahini Icy Poles Recipes
For as long as I can remember there has been a healthy version of icy poles in my life. My...
Mango, Ricotta and Avocado Cups Recipe
There are only 200 days of the mango season! Include this vitamin C-rich fruit in your picnic recipe!
Asparagus with Tahini and Hemp Yoghurt Recipe
The combination of coconut and tahini offers a plant-based protein punch from hemp seeds and asparagus. Try it today!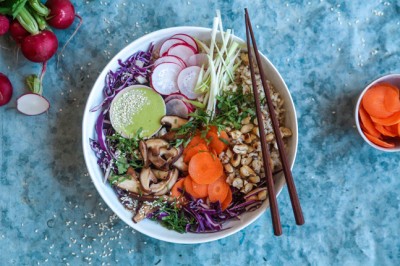 Rainbow Mushroom Poke Bowl by Jacqueline Alwill from The Brown Paper Bag
The Rainbow Poke Bowl delivers your body vitamins, minerals, antioxidants, fibre, proteins, carbohydrates, fats and so much more.
Spiced Carrot Dip Recipe
Mad for carrots? We are too! They are a regular player in our snack bag on the run. Try our...