Andi-Co Falcon share three delicious recipes like Miso Eggplant with Chilli Pork
Photos: Andi-Co Falcon
Falcon range cookers have been manufactured in Royal Leamington Spa since 1830. From contemporary to traditional to industrial range cookers and over 80 different product combinations to choose from, there's a Falcon for every style. With a Falcon at the heart of the kitchen, the kitchen is always the heart of a home.
Artichoke, Pea & Bacon Tart
Serves: 8
1 cup green peas
1 tbsp olive oil
300g bacon, diced
4 eggs
1 cup cream
300g marinated artichoke hearts, drained and halved
100g ricotta
Pea shoots, to serve
Sea salt and black pepper

Spelt crust
250g wholemeal spelt flour
¼ tsp salt
150g cold unsalted butter, diced
¼ cup cold water
To make crust, place flour, salt and butter in food processor and blend until butter is size of peas. Add water and pulse again until dough just comes together. Turn out onto floured bench and roll out to 3mm thick. Line 24cm tart tin with pastry, leaving 1.5cm of pastry overhanging. Refrigerate for 30 mins.
Meanwhile, blanch peas in boiling water for 2 mins until tender. Drain and refresh under cold water, and drain again. Reserve 1 tbsp of peas for serving, then set aside.
Heat oil in large frying pan over medium heat. Add bacon and sauté for 5-8 mins until crisp. Transfer to plate lined with paper towel. Set aside ¼ cup bacon for serving.
Preheat oven to 180°C fan-forced.
Line pastry with baking paper and baking weights. Blind-bake for 10 mins. Remove baking paper and weights. Bake again for further 10 mins until lightly golden and crisp. Remove from oven.
Reduce oven to 160°C fan-forced.
Whisk eggs with cream and season with salt and pepper. Set aside 3 pieces of artichoke to serve, then arrange remaining evenly in tart case. Scatter over half the peas and bacon then pour over egg mixture. Scatter with remaining peas and bacon and dollop in ricotta. Bake for 20–25 mins until just set. Cool to room temperature and trim excess pastry with thin sharp knife.
Serve topped with pea shoots, remaining artichokes and crispy bacon.
Miso Eggplant with Chilli Pork
Serves: 4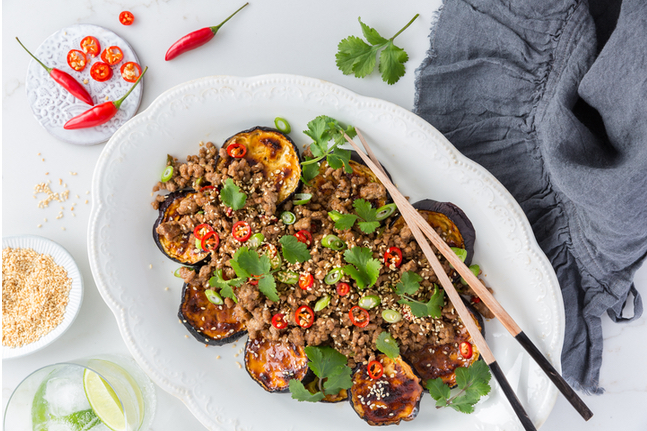 2 eggplants, cut into 1.5cm slices
2 tbsp sesame oil, divided
¼ cup miso paste
1 tbs Shaoxing wine
2 tbsp maple syrup
1 tsp finely grated ginger
1 clove garlic, minced
2 spring onions, thinly sliced, plus extra to serve
1 bird's eye red chilli, thinly sliced, plus extra to serve
500g pork mince
2 tbsp mirin
2 tbsp light soy sauce
2 tsp toasted sesame seeds, to serve
Coriander leaves, to serve
Preheat oven to 200°C fan-forced.
Brush eggplant with 1 tbsp oil and arrange in single layer on large baking tray lined with baking paper. Roast on middle shelf for 15 mins.
Whisk together miso, Shaoxing wine and maple syrup in bowl. Remove eggplant from oven and brush marinade generously on both sides of eggplant. Return to oven for further 10 mins until tender and caramelised.
Meanwhile, heat remaining oil in wok over medium-high heat. Add ginger, garlic, spring onion and chilli. Sauté for 1 min until fragrant but not browned. Add pork mince and stir-fry for 5-6 mins until pork is cooked. Add mirin and soy and stir to coat.
To serve, arrange eggplant onto serving platter. Spoon over pork and sprinkle with sesame seeds. Top with coriander and extra spring onion and chilli.
Baked Snapper Fillets with Caponata
Serves: 4
¼ cup olive oil
2 red onions, halved and thinly sliced
2 cloves garlic, thinly sliced
2 large red capsicums, sliced lengthways
1kg tomatoes, diced
1 tbsp tomato paste
1 tsp caster sugar
Sea salt & black pepper
4 skinless snapper fillets
100g pitted Kalamata olives
2 tbsp capers in brine, drained
2 sprigs fresh basil, leaves picked, to serve
Extra-virgin olive oil, to serve
Preheat oven to 180°C fan-forced.
Heat oil in flameproof casserole over medium heat. Add onions and cook for 10 mins, stirring occasionally, until soft. Add garlic and cook for further 1 min until fragrant. Add capsicum and cook for 5 mins until starting to soften. Add tomatoes, tomato paste and sugar and season well with salt and pepper. Bring to low simmer. Cover and cook gently for 20 mins, stirring occasionally, until tomatoes have collapsed and sauce has thickened.
Transfer caponata to 30cm × 20cm roasting tin. Place snapper fillets over top and season with salt and pepper. Bake for 10 mins, or until fish is just cooked. Scatter with olives and capers and top with fresh basil leaves. Drizzle with extra-virgin olive oil and serve.