Sponsor Recipes: Nuzest Products
Credit: Nuzest
V

anilla Matcha Nice Cream
Serves: 1
2 frozen bananas, chopped
½ cup coconut water
½ avocado
½ cup English spinach
2 scoops Nuzest Vanilla Matcha Clean Lean Protein

Toppings
Rockmelon, watermelon or honeydew melon, chopped or made into balls using ice-cream scoop
Kiwi fruit, sliced
Buckinis
Hemp seeds
Add frozen bananas to food processor and slowly add coconut water until desired consistency is reached.
Once bananas are light and whipped, add avocado, baby spinach and protein and blend again.
Sprinkle with your choice of toppings.
Creamy Chai Turmeric Cups
Serves: 12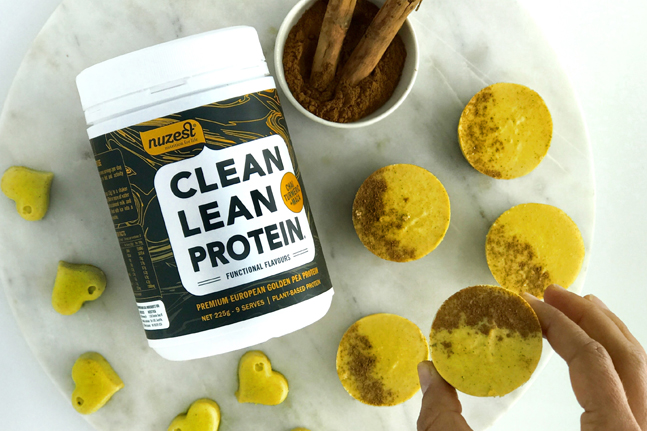 Base
¾ cup coconut flour
½ cup walnuts
3 tbsp coconut oil, melted
2 scoops Nuzest Chai Turmeric & Matcha Clean Lean Protein
1 tsp cinnamon
2 tbsp maple syrup
½ tsp turmeric

Filling
1 cup mixed cashews & macadamias, soaked overnight
1 tin coconut cream
1 scoop Nuzest Chai Turmeric & Matcha Clean Lean Protein
½ tsp turmeric
⅓ cup coconut oil, melted


Cinnamon, to top
Pepitas (optional), to top
Blend all base ingredients in food processor.
Press mixture very firmly into small cupcake moulds to avoid crumbling.
Freeze for 2 hours (minimum).
Blend all filling ingredients in food processor until smooth (approx. 3 mins).
Remove bases from freezer and pour filling into moulds.
Sprinkle cinnamon and pepitas on top (optional).
Cover in cling wrap and put back into freezer for 2 hours (minimum).
Easy No-Bake Muesli Bars
Serves: 10
1 cup dates, pitted
1¼ cups rolled oats
2 scoops Nuzest Just Natural Clean Lean Protein
1 cup mix nuts, seeds or dried fruit
Pinch salt
¼ cup honey or sweetener of choice
¼ cup smooth nut butter
1 tbsp coconut oil, melted
Add dates to blender and process to dough-like consistency.
Add processed dates to bowl and stir in oats, Clean Lean Protein, fruit/nut/seed mix and salt.
Add honey, nut butter and coconut oil to small saucepan and heat on low until mixture is just warmed through.
Pour liquid mixture over oat mixture and mix thoroughly, breaking up date dough as you go to ensure even distribution. Use hands to make it easier.
Once everything is thoroughly mixed, transfer to small lined baking tray and press mixture down firmly into a thin, even layer.
Cover with cling wrap and place in fridge or freezer to harden for 30–60 mins.
Once set, remove mixture from tray and chop into even-sized bars.
Store in airtight container in refrigerator for up to 7 days or freeze for up to 3 months.
Note: If you prefer the taste of toasted muesli, toast oats, nuts and seeds (do not add fruit here) in preheated 160°C oven for about 10 mins or until slightly golden, turning halfway through.