Sponsor Recipes: Table of Plenty
Credit: Table of Plenty
See the recipes below for some of the delicious creations you can make with Table of Plenty.
The Breakfast Parfait
Makes: 8 squares
150g thick Greek yoghurt or Natural Probiotic Kefir
1 cup Table of Plenty Crunchy Fruit Free Nutty Muesli
1 cup fresh or frozen berries
Coconut flakes, nuts/seeds, cherries, fresh fruit, to serve
Take 2 glass jars or glasses and start by placing layer of Table of Plenty Crunchy Fruit Free Nutty Muesli in each jar. Top with layer of yoghurt or kefir mix, then layer of berries. Repeat with remaining muesli, yoghurt mix and berries.
Top with coconut flakes, some crunchy muesli and a sprinkle of nuts/seeds to serve.
Classic Apple Crumble
Serves: 8
Filling
4 medium-sized green apples, thinly sliced
1 tsp lemon juice
1 tsp cinnamon
1 tsp raw sugar
1 tsp cornflour


Crumble Top
250g Table of Plenty Pink Lady Apple & Almond Muesli or oats
250g plain flour, plus 55g in reserve
200g butter, room temperature
⅓ cup honey


Coconut cream or Greek yoghurt, to serve
Sprinkle raw sugar, to garnish
Preheat oven to 180˚C.
Line deep, circular baking dish or cake dish with half of apple slices. Sprinkle with lemon juice, half of cinnamon, half of raw sugar and half of cornflour. Top with remaining apple slices and sprinkle with remaining cinnamon, raw sugar and cornflour.
Place muesli in mixing bowl with honey and 250g of flour. Melt butter in small dish then pour over dry ingredients. Mix until ingredients combine. If needed, add extra flour in small amounts until crumble mixture is slightly moist and crumbly. It should hold its shape but not be too sticky.
Spoon mix over apple filling. Press down firmly for an even layer of crumble, or rough it up with fork for extra crunch once baked. Garnish crumble with extra raw sugar then bake for 30-45 mins or until golden brown.
Serve warm with coconut cream or Greek yoghurt.
Healthy Rocky Road
Serves: 8
¾ cup melted extra-virgin coconut oil
¾ cup raw cacao powder
Pinch salt
⅓-½ cup sweetener of choice (rice-malt syrup, honey or maple syrup), depending on taste
1 cup nuts/seeds of choice
½ cup dried cranberries
¾ cup coconut flakes
½ cup Table of Plenty Crunchy Fruit Free Nutty Muesli
¼ cup frozen raspberries
In large bowl, combine melted coconut oil, cacao powder and salt until well combined, then add rice-malt syrup (or alternative sweetener) and whisk until smooth.
Reserve approx. 1 tbsp each of muesli, nuts/seeds, cranberries and coconut.
Once chocolate mixture is ready, add remaining ingredients to bowl (except raspberries and reserved ingredients) and mix until everything is coated well.
Line slice tray with clingwrap or baking paper. Pour mixture into lined tray and spread into even layer, pressing down firmly with back of spoon. Top slice with raspberries and remaining ingredients, pressing down firmly into mix to make sure they stick.
Place in fridge or freezer to set before cutting slab into chunks.
Vanilla Bliss Balls
Serves: 4–6
1 cup cashews
1 cup Table of Plenty Crunchy Fruit-Free Muesli
1½ cups dried dates (soaked in boiling water for 5 mins, then drained)


Optional Ingredients
Matcha bliss balls: 2 tbsp matcha powder
Salted caramel bliss balls: 1 tbsp mesquite powder and pinch sea salt
Chocolate coconut bliss balls: 2 tbsp cacao powder & ¼ cup desiccated coconut
Place cashews and Table of Plenty Crunchy Fruit-Free Muesli in food processor and process until no large chunks remain.
Add dates and process until mixture comes together.
Add additional flavours (if desired) and mix together.
Roll mixture into small balls and refrigerate for at least 20 mins.
Raw Chocolate Brownies
Makes: 8 squares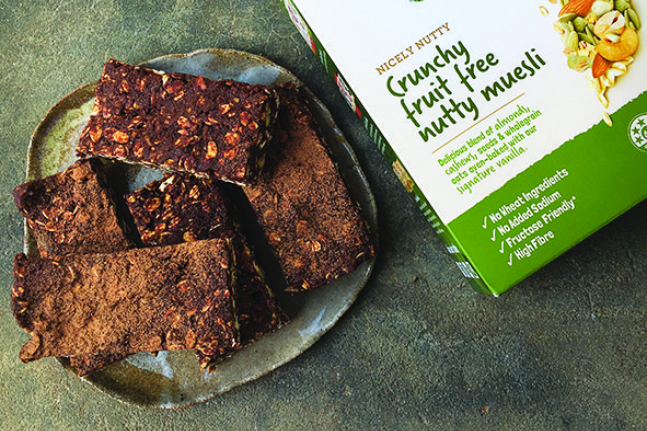 1 cup mixed nuts
¾ cup raw cacao powder
2 cups pitted dates (soaked in warm water for 10 mins, then drained)
2 cups Table of Plenty Crunchy Fruit-Free Nutty Muesli
¼ cup water
1 tbsp raw cacao powder, for dusting
Add nuts and cacao powder to food processor and blend until they resemble a crumble.
Drain dates and add to mix, processing until dates, nuts and cacao come together.
Transfer mixture to large mixing bowl. Add Table of Plenty Crunchy Fruit-Free Nutty Muesli and mix with spoon. Add water if necessary to bring mixture together.
Line small baking dish with clingwrap or baking paper. Press mixture into dish and refrigerate for 30 mins.
Remove mixture from refrigerator and cut into 8 rectangular bars. Dust with cacao powder (optional) and serve.