Sponsor Recipes: That's Amore Cheese share the Perfect Cheese Platter and more
Credit: That's Amore Cheese
See the recipes below for some of the delicious creations you can make with That's Amore Cheese.
Perfect Cheese Platter
Serves: 4
That's Amore Cheese selection
125g Treccia (fresh cow milk mozzarella), braided
200g Buffalo Bocconcini (fresh buffalo milk bocconcini)
250g Lavato (semi-soft cow milk wash rind, matured 4–5 weeks, taleggio style)
360g Diavoletti (cow milk smoked provolina filled with olive & chilli)
300g Chilli Caciotta (fresh cow milk cheese with chilli flakes)
300g Ricotta Salata (cow milk air-dried salted ricotta)
300g Drunken Buffalo (buffalo cheese matured 6 months in Nebbiolo grape skins & lees)


Accompaniments
1 baguette, sliced
170g cranberry and hazelnut crisps
250g Lavosh biscuits
1 bunch grapes
6 fresh figs
10 dried apricots
4 walnuts
3 pears
3 tbsp honey
Start with choosing a range of cheese with different textures and flavours (something sharp, something fresh, something creamy).
It's also good to have a selection of cheese with different types of milk sources (cow, buffalo, goat, sheep) and maturation (fresh, firm, semi-hard, hard). This will ensure a range of different flavours on the plate.
For a party in which cheese is the main event, consider 200/300g cheese per person. If cheese is one of many items being served, 150/200g per person will suffice.
While cheese can be perfectly enjoyed alone, it's always nice to have some accompaniments for adding extra flavours and textures using fruit.
Offer a selection of breads, crackers and bread sticks in all different shapes and sizes. It's a good idea to vary taste and texture among the breads as well as the cheeses.
Fill in big gaps on the board with fresh and dried fruit, olives and honey.
Now fill in whatever space is left with crunchy extras like nuts and seeds, in this case walnuts.
Adding these extra little touches to your cheese plate gets people talking and makes it really memorable.
Scacce (Silverbeet, Tomato & Smoked Caciocavallo)
Serves: 4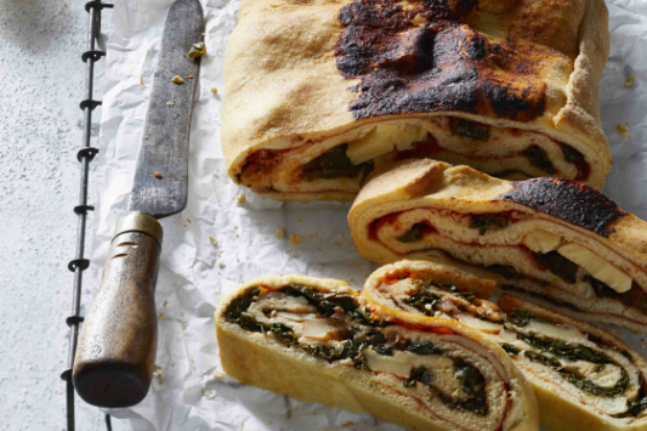 600g durum wheat flour
40mL extra-virgin olive oil
Salt & pepper, to taste
2 cloves garlic, minced
1 tin crushed tomatoes
Bunch fresh basil
1 bunch silverbeet
350g That's Amore smoked Caciocavallo, grated
1 egg, beaten
Place flour in large bowl and make a well in centre. Add 20mL oil, salt and 250mL (1 cup) water and stir until a dough forms.
Transfer dough to floured work surface and knead until smooth and elastic, around 6–8 mins. Transfer dough to lightly oiled bowl, cover with plastic wrap and let rest for 30 mins.
Meanwhile, heat remaining oil in saucepan over medium heat. Add garlic and cook, stirring often, until fragrant, about 2 mins.
Add tomato, basil and silverbeet, season and cook for 15 mins, stirring occasionally.
Discard basil, remove pan from heat and set aside to let cool.
Preheat oven to 200°C.
Roll out dough into thin square sheet.
Place half of filling (tomato sauce and Caciocavallo) on top of dough and season with salt and pepper. Leave border of approx. 2cm along 4 sides.
Fold 2 opposite borders into centre. Place rest of filling on top of 2 folded flaps.
Fold other 2 opposite ends into centre and seal pastry with beaten egg, making sure it's well stuck.
Transfer to baking sheet lined with baking paper and bake for 30 mins.
Remove scaccia from oven, let rest, covered with a tea towel, for approx. 15 mins.
Cut scaccia into slices and serve.