Sweet Potato and Haloumi Muffins Recipe
Credit: Meg Thompson
Full of fibre, protein and sustaining energy, these muffins are a portable powerhouse of nutrition. They are also quite versatile: swap the sweet potato with pumpkin and the haloumi with another cheese of choice. I have also made a miso-pumpkin version, stirring a tablespoon of miso paste into the mix and adding semi-dried tomatoes and parmesan in place of haloumi. These muffins will keep for three days in the fridge and I recommend warming them in the oven before eating for ultimate enjoyment.
Makes: 6 muffins
275g sweet potato or pumpkin, grated
3 spring onions, chopped
½–1 fresh red chilli, deseeded & chopped
3 eggs
1 cup spelt flour
½ cup cubed haloumi
Sea salt, to taste
Preheat oven to 180°C.
Mix pumpkin, spring onion and chilli in bowl, stirring to combine.
Crack in eggs and mix well.
Stir through flour and haloumi and add salt to taste.
Divide between 6 greased muffin tin compartments or patty pans and bake for around 50 mins, or until cooked through and a deep golden on top.

Discover organic at our Wellbeing Directory

Like what you read? Sign up for a weekly dose of wellness






MORE INSPIRATION
Pear and Cinnamon Pancakes Recipe
These thin Pear and Cinnamon Pancakes are worth the little bit of extra time they take to make. Plus, the...
Shakshuka Recipe
A beautiful brekkie served straight from the pan, this is a wonderful way to enjoy a communal breakfast with loved...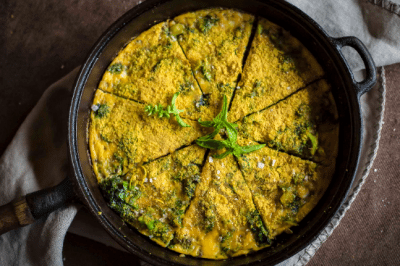 Green-Eyed Frittata Recipe
This delicious recipe is loaded with spinach, kale and broccoli, which are all rich in micronutrients that are great for...