Table of Plenty share their Kefir No-Knead Chia Bread and other delicious recipes
Credit: Table of Plenty
Table of Plenty's new range of Kefir is a delicious source of probiotics with 45 billion+ live cultures in every serve to nourish your gut and mind. Made from fresh Gippsland milk through a traditional slow fermentation process which ensures all the good bits stay inside the bottle. Now available at Coles in Lactose-Free, Berry and Natural.
Kefir No-Knead Chia Bread
Makes: 1 loaf
1½ tbsp chia seeds
3 cups plain flour
¾ tsp instant yeast
1 tsp salt
1 cup Table of Plenty Lactose-Free Kefir
¾ cup water
1 tbsp honey
Heat small frying pan over low heat. Add chia seeds and toast for a few mins till just beginning to brown.
To make dough, place flour, yeast, chia seeds and salt into large mixing bowl. Add kefir, water and honey to dry ingredients and mix together.
Cover bowl with cling film and leave on kitchen bench for at least 12 hrs. In warm weather, the dough can be placed in fridge and allowed to prove until more than doubled in size.
When dough is ready, place cast-iron saucepan or casserole dish with lid into oven and preheat to 220ºC. Turn dough out onto lightly floured surface. Imagine the dough has four sides — pull side closest to you up and towards centre of dough. Repeat with left and right sides of dough. Pull top edge of dough over all folds and flip dough over. Cup dough with both hands and gently shape into round shape by rotating it on bench.
Place dough on piece of baking paper on baking tray. Trim baking paper to shape of dough to prevent bunching up when placed in pan — leave enough baking paper around dough to allow lifting dough from pan later. Cover dough with tea towel and allow to prove for another 30 mins.
When ready to bake, carefully remove pan from oven and set lid aside. Holding edges of baking paper, gently lift bread off baking tray and place carefully into pan. Score a large cross on top of bread with sharp knife or scissors. Replace lid on pan and place in oven.
Bake for 30 mins with lid on. Remove lid and bake for a further 15 mins or until golden brown.
Let bread cool on cake rack before slicing to serve.
Kefir Sweet Potato Pancakes
Serves: 2-4
1 cup wholemeal flour
2 tsp baking powder
Pinch salt
½ tsp bicarbonate of soda
1 large egg
½ cup mashed sweet potato
1 cup Table of Plenty Natural Kefir
1 cup milk
1 tsp vanilla extract
1 tbsp brown sugar
1 tbsp olive oil + extra for cooking


To Serve
Yoghurt
Maple syrup
Toasted walnuts
Orange segments
Whisk flour, baking powder, salt and bicarb together in bowl until smooth.
Whisk remaining ingredients together in separate bowl.
Make well in dry ingredients and pour in wet ingredients. Whisk until just combined.
Heat a little olive oil in small frying pan over low–medium heat. Pour ¼ cup batter into pan and reduce heat to low. Cook for approximately 2 mins or until bubbles begin to form. Flip pancake and cook for another 2 mins.
Place cooked pancakes on plate and keep in warm oven while cooking rest of batter.
Serve warm with dollop of yoghurt, toasted walnuts and orange segments and a good drizzle of maple syrup.
Note: Cook pancakes over low heat because the sweet potato in the batter makes them brown very quickly.
Apple & Rhubarb Overnight Oats
Serves: 2–3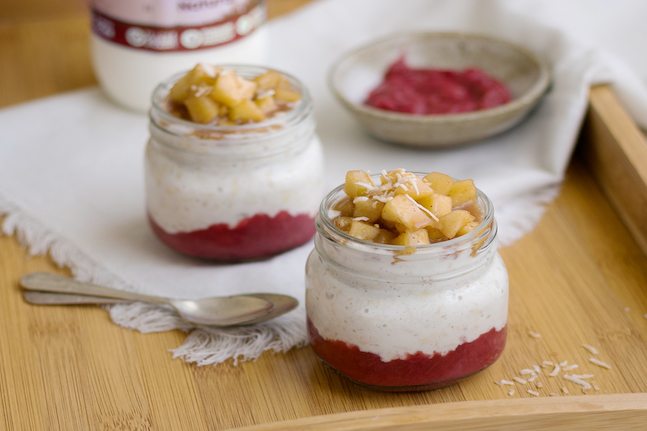 Overnight Oats
½ cup milk or water + extra for serving
½ cup Table of Plenty Mixed Berry Kefir
1 cup rolled oats
1 tsp honey (optional)


Rhubarb Filling
1½ cups diced rhubarb
2 tbsp caster sugar
1½ tbsp orange juice


Apple Filling
1 tbsp butter
1 Granny Smith apple, peeled, cored & chopped into 1cm cubes
2 tbsp caster sugar
1 tbsp water
½ tsp ground cinnamon
1 tsp cornstarch


Toasted shredded coconut, to top
To make overnight oats, mix all ingredients together in small bowl, cover and place in fridge overnight.
To make rhubarb filling, place ingredients in small saucepan over low–medium heat. Cook until soft and set aside to cool.
To make apple filling, melt butter in saucepan over low heat. Add apple, sugar, ½ tbsp water and cinnamon to pan and mix together. Cook over low heat until apples begin to soften. Mix cornstarch with ½ tbsp of water in small bowl and pour into pan. Stir until sauce starts to thicken. Set aside to cool.
To serve, remove oats from fridge and loosen up by adding 1–2 tbsp milk or water. Divide rhubarb filling between serving cups or bowls, then add oats and finally apple filling. Drizzle over sauce from apple filling and sprinkle toasted coconut over top.
Note: The fillings can be made the night before and refrigerated or on the morning of serving.