That's Amore Cheese share three delicious and healthy recipes like Buffalo Mozzarella, Beans and Tomato Bruschetta
Credit: That's Amore Cheese
Burrata is a decadent and divine cheese. This award-winning cheese has a mozzarella skin in a money bag style filled with strings of stretched curd bathed in cream. Cut through the outer layer of mozzarella and it's obvious why this cheese is called burrata, meaning "buttered" in Italian. The inside is soft and oozy! It needs nothing but a spoon, but if you are keen to turn it up a notch, try these recipes from That's Amore Cheese.
Buffalo Mozzarella, Beans & Tomato Bruschetta
Serves: 4
400g podded broad beans
400g cannellini beans or four bean mix, drained & rinsed
250g cherry tomatoes, halved
Olive oil
Juice & rind 1 lemon
1 tbsp balsamic vinegar
10 fresh basil leaves
Salt & pepper, to taste
8 slices sourdough bread
2 cloves garlic, peeled
4 That's Amore Buffalo Mozzarella, drained & sliced
Cook broad beans in boiling water for 2 mins. Drain and rinse under cold water. Peel and discard skins.
Place broad beans in bowl with cannellini beans and cherry tomatoes. Dress with olive oil, lemon juice, balsamic vinegar, basil, salt and pepper.
Heat griddle pan and toast bread on both sides. Rub toasted bread with garlic.
Spoon beans and tomato salad on each slice of bread.
Finish with buffalo mozzarella and extra-virgin olive oil.
Green Burrata Salad
Serves: 2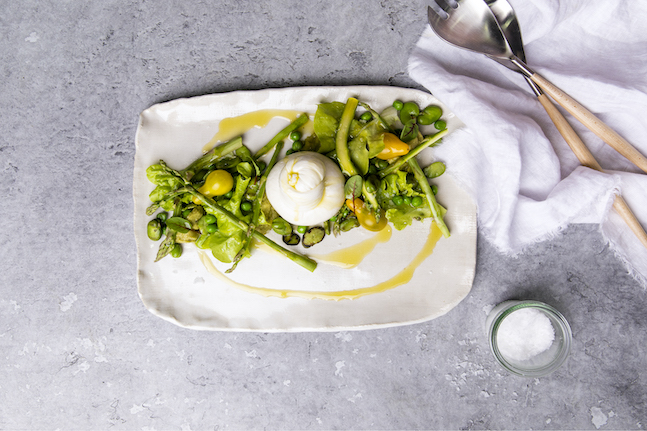 Salad
8 spears asparagus
100g frozen baby peas
1 butter lettuce, torn into bite-sized pieces
100g tomato medley, tomatoes halved
2 avocados, pitted & cubed
50mL extra-virgin olive oil
Juice 1 lemon
Salt & pepper, to taste


Avocado Purée
3 avocados
50mL olive oil
1 lemon, zested & juiced
Salt & pepper, to taste


2 That's Amore Burrata, drained
Shave asparagus using vegetable peeler: start at base and move up towards tip of stalk.
Bring medium saucepan of water to boil over high heat. Add frozen peas and cook for 2–3 mins or until bright green and tender crisp. Drain and rinse under cold running water.
Place peas, tomatoes, asparagus and lettuce leaves in large mixing bowl.
Dress with olive oil, lemon, salt and pepper and mix well.
To make purée, place avocado flesh in food processor and blend until smooth. Add olive oil, lemon juice and zest and season to taste. Blend until well incorporated.
To serve, arrange avocado purée on plate and top with salad and burrata.
Ricotta Pancakes
Serves: 6
120g spelt flour
60g almond meal
1 tsp ground cinnamon
1 tsp baking powder
1 egg
150mL That's Amore Real Milk
2 ripe bananas, mashed
Oil
200g That's Amore Buffalo Ricotta, to serve
2 peaches, sliced, to serve
Maple syrup, to serve
Combine spelt flour, almond meal, cinnamon and baking powder in large bowl.
In separate bowl whisk egg and milk. Mix in mashed banana.
Gradually add wet mixture to dry ingredients and combine to form smooth batter. Rest for 5 mins.
Heat oil in non-stick pan over low heat.
Spoon pancake mixture into pan, using 2 tbsp of mixture per pancake, and flatten slightly.
Cook over low heat until pancake is cooked through. Flip over and cook other side. Repeat until all pancakes are cooked.
Serve with That's Amore Buffalo Ricotta. Add sliced fresh peaches or any other seasonal fruit and drizzle with maple syrup.