The ultimate natural mother's day guide
With Mother's Day just around the corner, it's time to take stock and reflect upon our mothers. Let's celebrate the women who give us so much love and care — and what better way to do so than with a gift that promotes their wellbeing?
When choosing a present for the mother or mother figure in your life, we recommend:
Shopping from a local producer. After many businesses suffered huge economic blows in 2020, buying local has never been more important. When possible, choose a gift or experience from an Australian-owned business to help support our economy.
Selecting a gift that is eco-friendly. Choose a gift that is created using sustainable materials wherever possible. Look for products that involve minimal packaging and that are created by companies with a dedicated commitment to reducing waste. Most businesses will mention their environmental policy on their website, but if not, you can always shoot them an email and ask.
Promoting self-care. Self-care doesn't have to mean a day-long spa experience (although it absolutely can!). Self-care can be as simple as a nice cup of tea, a good book or some beauty products. It's a gift that's all about the mother in your life with a focus on relaxation— it doesn't have to cost the earth.
If you're a mother, why not use this special day to truly treat yourself? This is a great opportunity to either buy yourself a gift or put in a wish list for products or indulgences that you really want. This way you not only get to prioritise your self-care, but you avoid excess waste and items you don't need in your home.
Spot tip:
The days after Mother's Day are well suited to clean-outs. Whenever we bring new items into the home, it's nice to assess current goods and select any excess items that could be donated or passed on to family and friends who may need them. This is also an opportunity to take stock of the brands you have in your household. Are there any you could swap out for more environmentally friendly products?
The gift of tea.
There is no herb like tea; born as a medicine and evolved into a beverage, tea has a unique combination of taste and goodness. There's more, because both are the result of the fingerprint of nature on tea: the influence of sunshine, rainfall, humidity, soil and climate. As tea that is grown, hand-picked and made with the love of a farmer for the subject of his passion, Dilmah was formed around the respect for that influence of nature — tea that is garden-fresh, maintaining its purity and goodness. When you give your mother the Inspirations range from Dilmah tea, you're not just gifting her a delicious range of nature-inspired teas and infusions that taste simply divine. You're also gifting her time out — permission to take a moment and enjoy something that's just for her. And what gift could be better than that?
About Inspirations from Dilmah
The Inspirations range from Dilmah is a little different. In crafting the teas and infusions that form the Inspirations, the Dilmah team tasted herbs, roots and spices that grow in and around the Dilmah tea gardens, focusing on those with traditional wellness benefits. The team chose nutmeg, cinnamon, bael flower, Indian sarsaparilla, cloves, lemongrass and ginger. They then tasted them — hundreds of times — to harmonise these flavours.
The result is a selection of truly inspiring teas that combine the taste and goodness of nature. Ceylon Spice Chai is a profusion of tropical texture and flavour, combining single-origin Ceylon black tea with ginger, clove, lemongrass and cinnamon. Rose with French Vanilla is romantic with its soft, sensual red rose flavour, with added deliciousness from the gentle embrace of the bael flower. Italian almond is more fragrant than ever, with the slightly bitter almond complemented by the sweet woodiness found in nutmeg.
Dilmah's Jasmine Green Tea is mild and alluring with jasmine petals adding their flavour and fragrance to the brew. The Chamomile tea is made with a sublime selection of hand-picked flowers. Their delicate floral aroma is wonderfully extended to taste, with hints of honey and apple. Chamomile is prized for its mildness, making it the perfect evening infusion.
This tea is more than just an experience — it's award-winning, too. More than 8000 Australian shoppers voted the Dilmah Inspiration Selection as their Product of the Year for 2021 in tea. The five Dilmah Inspiration teas and infusions that were chosen for the award include Rose with French Vanilla with natural bael flowers, Green Tea with Jasmine, Chamomile Flowers, Ceylon Spice Chai and Italian Almond with fresh Sri Lankan nutmeg.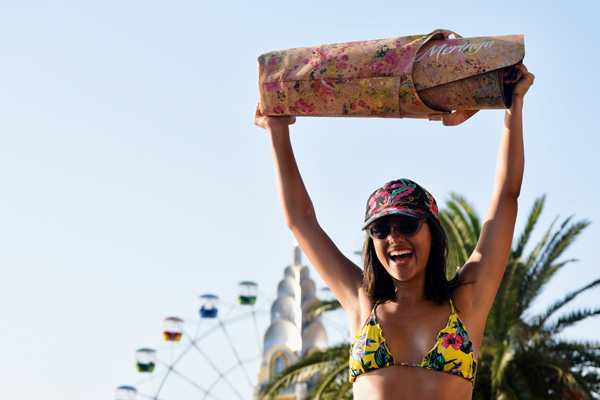 The gift made with love.
Show your mum how much you truly do love her by using a product that's made with love. Meringa Cork pours oodles of love and care into each of its locally made, sustainably farmed cork products, from the natural cork bags to the cork yoga blocks and of course the gorgeous range of cork yoga mats.
The Meringa team chooses cork not only because it looks good, but because it's good for the environment too. Cork forests are able to absorb large amounts of CO2 from the atmosphere. Not only that, but all Meringa cork is naturally sourced and biodegradable, and has high resistance, durability and lifespan, ensuring your Meringa gift will be treasured by your mother for many years to come.
About Meringa Cork
Founded in 2016, Meringa is an Australian-based company specialising in the supply, design and manufacture of cork furniture and lifestyle products. They pride themselves on having all their products manufactured in Sydney, Australia, while still pushing the boundaries in design.
The gift with a personal touch.
Give that eco gift with a personal touch this Mother's Day thanks to the unique range of gifts from Amaroo Eco. Create your mother's ideal gift with one of our personalised products — simply add a name or send your own design to see if it fits.
A wide range of Amaroo Eco products can be personalised, including bamboo hairbrushes, toothbrushes, stainless steel water bottles, gift packs and more, with a full list available on the Amaroo Eco website.
About Amaroo Eco
Amaroo Eco derives its name from our land's original owners. Amaroo means beautiful place — and we do indeed live in one of the most beautiful places in the world, from our deserts to our oceans to our tropical rainforests and our snow-capped mountains.
The environment is something we need to protect in every way we can. Amaroo Eco believes we all need to be eco-conscious and do our small part to make this world a better place. Its range of eco-friendly products is the perfect first step on your journey to make a difference.
The gift of self-care.
As a mum-run business, the Sustainable Marketplace team understands the importance of relaxation in the ever-hectic routine of juggling parenthood with work and … well … life. Taking care of yourself is just as important as taking care of growing children, which is why Sustainable Marketplace takes pampering very seriously.
Sustainable Marketplace offers a variety of glorious face masks, facial oils, bath bombs, soaps and bath salts — all perfect for a moment of blissful silence that won't cost the earth. Its wide range of self-care products has been produced and packaged in an eco-friendly manner, using sustainably sourced, nourishing, plant-based ingredients. Many of its products are derived from ethically sourced beeswax and honey, while vegan options are also available in most of its hemp-based products, facial cleansers and shampoo and conditioner bars.
Organic, cruelty-free and made in Australia in small batches: whether you're buying a present for your mum this Mother's Day or a mother looking to treat yourself or your girlfriends on your special day, Sustainable Marketplace has everything you need.
About Sustainable Marketplace
Launched in November last year, Sustainable Marketplace is a growing community of like-minded brands and retailers who run their businesses and create their products with sustainability at the forefront of their minds. Having focused on being a mum for nearly two decades, and finding herself increasingly confronted by the climate emergency, founder Liz de Vries felt she could "do her bit" for the future of the planet by bringing together Australia's ethical brands in one marketplace and amplifying their message of sustainability.
The Sustainable Marketplace website has the ability to become a true one-stop-shop for anything and everything needed to live, work and play for a sustainable future. That's the Marketplace's catchcry, and Liz and her team are working hard to make it come true.
Already offering a range of quality products for your eco home, fitness, pet care and personal care, this year will also see the addition of a service and experience module where you will be able to find repairers and consultants or book an eco holiday.
W: sustainablemarketplace.com.au
The gift of relaxation.
This Mother's Day, show your mum your appreciation by giving her some precious time out to regain clarity and rebalance, and to nurture her emotional and physical wellbeing.
EpZen is the perfect way to help her indulge. This range of magnesium body care products is infused with 100 per cent natural essential oils, each designed to assist with specific benefits, including relaxation and sleep.
To really care for her, try creating a calming day spa experience at home.
Run a warm bath with EpZen Magnesium Bath Crystals. Add some candles and flowers for a special touch. Invite your mum to take a slow, peaceful soak.
Have a fluffy, clean towel, robe and slippers waiting when she emerges from the bath, along with some EpZen Magnesium Body Lotion to soften her skin and deepen her state of relaxation.
Place EpZen Magnesium Sleep Spray beside her bed for her to apply just before she drifts off to sleep.
What a lovely way to reconnect to calm on Mother's Day.
About EpZen
EpZen is 100 per cent Australian owned, vegan, cruelty-free and paraben- and sulphate-free.
All purchases of EpZen contribute to Project Reconnect, directly supporting wellbeing in local communities. EpZen is available in pharmacies, supermarkets and online at epzen.com.au. To learn more, connect with them on Instagram @epzen_australia.
The gift of clean beauty.
Spoil your mother or loved one this Mother's Day with the gift of healthy skin by helping them make the switch to cleaner beauty. Whether they prefer make-up that offers a simple, natural look or would rather a full-coverage option, Lust Minerals has options tailored for every preference and skin type.
Lust Minerals is an e-commerce business, which may make your make-up choice feel a little daunting — but choosing the perfect shade with Lust is easy. Lust Minerals offers free virtual skin consultations and colour-matching services to ensure you and your mum are not disappointed with your products.
About Lust Minerals
Lust Minerals is one of Australia's favourite clean beauty brands, with a vision to prove that mineral make-up has a high-performance ability to change your skin, your life and the planet. If 2020 taught us anything, it is that our health is more important than ever. Consequently, what we consume through our skin is equally as important as what we consume through diet.
The obsession with mineral make-up and skincare is growing as women across the globe fall in love with Lust Minerals. With a vegan, cruelty-free and preservative-free range, Lust's make-up and skincare products are created from the earth's natural minerals and are non-comedogenic, allowing your skin to breathe while still enjoying full coverage.
Ready to make the switch to healthy skin and a healthier planet? All new customers receive a $20 voucher when subscribing to Lust Minerals' e-newsletter. Keep an eye on the Lust Minerals social platforms this Mother's Day to stay updated with the best gift ideas and discounted bundles @lust__minerals. We can't wait to see you there.