A Q&A with Australia's very own aromatherapy alchemist, Pat Princi-Jones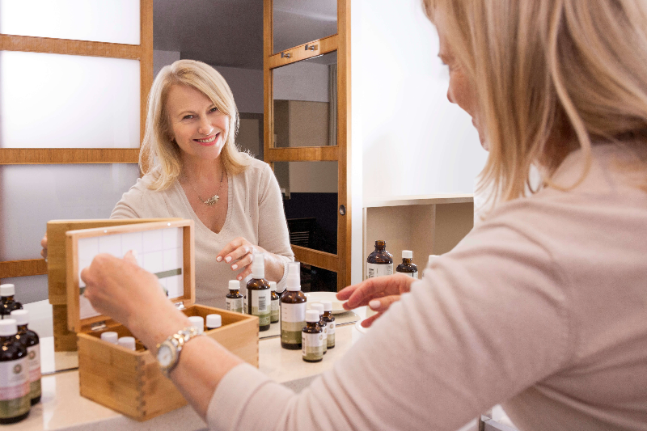 Credit: Pat Princi-Jones
W

hat initially drew you to aromatherapy?
I never even knew pure essential oils existed when I was introduced to the exotic scent of jasmine blooms more than 30 years ago! Yet, since that first aromatic encounter, I have never looked back. To this very day I marvel at the wonder of this ancient practice. It has always been [about] the rapture of scent and the way that in one simple breath you can feel uplifted, aroused and relaxed. Pure essential [oils] have enriched all aspects of my life.
What is aromatherapy?
Simply put, aromatherapy uses pure essential oils extracted from plants as medicinal remedies for emotional and physical wellbeing. Aromatherapy is like a journey of discovery into the world of the senses. It works on the mind, body and spirit, and simultaneously. If you love the scent of freshly cut flowers, then you have experienced the wonder of aromatherapy and the power scent has on the body, mind and emotion. With each breath you feel uplifted, renewed and restored. And if you start to incorporate the use of essential oils into your daily life, the long-term benefits to your health will be noticeable.
How can we use aromatherapy?
Using essential oils for their healing properties can assist with relieving symptoms of minor ailments such as headaches, muscular aches and pains and sleep deprivation. Essential oils are renowned for lowering anxiety levels and helping to relieve the symptoms of cold and flu by breaking down mucus congestion. A few drops used in skincare and beauty applications improve hydration, treat acne and even regenerate ageing and damaged skin.
Please share with us the farm-to-bottle process? How does In Essence care for the environment?
At In Essence, we are in total control of our oils from farm to bottle. We source the finest oil from [its] country of origin and farmers that follow the protocol necessary to ensure the active compounds in the plant remain present in the essential oil. Then, our oils are tested and bottled in Victoria.
To ensure we look after the environment and all its creatures, In Essence has been accredited with "Choose Cruelty Free". This emblem avows that all our products have not been tested on animals. On top of that, our oils are TGA listed, which means they are independently audited and regulated by the Australian regulatory body of therapeutic products. This means we can independently guarantee the highest-quality essential oils and their authenticity and efficacy with our clients and customers. 
How do you create your blends? What inspires you?
Blending is one of the most beautiful aspects of aromatherapy. When you blend essential oils together for a specific mood, condition or ambience, you are actually increasing the strength of the individual oils to create a synergy; a new complex combination.
When I am blending, I seek to create a blend that will be pleasing to the senses. I love florals and sweet citrus scents, so I usually start with these. I then add a twist of lemongrass or dash of a grounding base such as vetiver. 
What is your current favourite blend or oil? 
Neroli is my favourite. This oil is beautiful when vaporised with orange, mandarin and vetiver for stress and has a balancing effect when massaged with geranium and lime.
What essentials oils help us de-stress?
My favourite recipe for stress is frankincense, bergamot, sweet orange and lavender. Simply add two drops of each to a diffuser and take a few deep breaths. Or add two tablespoons of jojoba oil to the blend and massage onto your chest and back. 
What is your essential oil ritual?
As you can imagine, my repertoire is endless. I have dozens of favourite applications, which I use at whim or for a specific need. One of my favourite morning rituals happens after bathing: when my skin is still dewy wet, I moisturise my body with sensual florals such as ylang ylang, jasmine absolute and sweet orange.
Please reflect on a rewarding moment?
There are so many! The first that came to mind concerned Sue, who has young twins with eczema. She had tried everything, but nothing was working. I suggested she stop using medication for a week and instead use essential oils as treatment. I recommended she bathe the boys each night in three drops of lavender. Then, before putting them to bed, mix one drop each of Roman chamomile, lavender and geranium in 20mL of sweet almond or grapeseed oil and apply to the areas of discomfort. Within a week, the boys' eczema had subsided. Because the oils work on the mind and the body, the boys slept through the night without scratching. This meant they did not aggravate the condition.
What's next for you and In Essence?
I am consulting for In Essence and pursuing my own projects and further studies in aromatherapy.
MORE INSPIRATION
Do scents have healing powers?
The age-old therapy or aromatherapy brings balance to modern life, soothing away stress and delighting the senses.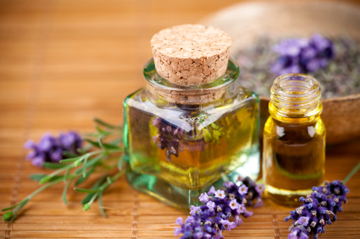 Scenting your home
Pure essential oils are extracts from flowers, roots, leaves, fruits, grasses or woods and are so therapeutic they can affect...