In conversation with James Viles
James Viles is a dynamic young Australian chef and restaurateur known for his commitment to using seasonal, ethical produce to create honest dishes rooted in the Australian landscape. His hyperlocal menus built on fruits from the surrounding land have won him recognition both near and far. Viles has long championed the link between nature and food, creating dishes that not only respect the land itself, but educate his guests on the provenance and importance of food as a part of the natural world. It is this strong sense of place on Viles' plates that makes the young chef such a marvel.
Tell us about your journey into the food world. Where did it begin and how?
I started my career as a young chef at Aman Resorts and Orient Express Hotels. I then returned to the Southern Highlands, where I grew up, to work at The Schoolhouse. I spent a lot of time working at acclaimed restaurants throughout the Middle East and Europe, working alongside Michelin-starred chefs including Hans Haas of Tantris in Munich and Alain Ducasse at Spoon in Hong Kong. Returning to Australia and prior to joining Emirates One&Only Wolgan Valley as executive chef this year, I opened Biota Dining in Bowral, which was named Regional Restaurant of the Year in 2014 and 2015 and held its two chef hat status for eight years.
You recently took on the role of executive chef at Emirates One&Only Wolgan Valley. What was it like creating a new menu and do you have a favourite dish?
I'm overjoyed to be doing what I love, which is creating beautiful, authentic, Australian food and exciting dining experiences for guests in one of the most beautiful places on earth. It's been such an exciting opportunity to develop and plan the menus from literally the ground up based on produce grown in the kitchen garden at Emirates One&Only Wolgan Valley. We want our menus to educate guests on the provenance of the food they are consuming.
My favourite dish would have to be the wagyu hanger steak, which is sourced from Cape Grim in Tasmania.
Tell us about your relationship with sustainable eating?
The resort's passion for sustainability is something that I share, and as chefs, it is our responsibility to respect both the plant and animal life and the land itself, and to tread lightly on its surface as we strive to create everlasting culinary memories for our guests. My connection to the land is fundamental to my cooking and overall food philosophy. I grew up in country New South Wales and some of my earliest memories are of watering and planting in the garden with my mother, who was a horticulturalist. I love to explore and discover the landscape and bring this to life through my cooking.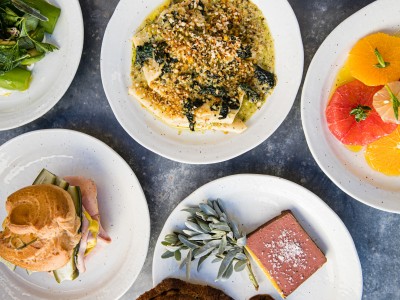 Is there a particular style of food or eating you enjoy bringing to Australia?
Food needs to come across in a natural manner; food should not be manipulated, but appreciated for its natural form. The vision for the future is to see more kitchens following a self-sufficient and off-grid approach. We should be using the sun to power our kitchens and coals to cook our ingredients. The goal is to power a kitchen that feeds us all with no power consumption.
In your opinion, what makes the perfect dining experience?
I think the perfect dining experience is when dishes are beautiful and authentic, and a true reflection of the surroundings in which you dine. It's what I want to try to replicate at the resort by foraging, gathering and developing relationships with the farmers, vintners and growers of this diverse Greater Blue Mountains region. We head out on property a few times a week to forage and do some big picks, and the sheer amount of native ingredients surrounding us means we can incorporate all of these into our dishes to offer a truly unique culinary experience for all of our guests.
What is something that has inspired you lately?
Our dishes at Emirates One&Only Wolgan Valley are inspired by Mother Nature's bounty on our doorstep, and are crafted with honesty, purity and a true sense of place, and reflect the seasons of this beautiful valley.
Are there any food trends that you're bringing into your cooking?
I don't believe in trends; they have an expiry date. I believe in doing something with an honest approach and setting a foot forward by acting from the heart and a place of passion rather than indulging in the next trend.
What are you enjoying eating at the moment?
Late-night ramen and caffeine.
How do you think our food choices impact society more broadly?
Food choices affect the young people of our society most significantly. The young professionals who are busy and time-poor need to slow down and take time to make important decisions about food and undertake a holistic approach. The 'fast food' phenomenon has gripped the younger generations, but they need to focus on slow food and understand the footprint they leave.
Do you think food can play a role in shaping a better future for the world?
Without food there is no world. Without biota — meaning the balance of plant and animal life — there is no world.