WellBeing's Ultimate Mother's Day Gift Guide for 2022
Mother's Day is all about honouring and celebrating your mum. Hand-picked by mums for mums, here are some of our favourite gifts that are nothing short of amazing — just like your beautiful mum.
Household
Cheeki Bottles
Treat Mum to Cheeki's Limited Edition "Mother's Day" Wine Tumbler. The stemless, insulated stainless-steel wine tumbler will keep your favourite drink cold until the last sip — even on those hot summer nights! Perfect for cocktails, wine, beer, smoothies, ice-cream, tea and coffee, you can take this tumbler with you wherever you go. Featuring a shatterproof lid, stainless-steel straw and powder-coated finish for increased durability, this tumbler is built for adventures.
W: cheeki.com
The Wandering Artist
The Wandering Artist Plantable Card range is a sustainable and unique gifting idea. Designed and printed by founder Kristy Mary, the cards are 100 per cent Australian handmade on recycled paper and imbedded with seeds which will grow when planted. Visit @the_wanderingartist on Instagram for more.
Gro-Urban Oasis
Give a gift to grow this Mother's Day with a lush plant from Gro-Urban Oasis. Lasting long after the petals have fallen, a living plant gift will grow — just like your love for years to come. Head to #gromoregreen, #grolivinggift or @gro_urban_oasis on Instagram for more.
Young Living
The Young Living Lucia™ Artisan Diffuser is handcrafted by a master glassblower, making each diffuser a unique work of art. The elegant design creates soft, ethereal light as the ultrasonic diffusion fills your home with the uplifting aroma of Citrus Fresh and Peppermint essential oils.
Children
Ickle Bubba
The award-winning British brand Ickle Bubba has just landed on Australian shores and is here to take care of our shopping needs when it comes to what to buy for a growing family. Ickle Bubba's aim is to help new parents make smart, informed purchasing choices while keeping costs under control. Their best-selling and award-winning Stomp All in One pram is available now and ideal for day-to-day adventures as your Ickle Bubba grows from infant to toddler. Follow Ickle Bubba at @icklebubbaaus on Instagram.
Beauty
New Nordic
Healthy hair starts with the New Nordic range of all-natural supplements. The nutrients we put into our bodies support every function, including the growth and strength of hair. New Nordic's Hair Volume™ is an award-winning formula that supports hair growth and nail and skin health. This alternative hair treatment combines apple extract, millet and horsetail plant with zinc and biotin, making this product rich in protein and keratin, known for strengthening and volumising hair and increasing elasticity in the skin. Remember, beauty and strength come from within.
Weleda
Newly reformulated and luxuriously indulgent, Weleda's Harmonising Body Lotion uses 100 per cent organic wild rose oil to moisturise and smooth the skin and restore its natural harmony.
NO FACE ACTIVITA Antioxinol C
NO FACE's ACTIVITA Antioxinol C is a potent antioxidant power complex used to reduce photodamage. The ingredients have been proven to reduce pigmentation, signs of ageing and uneven skin tone. Perfect for daytime usage, the nourishing product helps to combat free radicals and give the skin matrix a boost for rejuvenation.
NO FACE Clarifier Hydro Exfoliator
NO FACE's Clarifier Hydro Exfoliator is a wonder product with a serum texture. Gently massaged onto the skin, it takes away all the built-up dead skin to instantly reveal brightened new skin. Simply use before any active ingredient to enhance product absorption. The gentle exfoliator is void of physical beads and other harmful particles, so it won't hurt the skin or the planet, which confirms the brand's philosophy of being gentle and effective.
NO FACE H40
NO FACE's H4O is a gentle foam skin cleanser with powerful HD actions to dissolve skin pollutants. It selectively targets pollutants such as clogged leftover makeup and skin products, dirt and environmental pollutants. The "wow" factors in the cleanser will make it a top product for this year's WellBeing Beauty Awards so keep an eye out.
Eco Tan
Spoil your mum this Mother's Day with Eco Tan's Organic Goodies! Eco Tan's Mother's Day Pack includes their best-selling Glory Oil (30mL) and their amazing Face Compost Purple Power Mask as well as a free Luxury Eco Cosmetic Bag. Start Mother's Day right with some organic self-care. RRP $89.90.
Edible Beauty
The ultimate boosting serum, designed to revitalise and revive the appearance of skin through a potent blend of antioxidant-rich botanicals and native Australian ingredients. This youth and beauty booster contains Kakadu plum, which contains the world's highest levels of vitamin C and works to visibly brighten along with hyaluronic acid which provides a burst of hydration to prevent water loss and enhance the appearance of skin radiance and plumpness.
Books
Simon & Schuster How to be Well
How to be Well is an essential handbook for women of all ages who seek to reach and maintain optimum wellness and vitality. The book shows women of all ages how to cultivate resilience and mitigate the detrimental effects that stress can have on our health. The guide is filled with evidence-based advice from Dr Karen Coates, a holistic healthcare professional, and Sharon Kolkka, one of Australia's leading wellness advisers whose innovative approach to wellbeing shaped the highly successful and transformative programs at Gwinganna Lifestyle Retreat. Be sure to check out @SimonSchusterAU on Twitter and Facebook.
Simon & Schuster Be You, Be Free
Break free from dieting once and for all with this easy-to-follow guide to healing your relationship with food and exercise from body-inclusive personal trainer and certified intuitive eating counsellor, Shreen El Masry. Have you been on so many diets that you can't remember a time in your life when you weren't dieting? Be You, Be Free gives you the tools that you need to break free from dieting and make peace with food, exercise and your body. You will learn how to nourish your body in a way that works for you rather than from the punishment of diets and hardcore exercise regimes. The book will not only help you find food freedom, body peace and joyful exercise, it will also assist you in creating your own version of wellbeing on your terms so that you can take care of yourself in the way that works for you.
ColourHide Earth Notebooks
ColourHide Earth gives new life to ocean plastic transforming it into a range of stationery. Not only do these products look as good as the rest of the ColourHide range, they also include covers made from repurposed ocean plastic.
W: officeworks.com.au/brands/colourhide
Health
SuperFeast
SuperFeast practise the ancient art of Daoist tonic herbalism. Sourcing herbs from their spiritual homelands guided by the philosophy of Di Dao, the SuperFeast team collect and share the potent herbs and medicinal mushrooms available to those who wish to cultivate a healthy body and mind. The SuperFeast mission is to improve the health, healing and happiness of people and the planet through the sharing of carefully curated offerings and practices that honour ancient wisdom and elevate the human spirit.
Brookfarm Entertainers Value Pack
Entertain Mum the Australian way this Mother's Day with Brookfarm's Entertainers Value Pack. Featuring a range of our premium nut mixes, the Entertainers Value Pack will keep entertaining stress-free and your guests satisfied. The $70 Value Pack contains:
Premium Oven Roasted Whole Macadamias with Pink Lake Salt
Premium Oven Roasted Whole Macadamias with Saltbush
Entertainer Brothers Blend 200g
Explorer Brothers Blend 200g
2 × Mt. Bogong Walkabout Mix 75g
2 × Nightcap Ranges Walkabout Mix 75g
Brookfarm hessian bag
Noshu Baking Aids
Noshu's low-sugar choc baking chips and luxe chocolate melts have been designed for home bakers who want to dial up the fun on their favourite baking creations without the excessive sugar. Find them in the baking aisle at Coles and Woolworths stores.
W: noshu.com.au
Noshu Baking Mixes
Noshu's baking mixes contain non-GMO ingredients and only naturally occurring, zero or low-GI sugar substitutes because they believe that everyone should be able to eat baked goods without compromising their health. Find them in the baking aisle at Coles and Woolworths stores.
W: noshu.com.au
HoneyLife Manuka Honey
A natural cold and flu remedy, manuka honey is a famed antibacterial and renowned as one of nature's superfoods, promoting good health and immunity. HoneyLife uses raw, unrefined honey without applying any heat or chemical process. Australian-sourced, made and owned. Free shipping online for orders over $75.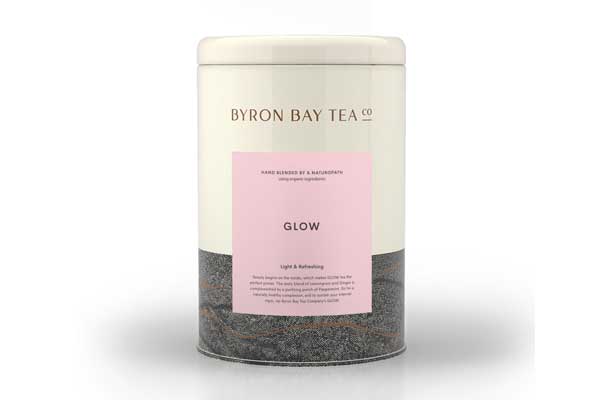 Byron Bay Tea Co
Beauty begins on the inside, which makes Byron Bay Tea Company's GLOW tea the perfect primer. The zesty blend of lemongrass and ginger is complemented by a purifying punch of peppermint. For a naturally healthy complexion and to sustain your internal vigour, sip Byron Bay Tea Company's GLOW.
WIN a WellBeing Mother's Day Hamper
WIN a WellBeing Mother's Day Hamper! Treat yourself or your mum this Mother's Day! Four lucky WellBeing readers will win a Mother's Day Hamper from our friends. 
To enter, simply sign up to the WellBeing eNewsletter before Mother's Day (Sunday May 8). Bursting with goodness, the hampers are filled with everything a WellBeing mum loves and needs: books, skincare, tea, healthy foods and more. Give the gift of love from our friends Simon & Schuster, Brookfarm, Tixana Piranha Chips, Edible Beauty, Byron Bay Tea Co, Cheeki and New Nordic.
Sign up at wellbeing.com.au/hamper. Terms and conditions available on the website.
Good luck, friends!