Relax in the mineral waters of Daylesford
Daylesford is known as Australia's spa country and, based on the number of luxurious spas and the fact that 85 per cent of our mineral water comes from the region, it's a fitting description. The newest kid on the block is Hepburn Bathhouse & Spa, which is a little ironic because the retreat is set in a building that's 114 years old. Just 90 minutes' drive northwest of Melbourne Airport, it's one of several places where you can sample the power of natural mineral water.
Spas have long been treasured in this part of Victoria, so much so that in 1865 locals successfully lobbied for lucrative gold mining to be stopped in the area just so the precious springs could be protected.
Thirty years later, a bathhouse designed by a Swiss architect opened with two large baths. Locals swarmed on it — bathing in the waters they believed brought good health and, at night, dancing at swanky social events in what is now the retreat's cafe.
Last year, Hepburn Bathhouse & Spa reopened after a $13 million development. There are two main areas, one public, the other more private. The 1895 building houses the luxurious day spa, which offers an impressive range of private water therapies, massage and beauty treatments.
Next door is the Bathhouse, which has been rebuilt in a stunning modern building overlooking a tree-lined creek. What's lovely is that locals are still loyal to Hepburn and there are special rates for regulars from the area who still believe soaking in the Hepburn mineral waters boosts health. That's not to say the locals don't also indulge in the spa treatments offered in the original building as well. And what this means for visitors is it's best to book ahead, particularly for spa treatments.
But first the Bathhouse. I suggest you allow an hour here before any spa treatment. You can sample several types of water therapy: communal bathing in the relaxation pool at 32°C, deep tissue massage via powerful jets in the spa pool, or, in what's called the Sanctuary, you can reline on an underwater spa couches as your body relaxes in water heated to 35°C.
Also in the Sanctuary is the aroma steam room and a salt water therapy pool in which you can experience the sensation of near weightlessness —great if you've been sampling the region's delightful foods — in a room filled with natural light from the overhead skylights. To rinse off, you stand under the monsoon showers and pretend you're on a tropical island with a waterfall flowing over you.
It costs $15 Monday to Thursdays ($10 if you are a local) and $30 Fridays to Sundays to enter the Bathhouse and $50 Monday to Thursday and $70 Friday to Sunday to enter The Sanctuary. Be warned, though: you can only spend two hours in each.
Just a few paces away is the spa, which offers a large selection of beauty treatments, massage and private bathing — there are 30 treatment rooms and they use some of the best products available, including Sodashi, Thalgo and La Gaia. All treatments are in the Relaxation Room, a sunken lounge in what was the original bathhouse, which has an impressive selection of magazines as well as herbal teas and water (from local springs, of course). Make sure you allow yourself at least half an hour here before any treatment. It's the original bathhouse and the staff, nearly all locals, will fill you in on the fascinating history.
One of the most popular treatments is a private bath for one or two. The rooms are huge and the cement baths are filled with local mineral water to which oils or herbs are added. I tried the Invigorate Marine Soak, designed to revitalise the body and mind with Thalgo seaweed crystals, which were added to the mineral water, turning it a stunning sky blue. Thirty minutes in this bath, which left my skin tingling and my mind in neutral, costs $65.
If you choose a private bath, you can follow the soak with a body wrap, scrub, facial or massage. I tried a one-hour Oceanic Elements Body Mask in which warmed mud was smoothed over my body before I was wrapped like a mummy for 40 minutes. The Body Mask cost $190 for a 90-minute treatment. The therapist was so gentle and the treatment so relaxing, it would have been better to stay the night somewhere in Daylesford afterwards (the retreat has no accommodation). Following such an intensely relaxing treatment with a long drive was just silly.
Next time, one thing I'd do after the treatment is take the short walk along the creek, drinking the free mineral water available from several taps along the path and pondering on the generations of Australians who have been renewed here by the power of water.
The writer was a guest of Hepburn Bathhouse. W: www.hepburnbathhouse.com
Like what you read? Sign up for a weekly dose of wellness

MORE INSPIRATION
Weekend restoration at Golden Door
Golden Door's Healthy Lifestyle Weekend retreat is tailor-made for busy people wanting to get back on the right track.
Thai-style cleansing
There are many different flavours to cleansing and detox. Learn about Koh Samui, Thailand's cool, clear purity.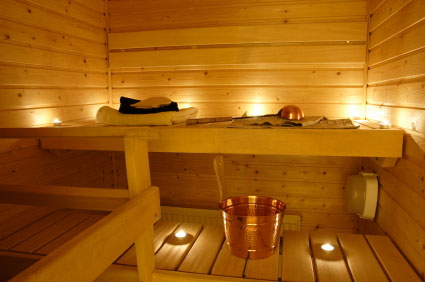 All about saunas and detoxing
Heat and vapour have been key components in purifying rituals around the world since ancient times. Since then, the art...
Paying a visit to Château Élan
The opening of The Spa at Château Élan in the Hunter Valley provides spa lovers with a chance to reconnect...