The award winning British brand Ickle Bubba has just landed on our shores and are here to take care of our shopping needs when it comes to what to buy for a growing family – Ickle Bubba's aim is to help new parents make smart, informed purchasing choices while keeping costs under control.
Their best-selling and award-winning Stomp All in One pram is available now and ideal for day to day adventures as your ickle bubba grows from infant to toddler. 
This natural, aluminium free, Australian made, plastic free deodorant is gentle on your skin and the planet. This formulation features less Sodium Bicarbonate making it perfect for sensitive skin. Best bit, is this deodorant is tried and tested by the Seed & Sprout team, so you know it really works! 
Practical, plastic free, planet friendly & good looking – what else would you want in a food container? Great for the pantry, fridge, picnic or lunch to go. The best part is you can bake directly in the glass base of these containers and then pop the lid on to store in the fridge. The silicone seal inside the bamboo lid keeps food fresh without leaking. The largest size in this set of 4 is perfect for a table salad to share. You don't need to be an eco warrior to enjoy these, just a lover of beautiful things!
No plastic-free pantry is complete without a set of 2 Byron Pantry Jars. Fill your produce bags at the shops or market and then tip your dry or wet food into these lovely glass & bamboo jars. FDA approved & made ethically with FSC Certified Bamboo. You'll have a fresh and organised pantry and fridge without any plastic in sight.
This grime-fighting wonder bar will leave your dishes squeaky clean without cluttering your sink with a pesky plastic bottle. This Aussie made grime busting beauty has a fresh pink grapefruit scent and suds up like a champ to cut through even the toughest of grime. The Dish Bar is Certified 100% Palm Oil Free so you can clean your conscience at the same time as your dishes! One Bar is equivalent to 3.5 plastic bottles! Good for you, good for the Planet.
Gone are the days of cutting baking paper to fit your round trays and tins thanks to this Round Un-Baking Paper! This set of 2 round reusable FDA certified silicone baking mats fit perfectly into cake tins or your pizza trays and can be used over and over again. Easy to clean and store when not in use, this set comes with two different sizes: 20cm and 25cm.
The zero-plastic fully-segregated food-grade stainless steel lunchbox for fusspots – with 2 leak-proof pots and a CrunchPot included! This CrunchBox™ is the last lunchbox you'll buy. Deep and large compartments – check. Maximised practically – check. Plastic and BPA free – check. Custom made leak-proof pots & CrunchPot – check! Perfect for fussy kids and discerning adults it'll organise and separate your lunch like no other.
Ditching plastic bottles has never looked, smelt or felt better! Raise the Bar in your bathroom with this 100% Certified Palm Oil Free Shampoo Bar that will rival any high-end salon product. It's Australian Made, Vegan Friendly, full of essential oils, no nasties & great for all hair types, even colour treated hair! Argan Oil hydrates and softens your hair while ​​Shea Butter moisturize the scalp and Red Clay removes dead skin cells, impurities and excess oil.
The perfect way to keep your kitchen counter tidy. The Bread Box has enough room to store multiple loaves or other baked goods! The best part is that the wooden lid doubles as a cutting board so you can slice and serve straight away. It's both stylish and functional!
The most stylish Compost Bin yet! This is one of those items that you want on your kitchen counter. With a matte off-white finish this Compost Bin is made from high quality stainless steel that won't rust. Featuring an in-built charcoal filter there's zero smell plus the handle makes it easy to carry. A sleek and practical way to reduce food waste!
Practical, good looking and planet friendly, say goodbye to plastic shopping bags and invest in this forever set! 14 practical & planet friendly bags, made from sturdy GOTS Certified Organic Cotton that are washable and reusable. Perfect for a plastic free food shop, a yoga or gym bag, beach bag, laptop bag, book bag…the list goes on! The neutral tones & minimalist design means you don't have to compromise style for practicality.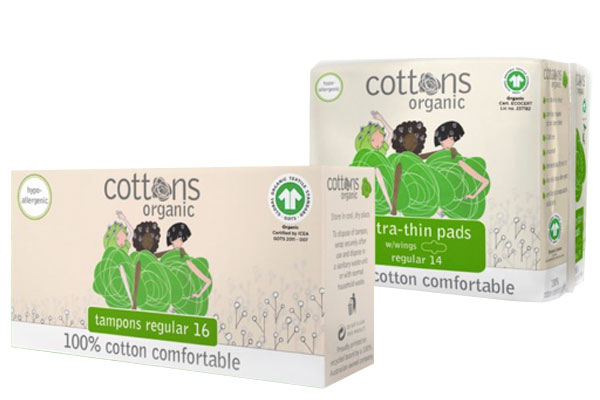 Your period is a totally natural part of you, so your products should be too. Protect your body inside and out by choosing products like Cottons Organic which are free from dyes and scents, and made with certified organic cotton. Look for products that are certified organic cotton, GMO-free, no chlorine bleach, no dyes or scents and naturally low irritant. If you're not sure what's contained in your sanitary items, check the ingredients list on the pack.
Subscribe
Subscribe to a newsletter to receive latest post and updates