The CLEANSE Makeup Melting Cleansing Balm melts away makeup, dissolves impurities and gently cleanses the skin whilst replenishing moisture levels. Using the 'like-dissolves-like' principle, this oil based cleanser is the most gentle way to remove makeup, sunscreen, sweat and pollution without feeling tight or itchy. The balm turns milky when mixed with water, allowing the cleanser to be easily removed with a damp microfiber cloth, leaving your skin clean, clear and nourished.
The BALANCE Vitamin B Hydrating serum is a powerful cocktail of humectants that work by attracting water into the deepest layers of the skin to provide multi-level, long-lasting hydration. The serum also contains active concentrations of Vitamin B3 (Niacinamide) to help regulate oil production, reduce the appearance of pores, improve the tone and texture of the skin, smooth fine lines and repair the skin barrier. With the added benefits of soothing bladderwrack seaweed extract and energising caffeine extract, this serum visibly restores balance in the skin.
A luxurious lip treatment offering long-lasting hydration and protection. The vegan friendly treatment contains a highly moisturising plant-based lanolin alternative to moisturise and repair chapped and cracked lips.
Able to hold 400% of its weight in water, this balm hydrates and moisturisers the delicate skin on your lips. It draws in water to repair dry, chapped lips and locks that water in to prevent water from escaping the skin barrier. Forget petroleum jelly based lip balms – this is your solution to supple and kissable lips all year round..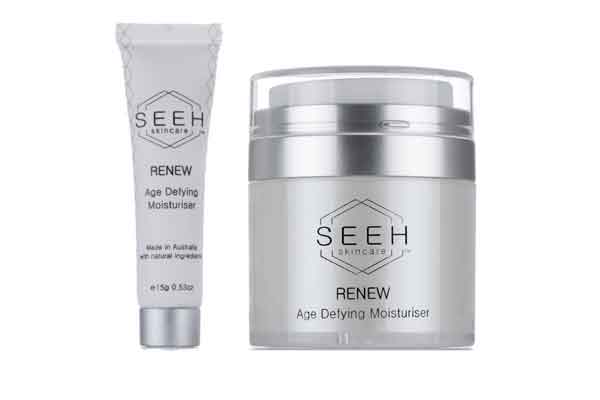 The RENEW Age Defying Moisturiser is an extraordinary multi-functional anti-aging face cream that is perfect for all skin types. The day/night facial moisturiser contains high concentrations of powerful active anti-aging ingredients, clinically proven to decrease facial sagginess, increase dermis thickness, increase elastin and collagen synthesis and reduce the appearance of fine lines and wrinkles. These powerful anti-aging ingredients are complemented by luxurious oils and botanical extracts to form a remarkably balanced, fast absorbing and incredibly nourishing moisturiser.
The BRONZE Camellia Glow Body Oil is an extraordinarily lightweight and deeply hydrating body oil specifically designed to leave your skin with a sun-kissed glow all year round. The unique oil gelly formula is no-mess, fast absorbing and will not leave a greasy residue. With wonderfully nourishing natural plant-based oils like Camellia Seed Oil, Argan Oil, Jojoba Oil and Vitamin E, this body oil is packed full of replenishing vitamins and fatty acids to leave your skin looking gloriously dewy and radiant. The subtle scent of Jasmine and citrus pairs perfectly with the golden bronzed tint for fresh sunshine vibes.
This multi-award winning formulation is touted as liquid gold. A blend of precious rose oils works to hydrate and strengthen, encouraging clear skin and a dewy glow. Each bottle contains thousands of precious petals – picked only at dawn – from the exquisite Bulgarian Damask Rose. Based on the principle of 'Less is More', this impressive blend uses just 6 active plant oils, in high concentrations, and without any 'fillers'. The result is a concentrated, therapeutic, and highly efficacious miracle oil. A fantastic therapy for sensitivity, dehydration, rosacea, inflammation, PCOS, hormonal skin conditions, and sunburn.
This impressive formulation blends the powerful properties of Kakadu Plum with energising essential oils to breathe new life into stressed, sun-damaged and devitalised skins. The Kakadu Plum contains the worlds highest concentration of Vitamin C, and combined with naturally occurring Vitamins A, C & E from Rosehip, Camellia and Avocado oils, delivers comprehensive antioxidant protection. A 'must have' in combatting modern day environmental aggressors.
Truly glow-inducing, this gold award winner is both an instant 'pick-me-up' for tired, dehydrated and sun-damaged complexions – and a secondary cleanser to balance combination, oily, and blemish-prone skins. Incredibly versatile, this powerful combination of therapeutic oils work to not only deeply cleanse and detoxify, but also function as an intensive hydrating and reparative oil treatment. "I use the 9 oil cleanser at night in the summer when I've been out in the sun all day and it makes my skin feel great". Maggie Gyllenhaal – Actor & Producer "If my skin is feeling a bit sun-damaged or congested, I like MV 9 Oil Cleansing Tonic." Emma Watson – Actor & UN Ambassador
Little Urchin Natural* Sunscreen SPF 30 is a unique formula that provides UVA and UVB broad spectrum protection from the sun while also being 3-hours water resistant to provide protection while swimming, playing sports or simply spending time in the sun. Rich in antioxidants and anti-ageing benefits, our unique blend offers you and your family protection from the sun's damaging rays. This unique formulation contains only Non-Nano Zinc Oxide as the active ingredient which is suitable to use on sensitive skin. Research studies indicate that Zinc Oxide is also safe for the marine environment.
Certified Organic Pantry Items Garden of Vegan's range of snacks, desserts and essential pantry items are made from 100% certified organic wholefoods.. Add to your cart with ease knowing you are getting access to some of Australia's finest organic pantry items. 
Garden of Vegan's seasonal certified organic produce boxes are packed fresh weekly and delivered to your door, using Australia's finest organic produce direct from the farm. Choose between our range of deluxe and standard boxes. We truly care about your health and the health of the planet which is why we only support local certified organic farmers and pack what is fresh and in season.
Meal Plans to suit your lifestyle Garden of Vegan's range of meal plans have been created in consultation with leading health professionals to meet your individual health and fitness goals whilst also maintaining your daily nutrient requirements from organic plant-based whole foods. If you want to lose weight, manage a chronic lifestyle disease or illness, increase muscle mass or eat for long term health, there is a plan for you.
Subscribe
Subscribe to a newsletter to receive latest post and updates